The one topic that receives more attention, questions, and confusion when it comes to assisted living and long-term care, is figuiring out costs, insurance, what is covered, and "how in the world is mom going to pay for her care?"
Rightly so. Most of us don't get a trial run at 'aging' and finding care, even though most of us have some form of insurance or coverage. Many of us also assume that somehow, our care will be covered, but we don't really look into it in much detail until the need is right at our doorstep.
At the top of the list of things confusing when it comes to long-term care is the topic of Medicare, and will it cover the cost of assisted living in Alaska.
Generally speaking, the answer is unfortunately no.
However, not all is lost. Most states have Medicaid Waiver programs (1915c) that "allow the provision of long term care services in home and community based settings under the Medicaid Program. States can offer a variety of services under an HCBS Waiver program. Programs can provide a combination of standard medical services and non-medical services."
Now, this doesn't mean specifically that your state will cover the cost of traditional assisted living, but it does mean that there may be some very viable and workable alternatives to make sure you, or your loved-one is able to get needed care, either at home, or through community settings.
Alaska offers Home and Community Based Waivers available to:
Older Alaskans
Adults with Disabilities
Intellectual and Developmental Disabilities
Children with Complex Medical Problems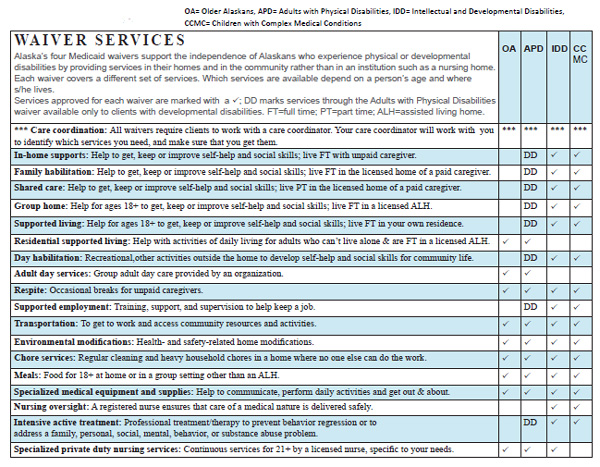 In a nutshell, you'll need to contact a care coordnator (call the Aging and Disability Resource Center at 1-877-6AK-ADRC). You and your coordinator will discuss your situation, and arrange for an assessment of your medical and functional needs.
Once you are deemed eligible for a waiver, you will then, with your coordinator, develop a plan of care based on your assessment.
For detailed information, The State of Alaska's Department of Senior and Disability Services offers an excellent Medicaid Waiver Brochure detailing everything how to get started, and the basics of the programs, as well as very good chart detailing Alaska's four Medicaid waivers, and what services are approved.