This blog post will highlight how any individual, whether a senior, caregiver, family member, or even staff person at a long-term care facility such as assisted living – can report elder abuse in the State of Alabama.
Return to, or visit our Alabama Assisted Living section on Assisted Living Directory.
Many states now have a way to file reports of suspected elder abuse online, and usually anonymously.  Unfortunately, Alabama is not quite there with being able to perform this reporting online.
However, it can still be done through the AlabamaAgeLine website, which is the "Official Site of the Alabama Department of Senior Services."
The section specifically for Elder Abuse is not obvious from the homepage, so I'll take you right to it:
http://www.alabamaageline.gov/programs.html#elderabuse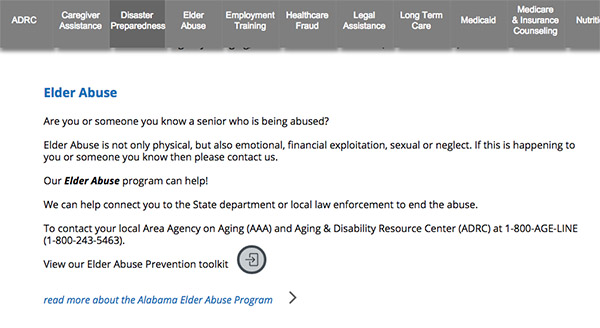 Here, you'll see a short section that recommends that people call their local Area Agency on Aging, or Aging & Disability Resource Center (ADRC) at 1-800-AGE-LINE (1-800-243-5463) – to report abuse.
However, there's a little more detail if you visit the link on the page that goes to the Elder Abuse Program:
http://www.alabamaageline.gov/elder-abuse.html
Here, they are a bit more specific on who to call.  There is an actual Elder Abuse Hotline, where reports can be made – and done so anonymously.  The number is 800-458-7214
There are a few more numbers as well:
Alabama Department of Public Health
To report abuse in nursing home call 800-356-9596
To report abuse in an assisted living facility call 800-873-0366
Seniors are often times afraid of reporting abuse.  It could be due to fear of some sort of retaliation, or perhaps worries about not being believed, or they simply aren't mentally capable of doing so, due to conditions like dementia.
It is so, so important if you suspect abuse in any form – physical, mental, or even through scams or fraud, to contact the appropriate authorities that I have listed on this page.