We're lucky to live in an online, digital age for many reasons.   Finding information has become easier, and that is certainly true for assisted living.
**Return to, or visit our Virginia assisted living section.
State websites, often Departments on Aging, or Social Services have really upped their game in recent years in terms of providing comprehensive data and tools to help seniors and families with assisted living research.
Additionally, many states are now providing ways to submit facility complaints online, and usually this can be done anonymously.
Virginia is one such state where any individual can file a complaint against and assisted living home.
Example of what the form looks like: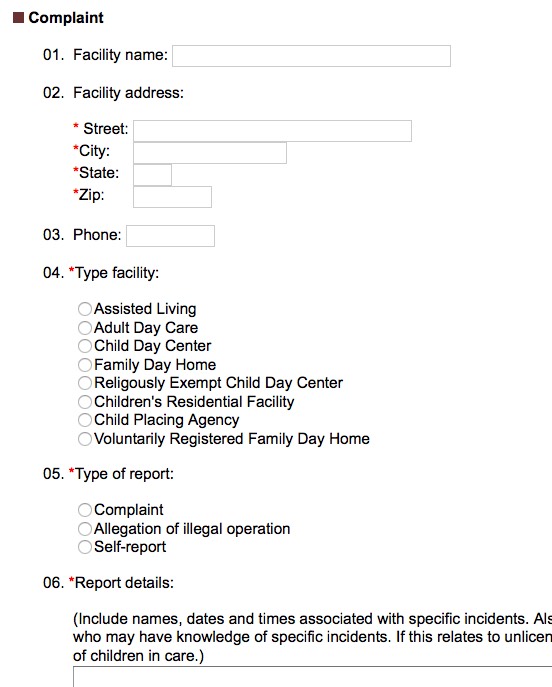 To do so, simply visit the State's Department of Social Services site, and their Division of Licensing Programs where you will find an online form to send in your complaint or concern.
http://www.dss.virginia.gov/about/email_licensing_complaint.cgi
The form is extremely straightforward.  Simply go through the steps, and provide the
* Facility Name
* Address and Phone
* Type of Facility
* Type of Report (Complaint, Allegation of Illegal Operation, or Self Report)
* Report Details
* Person Filing Complaint (this can be omitted so you remain anonymous, however, by not providing contact information, the inspector will not be able to contact you if additional information is needed).
* Your affiliation with the provider
This form can initiate an investigation that may or may not uncover violations, or substantiate the complaint.
These complaints and the resulting findings are then made available to the public through the Department's Facility Search and Inspections Summaries Section, which can be accessed here:
http://www.dss.virginia.gov/facility/alf.cgi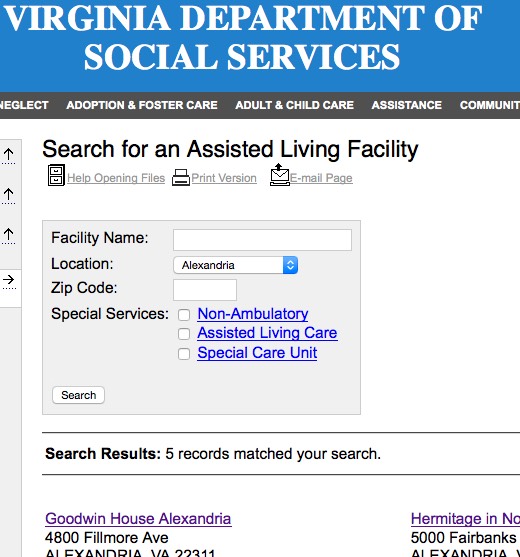 This tool alone is a fantastic resource for researching assisted living facility options statewide in an unbiased, non-commercial format.