I genuinely and honestly get extremely excited when I come across a great research resource for assisted living.   The reason I get so bubbly about it is simply because there is so much mis-information out there, and plenty of assisted living sites that really have questionable motives and intentions.
For Idaho, I've been aware of a few good state sites that offer facility data and lists, but one thing that I have not been aware of, until today, was the state's Department of Health and Welfare site, which offers an outstanding section detailing Idaho's 287 licensed facilities, including a very comprehensive section detailing the state's surveys and inspections reports for these facilities.
You can visit the site here, and look up this essential information yourself, for free!
http://healthandwelfare.idaho.gov/Medical/LicensingCertification/RALFSurveyResults/tabid/318/Default.aspx
The main page with additional information and facility lists statewide is here
Here's a screen-grab of what you'll find.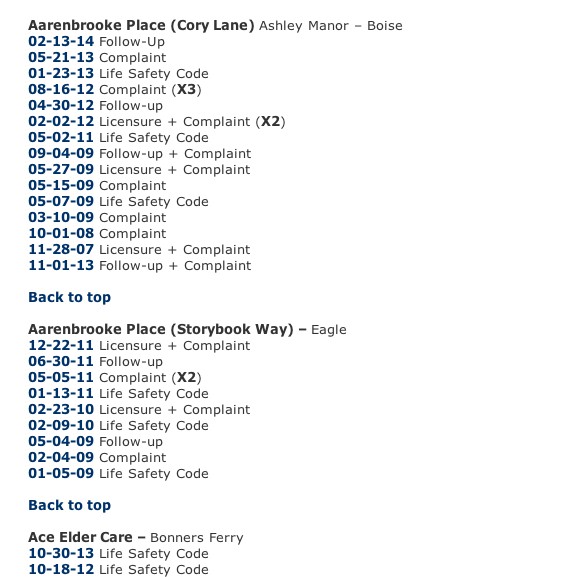 And, a view of a complaint document that you might find: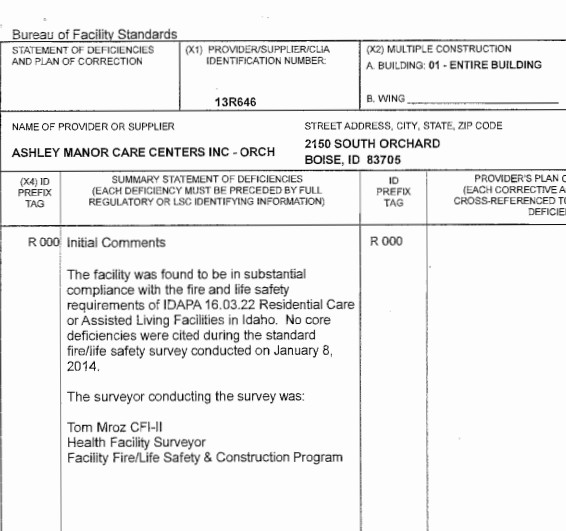 This information is not likely to be found on other sites, and is really quite essential for facilities that you are seriously considering.
Most facilities at one point or another will have negative inspections results.  However, I think the important aspect, and questions you should ask would be how those deficiencies, complaints or citations were addressed, and if they were resolved in a timely manner.
I hope this helps your research.  I was very excited to find this site and resource!