One of the things I have realized during the 9 years or so researching assisted living for our site, and looking at our statistics, what people click on, and search for – paying for, or covering the cost of assisted living is at the top of people's interest list.
Let's not try to sugar-coat it – assisted living, no matter which state you are in – is very expensive.  Many facilities may accept various forms of insurance, to certain degrees.  Other times, it is completely out-of-pocket.  It really depends on what state you are in, your financial situation, your health and extended support network and other factors.
Many states have some variation of a Medicaid/Assisted Living Waiver, which may help to cover some of the costs of assisted living, or care – for some people.   It may also cover a suitable alternative to assisted living, such as in-home care services.
Screenshot of Nevada's Assisted Living Waiver eligibility requirements: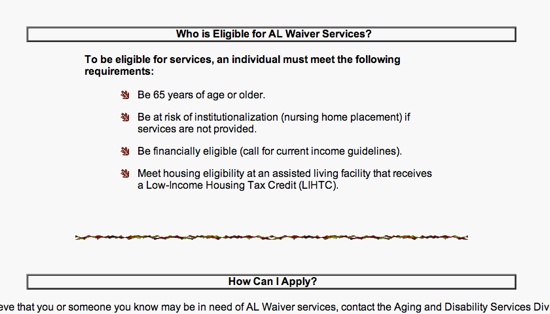 Nevada has just such a program, which is aptly named the Assisted Living (AL) Waiver offered through the Aging and Disability Services Division (ADSD). 
There's not a whole lot of information on their site about this other than fairly basic information, but it does say that "for eligible individuals" care in a residential facility with assisted living supportive services are available, and this is to be determined by a licensed social worker on a case-by-case basis.
Generally, you must be a senior (65+); at risk if you are not able to cover your own care, or services; are within income guidelines; and you must meet the requirements and eligibility at an assisted living facility that receives a "Low Income Housing Tax Credit (LIHTC).
The application process, to get started, is relatively straightforward.  You must simply get in touch with your nearest Aging and Disability Services Division office, and there's a handy list of them for Nevada on this page (Regional Offices):
http://www.nvaging.net/regional_offices.htm
From there, you'll be contacted by a social worker, who will work with you through the process, placement, and to make sure services are meeting the needs of the senior, or client.
Learn More: