Learn about New Hampshire's Assisted Living Regulations
It would have been easier to write one article about assisted living regulations that would apply to each state, but that would be impossible, since each state has it's own very unique set of assisted living regulations, rules and statues, and each state's assisted living industry is governed by different state-level entities or agencies.
Additionally, if you are looking for one, common definition for assisted living on a national level, you won't find one.   
Each state defines assisted living differently, and in fact, some states do not even formally recognize the term 'assisted living' and instead opt Adult Foster Care, Residential Care Home, or something similar.
For New Hampshire, you can easily learn who oversees assisted living for the state, and you can view specific documents that list the state's rules and assisted living regulations.
First, the Agency responsible for the oversight of assisted living rules and regulations in New Hampshire is the Department of Health and Human Services, Office of Operations Support, Health Facilities Administration.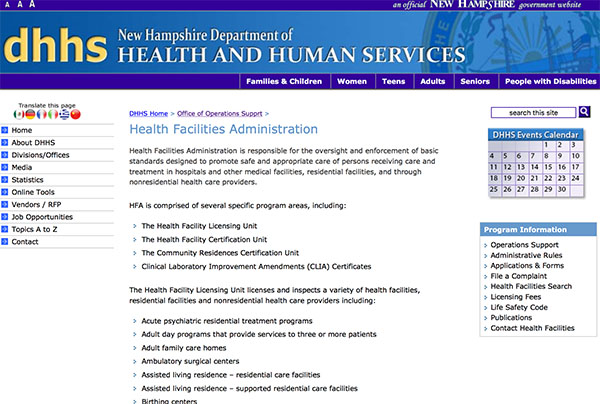 Their site offers some helpful information and direction for assisted living owners and administrators, their employees, and those who reside in (or have a loved one residing in) an assisted living home in New Hampshire.   
You'll see sections for
Licensing Fees
Filing a Complaint
Life Safety Code
Administrative Rules
Applications and Forms
Contacts in the Health Facilities Administration
and more.
How To View and Get A Copy of New Hampshire's Assisted Living Regulations
To view, and get a copy (in .pdf format) of New Hampshire's Assisted Living Rules and Regulations, you'll need to visit the Certified Administrative Rules section for their Bureau of Health Facilities Administration.
Here, you'll see rules for a number of different types of health care facilities, including
Assisted Living Residence
Adult Family Care Residence
Adult Day Programs
Hospice
and many more.
The first .pdf relevant to Assisted Living Administrative Rules is 50+ pages long (at this time) and covers:
Definitions (including for Assisted Living)
Licensing
Construction, Modifications and Renovations for assisted living structures
Inspections
Waivers
Complaints
Administrative Remedies
Duties and Responsibilities of the Licensee
Resident Admission Criteria
and more.
Definition for assisted living residence in New Hampshire: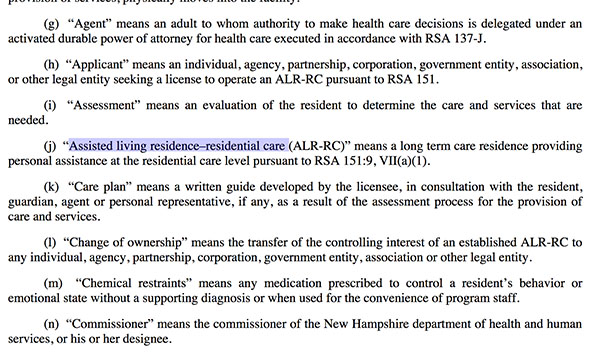 http://www.dhhs.nh.gov/oos/bhfa/documents/he-p804.pdf
The second document relevant to assisted living is similar, and provides information on Residential Care and Health Facility rules.
http://www.dhhs.nh.gov/oos/bhfa/documents/he-p805.pdf
Why is it important to understand New Hampshire's assisted living rules and regulations?
So often, families are thrust into a care environment or situation quickly, without having researched their (or their loved one's) rights, and what to expect in terms of quality of care, health and safety standards, and standards of dignity and happiness that are set forth by the state.
At times, facilities are able to 'get away with' things they shouldn't, and other times, residents may be abused, become hurt, or even perish from substandard care practices.
Employees who aren't trained, and who aren't regularly exposed to the specific rules and regulations set forth by the state can't possibly uphold a modicum of standardized care, and will be prone to making mistakes, often resulting in inspections deficiencies, and fines – not to mention the advert effects on the residents.
I also always recommend that if you are considering opening your own assisted living community or residence, that you take a 'deep dive' into the state's rules and regulations before committing to taking concrete steps towards this goal.    
You need to know what you're getting into, and that every single day you will be held accountable by the State, your residents, family members, and your staff to ensure that you are providing the best care, with the highest of health and safety standards.