An Overview of New Jersey's Assisted Living Regulations
New Jersey, like all states, has it's own set of assisted living rules and regulations.   Additionally, how New Jersey defines assisted living can be different from most other states.
This is where the assisted living industry can be confusing to families researching care.  Often times, families are researching for a loved-one across state lines, and what may fall within the boundaries of law in one state may not in another.
This is where knowing about specific State regulations for assisted living and long-term care is essential for making informed decisions based on accurate information from trusted publications and agencies.
First, for New Jersey, it's helpful to know who is responsible for the oversight and regulation of assisted living throughout the state.
This title goes to the New Jersey Department of Health, and their Division of Health Facilities Evaluation and Regulation.   
Their site looks like this: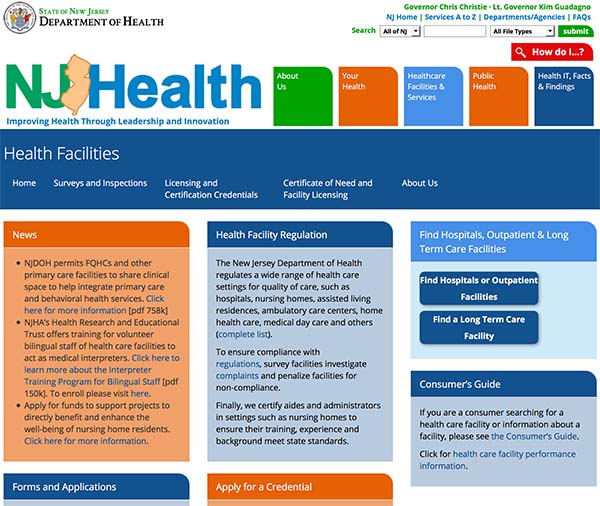 The Department of Health 'regulates a wide range of health care settings for quality of care, such as hospitals, nursing homes, assisted living residences, ambulatory care centers, home health care, medical day care and others.  The full list includes:
Adult Day Care Services

Alternate Family Care

Assisted Living Program (ALP)

Assisted Living Residence

Long-Term Acute Care Hospital

Hospice Branch/Hospice Care Program

Nursing Home

and more.
The full list includes a short definition of the service, which is unique to New Jersey.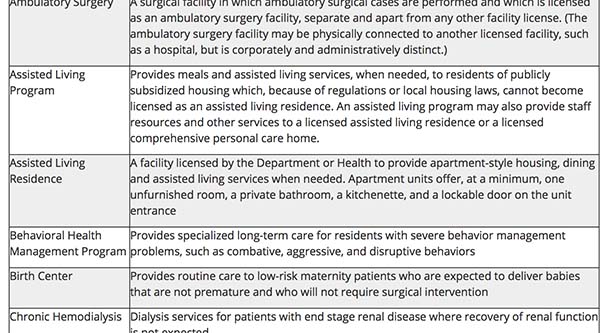 The Department of Health, and their Division of Health Facilities Evaluation and Regulation ensures quality, safety, dignity and health and well-being of the residents of care homes and facilities throughout the state through inspections and complaints investigations, and by penalizing facilities for non-compliance.
Learn more about filing a complaint and hotlines for New Jersey here:
http://www.state.nj.us/health/healthfacilities/file_complaint.shtml
How to see New Jersey's Assisted Living Regulations:
Although it's not as straightforward as other states to navigate to New Jersey's assisted living and personal care homes regulations, I'll walk you through the process here
Start at the Statutes, Rules and Rule Proposals section on the NJHealth site: http://www.nj.gov/health/healthfacilities/rules.shtml
Go to the Instructions for Viewing Regulations section, which takes you to a .pdf document with detailed instructions on how to view Title 8, Health & Senior Services and the associated Chapters outlining the state's regulations and codes for Health Facilities including Assisted Living.
It will instruct you to go to

http://lexisnexis.com/njoal/

  Go the the NJ-Administrative Code link on the left side of the New Jersey Register on the Lexis Nexis site.
 After clicking through the "I agree' prompts, you'll see the Titles on the left, where you'll select Title 8, Health.
 Clicking the + next to it will open up many chapters, where you'll navigate to Chapter 36, Standards for Licensure of Assisted Living Residences, Comprehensive Personal Care Homes and Assisted Living.
You will then see additional sub-chapters that include sections for:
Licensure Procedures

Administration

Resident Rights

General Requirements

Resident Care Policies

Resident Assessments and Care Plans

Nursing Services

Personal Care Assistants, Certified Medication Aides, and other Direct Caregivers

Dining Services

Physical Plant

Housekeeping, Sanitation, Safety and Maintenance

Quality Improvement

and many more.
Again, selecting the + symbol next to each sub-chapter opens additional documents relevant to the section.  These documents offer details relevant to the codes and regulations pertinent to New Jersey assisted living.
I always like going to the Definitions section to see how each State defines assisted living, and for New Jersey, the definition of assisted living is:
"Assisted living" means a coordinated array of supportive personal and health services, available 24 hours per day, to residents who have been assessed to need these services including persons who require nursing home level of care. Assisted living promotes resident self direction and participation in decisions that emphasize independence, individuality, privacy, dignity, and homelike surroundings."
Some states don't even formally recognize the term 'Assisted Living.'
The pages and documents containing New Jersey's Assisted Living Administrative Codes (Regulations) are comprehensive, and can be overwhelming to read and digest.  However, they are available to the public, and should help you to understand what's involved with owning, opening, and operating an assisted living home or facility in New Jersey, as well as what a resident and family can expect from the care provided.