The State of Florida, like all states, has it's own unique set of regulations, rules and standards that provide a backbone for ensuring quality and safety to the residents who reside in the thousands of assisted living facilities here.
There is also a specific department, or governing body, that oversees and regulates assisted living in Florida – The Agency for Health Care Administration, Bureau of Long Term Care Services.
Visiting this department's website, you'll be greeted to a great deal of useful and informative information and tools.
You'll see a specific definition for assisted living facilities in Florida.  It's important to note, that each state defines assisted living slightly, or quite differently from the next.   
You will also see other definitions, including for Adult Day Care Centers, and Adult Family Care Homes.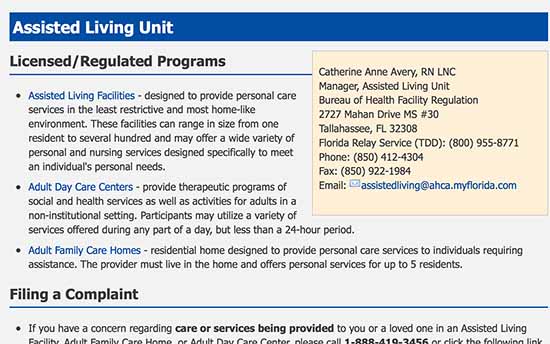 There are also a number of helpful sub-sections within this page that offer additional information, including:
How To File A Complaint
An 'Assisted Living Facilities' section with several PDF's, and directories of facilities statewide.
Consumer Resources
Licensee Resources
Statutes
Administrative Codes
and important contacts within the department.
Where can I see, and get a copy of Florida's Assisted Living Regulations?
The Florida Administrative Code & Florida Administrative Register has a comprehensive list of the State's Rules and Regulations for Assisted Living Facilities, broken down by Rule Number, Rule Title, and with an Effective Date included.
You can download, and make a copy of each Rule in a .Doc format here:
https://www.flrules.org/gateway/ChapterHome.asp?Chapter=58A-5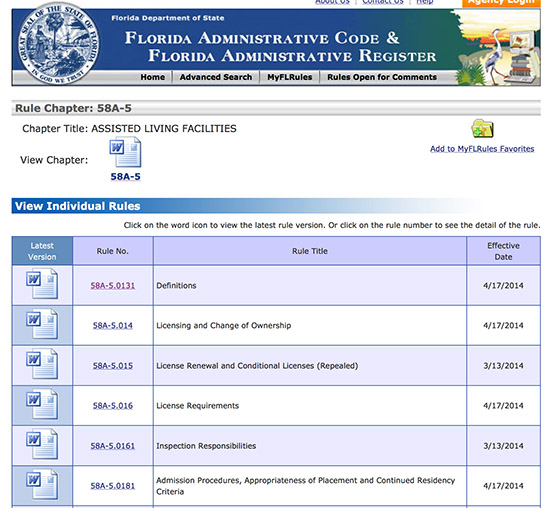 Each section is very detailed.  For example, the 'Definitions' Rule covers several pages, and includes very detailed definitions for many aspects of the operation of an assisted living facility or residential care home.
Some examples of the definitions covered are:
Agency Central Office
Ambulation
Toiling
Assistance with Transfer
Deficiency
Health Care Provider
Food Service
Optional State Supplementation (OSS)
Staff in Regular Contact
Unscheduled Service Need
These are just a few of many of the definitions covered.
Rules cover many topics and aspects of assisted living in Florida, including:
License Requirements
Medication Practices
Resident Care Standards
Staffing Standards
Fiscal Standards
Resident Contracts
Waivers
Emergency Management
and many more.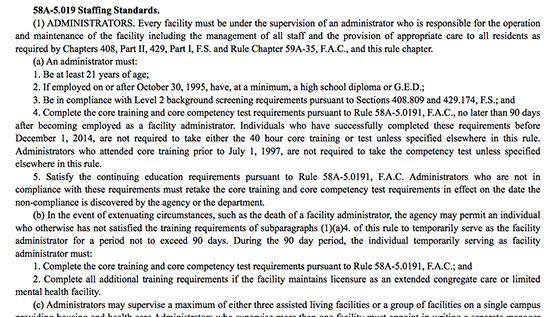 Being familiar with, and knowing where to find these regulations for reference is so important for assisted living facility administrators, staff members, residents, caregivers and their family members.   
Any assisted living home or community should be able to readily provide you a copy of these rules, if requested, and many facilities have copies of these rules 'out in the open' for residents, staff, guests or whomever else may wish to see a copy.
Having these rules 'at the ready' offers a form of empowerment to residents and family members, so that they are well versed, and may challenge, or constructively question a facility's policies, procedures, or levels of care.
It's also helpful for the facility employees and managers so that they can effectively operate a facility within the State of Florida's laws and standards.
All too often, ignorance is the enemy, and too many facilities suffer the consequences of unfavorable inspections, or even complete closure or revocation of license.   
Residents, most importantly, need to be guaranteed a safe environment in which to live, and these regulations provide the structure and means for achieving this.