There are a few places you can go to learn about Alaska's assisted living regulations, which we highlight in this blog post.
It's important for seniors, residents of assisted living or other long-term care facilities, and families, to be familiar with regulations, standards, and best practices as prescribed by the State of Alaska.   
These regulations are also essential to understand if you are considering opening your own assisted living residence in Alaska.
Far too often, facility administrators and owners fail, or do poorly on inspections, from not adhering to state assisted living regulations.  At times, facilities or homes are shut down for repeated, or extreme violations.
Who Regulates Assisted Living in Alaska?
This would be the Department of Health & Social Services, and their Division of Health Care Services.
Visiting the Health Care Services site, you'll get an overview of what the department does, and their vision, which, alongside regulating Health Care Services in Alaska, they also have "The responsibility for protecting Alaska's most vulnerable populations, through its certification and licensing sections."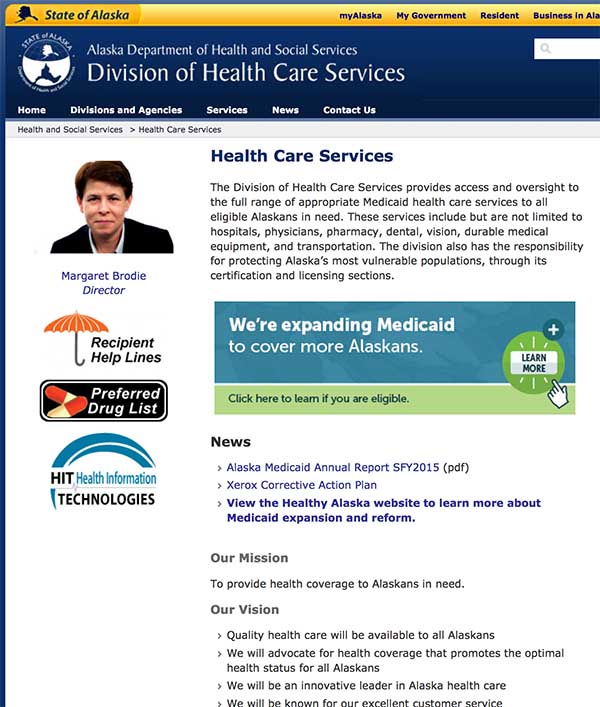 Visit the Health Care Services site here:
http://dhss.alaska.gov/dhcs/Pages/default.aspx
See Alaska's Assisted Living Regulations
There is a fairly large (at this time 159 pages) PDF document available to the general public that outlines the Regulations for Assisted Living Facilities in Alaska.
There are several key sections of this document, including:
Licensing of Assisted Living Homes:

 

Including the types of license, duration, application, and much more
 Operation of Assisted Living Homes:  This includes organization, administration, staffing, requirements and much more
Variances
Violations
 Statutes:  Including Purpose, Applicability, Resident Files, Rate Increases, Criminal Background Checks for Employees, and more.
Regulations
A snapshot of the table of contents: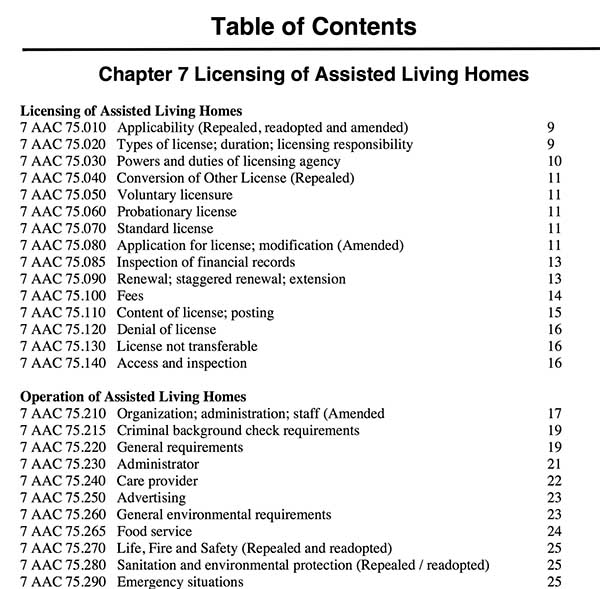 There is so much information within this massive document, but if you are interested in one type of regulation, or topic, you can do a 'search' of the document by ctrl+f on your computer.   
The great thing about this document is that it is easy saved, downloaded, and printed, so you may have a physical copy to take notes on.   
This also allows for assisted living facilities to have a copy on-hand should a resident or family member ask for a copy. 
See the full document of Alaska's Assisted Living Regulations here:
http://dhss.alaska.gov/dhcs/Documents/cl/all/assets/ALHStatutesRegulationsGuide.pdf