Our March 2012 interview in our "5 Questions" series was with Debra Treadaway of Providence Place Assisted Living  in Woodward, Oklahoma. We asked Debra the following questions about Providence Place, and assisted living.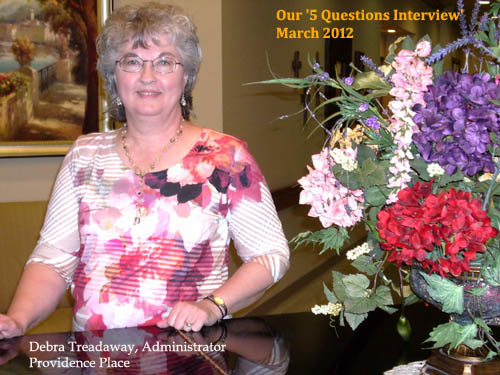 1)  Q: Please tell us about Providence Place assisted living, where your business is located, and how long you have been in the senior care industry (perhaps in terms of the "History" of Providence Place.)
Providence Place is an assisted living facility located in the city of Woodward, which is situated in the heart of northwest Oklahoma.  We are a free-standing, locally owned and operated, not for profit facility and are relatively new, having opened in September 2007.  The operation of Providence Place is under the direction of a local foundation and board with a wealth of experience in providing for the health care needs of the region, however, having previously operated the local hospital for many years.  Upon the transfer of the hospital operation, the foundation turned their attention to identifying and meeting other health care needs in the area.
Assisted living was quickly identified as a level of service that was absent, which forced local residents to move to larger cities for needed services, leaving behind the community and friends of a lifetime.  The need for assisted living services was met with the construction of a beautiful facility with 32 private apartments and spacious dining and commons areas.  Our residents receive three meals per day, all utilities except telephone service and weekly housekeeping and linen services, as well as scheduled activities and local transportation.  As needed, residents also receive assistance with medication administration and personal care.   Resident safety is a high priority, as well, safeguarded by such features as in-room and personal resident assistance call devices, fire alarm and sprinkler systems, security cameras and a safe room storm shelter.  Providence Place offers an independent, active lifestyle within a secure, caring community.
We often hear from families that the lack of adequate assisted living or senior care in smaller towns or rural areas can present a real challenge, and often times results in 'shipping' or exporting a family member out-of-town or state to a larger city.  I am happy that Woodward Place has helped it's residents stay local! – ALD
2)  Q: Providence Place is located in Woodward, which is a relatively small town.   Have you found that there are challenges with operating in a smaller town (i.e. filling beds, marketing, or access to activities or things to do for your residents), as opposed to operating in a bigger city?
Woodward is a small city of approximately 15,000 but, as the hub of northwest Oklahoma business and activity, draws from a larger population of 75-100,000.  Any challenges which this relatively smaller population base may present in terms of occupancy is more than outweighed by the advantages presented by our location within a close-knit, caring community.  Generally a new resident at Providence Place finds they are in the company of lifelong friends and acquaintances among other residents and staff members.
Planning for activities in a smaller, rural community does require a great deal of creativity, for more reasons than the availability of fewer ready-made entertainment venues.  Many of our residents have farmed all their lives, working from before sun-up until after sundown, with little time to develop hobbies and other interests to pursue in retirement.  Fortunately, we have been blessed with a wealth of community volunteers who share their time and talents with our residents as part of our schedule of activities.
Volunteers must be crucial to your business, especially being a not-for-profit.   I imagine it is just as rewarding for the volunteers to be actively involved with their community! – ALD
3) Providence place, as you have mentioned,  is non-profit.   What, in your opinion, are some of the benefits, or advantages of operating a non-profit facility, and perhaps challenges, if any – as opposed to a facility that is for-profit?
Operating a not-for-profit facility does not mean that we don't operate in a fiscally sound and responsible manner, as do all organizations which intend to remain in business and provide quality services.  We do have the advantage of being able to receive charitable contributions and are potentially eligible for certain grants and other funding sources not available to for-profit entities.  There are certain revenue sources which are closed to us, however, and we sometimes have to counteract the mistaken assumption that, because we are not-for-profit, we somehow don't have to have funds in order to continue operating.
Overall, the benefits of operating a not-for-profit assisted living community greatly outweigh any slight disadvantages.  One of the most important benefits of operating in a not-for-profit environment, I believe, is the opportunity we have to work with a foundation and board of trustees composed of local members who are passionate in their dedication to this community and region.  Their commitment leads them to freely volunteer their time and talents toward assuring the success of Providence Place, which is an invaluable asset to us.
4) Your facility is smoke and pet-free.    Some facilities pride themselves on allowing pets, and even go as far as promoting 'pet therapy.'   On the other hand, I am sure that many people would appreciate having a 100% smoke and pet-free option for senior care.   Do you feel that being smoke and pet-free has been beneficial and well received with your residents?
By keeping our premises smoke free, we believe we are providing the healthiest environment possible for our residents and staff members.  In addition to the long term health consequences to the smoker, some of our residents have conditions which would be adversely affected just by the presence of cigarette smoke within the building.   We've actually had very few residents for which our smoke free policy has presented any difficulty and have even had a few for which the policy has given them the incentive to follow through on a long-standing resolve to stop smoking.
Our pet free policy is an outgrowth of our commitment to providing the highest quality services to our residents.  Unfortunately, it is sometimes the case that residents in assisted living are unable to provide for all of the care needed by their pets.  Rather than have staff members' time divided between care of our residents and of their pets, we prefer that they focus their time exclusively on the needs of our residents.  We do not, at this time, provide pet therapy but would not rule out the possibility of adding it at some time in the future if the our residents' needs and desires dictated.
5)  I noticed that you promote 'Personalized individual care as residents' needs change.'  Does this mean the same thing as 'aging in place?' 
Many of our residents move to Providence Place needing nothing much more than a secure environment and the companionship of other active seniors.  They also benefit from good, home-style food and are relieved from household chores and home maintenance duties.  As time progresses, they may need more assistance, however, often times beginning with help in taking their medications accurately.  Some may need assistance with bathing or dressing or other personal needs, at some point, or may simply need reminders for daily activities or safety checks to verify their well being.  At Providence Place we can provide all these services as they are needed, while supporting and encouraging our residents' continued independence.
True 'aging in place,' which is generally accepted to mean remaining in one location through end of life, is not always possible at Providence Place as we do not provide skilled nursing services.  In some instances, coordinating with a resident's family and other providers, we are able to help a resident remain in their home here through a terminal condition.  Our residents' comfort and safety are our primary concern, however, so we routinely monitor our residents' needs.  At any time we feel we cannot safely and effectively provide nursing or other services a resident will need for a prolonged period of time, we work with the resident and family to help them locate an appropriate setting in which all their needs will be met.
6) Debra, what is one of the most significant or important things that you have learned about operating an assisted living facility in your time being an administrator of Providence Place?
With my time spent in daily contact with residents at Providence Place, I am even more convinced that the greatest needs for our senior adults are no different than for any of us, no matter what our age.  We all need good food, a safe environment, the companionship of friends and family and something to look forward to each day, whether that is a job, an organized activity or simply knowing we will have someone to talk to throughout the day.  We usually enjoy all these benefits as we go through much of our life and spend each day working and raising our family.  Unfortunately, as we age, the ability to meet these basic needs can be lost due to issues such as the death of a spouse and friends, distance from other family members and loss of physical mobility.  Poor nutrition, isolation and depression can be just as debilitating as any other disease or condition.
Assisted living is uniquely designed to help senior adults replace that sense of security and of belonging to a community of family and friends they may have lost.  Without downplaying the value of providing adequate nutrition, accurate medication administration and assistance with activities of daily living, I sometimes feel that the most important thing we are providing our residents is the sense of belonging to a big, happy, active family again.  I certainly feel that my job as administrator of Providence Place supplies me with these same benefits.
Debra, thank you for taking the time to share your wonderful experience, insights, and expertise with me.   I am sure your knowledge will be extremely helpful to anyone considering assisted living in Woodward – or anyone who is wanting to learn more about what assisted living is, and can offer!