We hope that you'll never have to use these instructions, but it should offer you comfort that should any issues or incidents arise at an assisted living facility anywhere in Ohio, you can easily, and anonymously (if you wish) file a complaint with the State, and there are a few ways you can do this.
The first way, if the issue or problem isn't life-threatening, I always recommend starting with your Long Term Care Ombudsman.  Every state, city and county in the US has one, usually under your specific Area Agency on Aging.
"An ombudsman is an advocate for residents of nursing homes, board and care homes, and assisted living" as described by the State of Ohio.
How do I find my city's (in Ohio) Long Term Care Ombudsman?
Simply go to: http://aging.ohio.gov/Ombudsman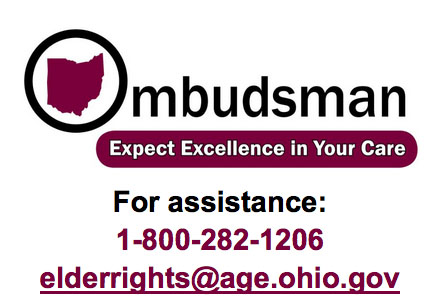 Next, let's look at how to file a formal complaint against a care facility in Ohio (including assisted living).
The quick and easy way is to simply call. If you live in the state of
Ohio: Please call the COMPLAINT HOTLINE number at 1-800-342-0553.
Some people, though, prefer to do things in writing, and there's a way to do that too.
There's a .pdf complaint form that you can save, and print here:
http://www.odh.ohio.gov/pdf/forms/hea1685.pdf
That looks like this: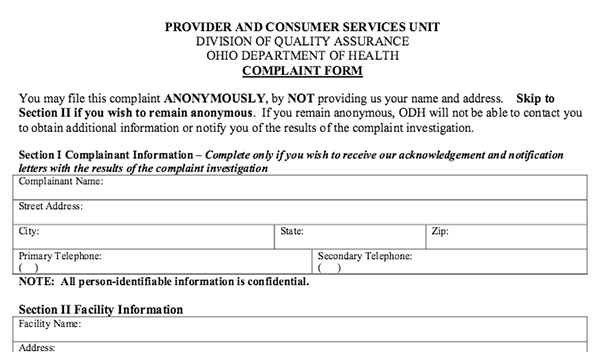 You can also simply e-mail your complaint to: 

A great overview of all methods of filing a complaint against a healthcare facility in Ohio can be found here:
http://www.odh.ohio.gov/~/media/ODH/ASSETS/Files/dspc/complaints%20-%20nursing%20homes/faqs.pdf