I wish that the awesomeness of the internet were more up-front and findable to people – it would save a lot of time and hassle if families searching for assisted living could get their hands on 'the good stuff' on the first try.
Maybe that's where our site comes in, to help push the helpful content, guides and resources to the forefront, and for Alameda County, there is a superb, and comprehensive 9+page guide that you can print, and save.  Best of all, it's completely free.
This senior resource guide for the North County serves Oakland, Emeryville, and other cities in this area.
Here's a screen-sample of what you'll get: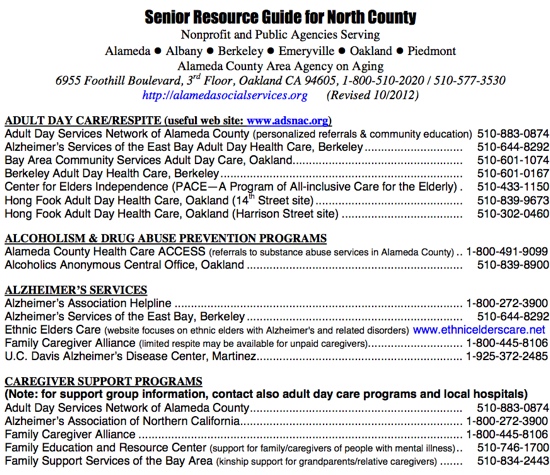 Some of the offerings include:
Adult Day Care/Respite Programs
Alzheimer's Services and Supports
Caregiver Support Programs
End-of-life planning
Housing Assistance
Veterans Services & benefits counseling
& much more!
This guide offers direct contact information for each service, program and department.  At times, it will also include a direct website address or reference.
You can get the guide here:
http://alamedasocialservices.org/public/services/elders_and_disabled_adults/index.cfm
Additionally, the Alameda Social Services agency provides a 40+page Senior Housing Guide, that is packed full of excellent information for seniors, families and caregivers researching assisted living, long-term care or other senior programs in Alameda County, Emeryville or Oakland.
The guide looks like this: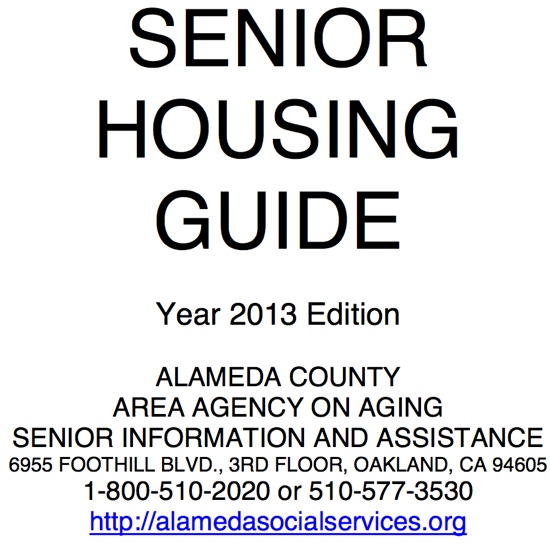 This guide "has been prepared to assist persons aged 62 or older, in seeking safe affordable housing in Alameda County."
This guide has specific definitions for each category of care, including assisted living and residential care, and the guide recommends that if you want a current, full list of assisted living facilities in the county, Contact Alameda County Long-Term Care Ombudsman Program at 510-638-6878.
Both guides can be found, translated into multiple languages here (visit their Area Agency on Aging section):
http://www.alamedasocialservices.org/public/services/elders_and_disabled_adults/