Return to, or visit our Idaho assisted living section.
It is so confusing, researching assisted living.   No two states are alike in terms of regulations, definitions, and what is offered by assisted living.    It gets even more confusing when you try to research Medicaid assisted living.   
Many states do not have Medicaid-Certified assisted living.  There are only a handful that do have facilities approved for assisted living, but finding those facilities can be a real challenge.
I've found that many assisted living communities, even if they accept Medicaid, don't like to advertise that fact since private-pay residents can be more profitable, and much easier to deal with.  
Unfortunate yes, but the good news is that if you live in Idaho, there's an easy way to find out which facilities accept Medicaid – statewide.   
How To Find Medicaid-Certified Assisted Living Facilities in Idaho
I wish this site and the resources I am about to highlight were easier to find in a general search online.  They don't come up often, but they have some of the best, most usable information found anywhere regarding Idaho's 100's of assisted living facilities and residential care homes.
To do a general search, and to get state-supported information for Idaho assisted living, visit the State of Idaho's Department of Health and Welfare, Licensing and Certification and then their Residential Care or Assisted Living section.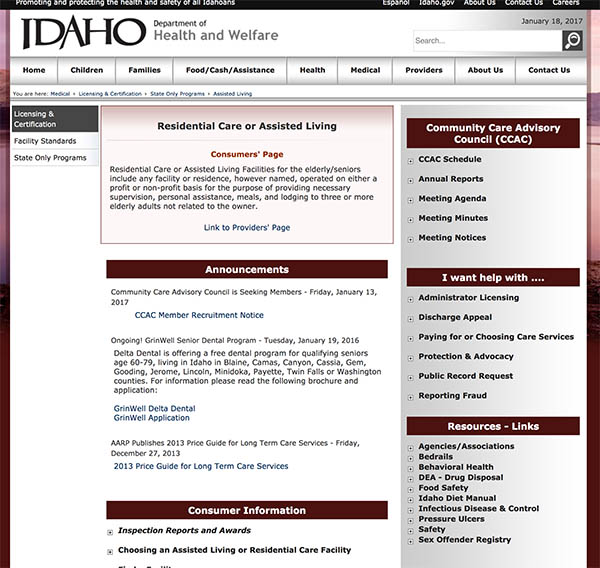 http://healthandwelfare.idaho.gov/Medical/LicensingCertification/StateOnlyPrograms/AssistedLiving/tabid/273/Default.aspx
They have a section a little ways down for Consumer Information, and a section for "Find a Facility."  Under this section, once you select it, you'll see a 'Facility Search Page' which will take you to the Facility Licensing and Regulatory Enforcement System, or FLARES.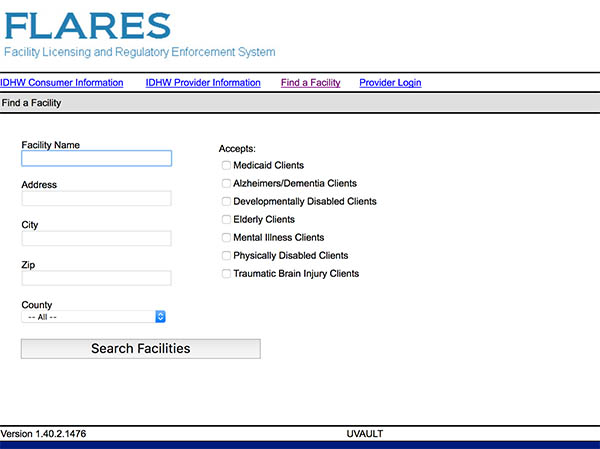 What I did was to simply enter a city I was interested in, for example, Boise, and then, you'll see a checkbox that includes a selection for "Accepts Medicaid Clients.'
Easy enough.
Then, once you search facilities, a very easy-to-read list will come up.   You will even see which facilities have received an 'Award.'
From there, you can go through and look at the different facilities.    
The details page offers some really good information, including:
Direct phone
Licensed Beds
Accepts Medicaid Clients (yes/no)
Resident Types (Alzheimrer's/Dementia; Elderly; etc.)
Administrator's name and information
Owner Information
Surveys, and award status
Complaints
and Historical Documents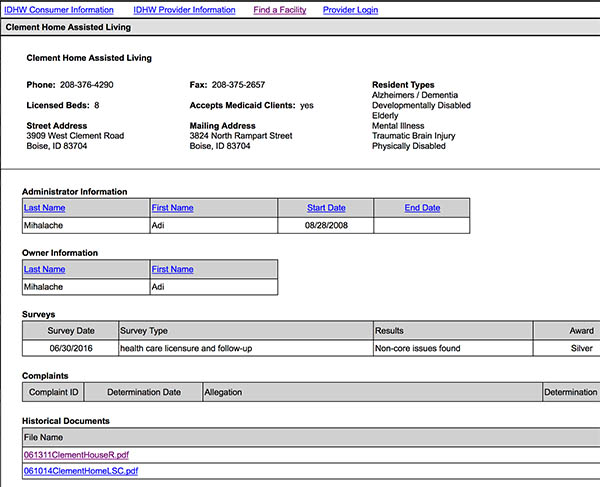 The historical documents often include additional interesting information and findings from state inspections and visits which can be used to come up with additional questions for the facility administrators as you research and tour prospective communities.