Learn about Idaho's assisted living regulations (& how to get a copy)!
Assisted Living, for the most part, is regulated at the state level, and each state has it's own agency responsible for the regulation and oversight of assisted living.  Additionally, how each state defines assisted living, and related terms may be a bit, or quite a bit different.   Some states don't even officially recognize the term 'Assisted Living Facility.'
For Idaho the State Agency Responsible for Regulating Assisted Living is the Department of Health and Welfare.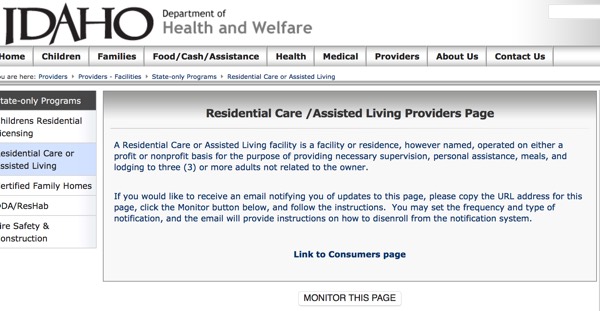 http://www.healthandwelfare.idaho.gov/Providers/ProvidersFacilities/StateonlyPrograms/ResidentialCareorAssistedLiving/tabid/361/Default.aspx
A visit to the Department's site offers some useful information and additional useful sections.
First, you'll be greeted to a definition of Residential Care and Assisted living in Idaho.
There is a link to a consumer's page which offers section on:
Administrator Licensing
Discharge Appeal
Paying for or Choosing Care
Protection & Advocacy
Reporting Fraud
Additionally, down further on the page, you'll see additional sections for:
Inspections Reports and Awards (this section is really great, as you can quickly browse complaints, as well as facilities that have earned awards).
A consumer checklist on choosing a good assisted living residence
Facility lists, including an alphabetical .pdf document listing all of the 287 (at this time) licensed assisted living facilities in Idaho.

 

They are coded by AD, for Alzheimer's and Dementia, DD for Developmentally Disabled, EL for Elderly, MI for Mental Illness, PD for Physically Disabled, and TB for Traumatic Brain Injury.
Where can I get a copy of Idaho's assisted living and residential care regulations? 
The State offers a comprehensive PDF document, which, at this time is almost 80 pages.
http://adminrules.idaho.gov/rules/current/16/0322.pdf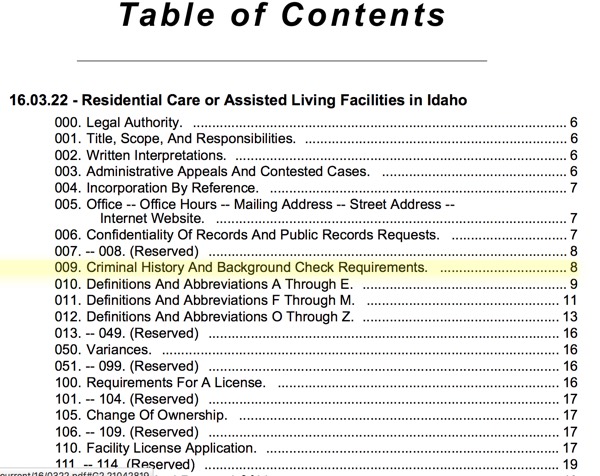 The document covers topics and regulations including:
Legal Authority
Title, Scope and Responsibilities
Definitions
Requirements of a License, License Processes and Application
Requirements of a Facility Administrator
Requirements for Termination of Admission Agreement
Food Preparation and Service
Requirements to Protect Residents from Abuse
Core Issues Deficiency
Enforcement Remedy of Revocation of Facility License
and so much more.
This document is freely available to the public, and can be easily saved, and printed.
Family members who have a loved one in an assisted living facility should be familiar with this document, and at the very minimum, have a copy, or bookmark the document page for easy access and reference.   
Residents of an assisted living home should keep a copy of these rules and regulations (unless they are not able to do so, or understand them due to memory disorders or other cognitive issues).   The best way to be empowered as a resident is to understand the rules and regulations that have been set forth by the State of Idaho.
Facility Staff and Administrators should be intimately familiar with these regulations, since, failure to maintain them can result in violations or citations, or worse, health or safety issues that could endanger the residents.
Finally, these regulations are helpful, if not essential for anyone who is considering opening their own assisted living home.   These regulations will give you a good idea of what is involved in the day-to-day operation of an assisted living residence, and how to get started with the licensure and application process.