Learn about Wisconsin's Assisted Living Regulations
By Joelle Besnette for Assisted Living Directory

The state of Wisconsin offers an impressive amount of information when it comes to Assisted Living, including decision making, assistance, and general resources.  That's the good news.  The bad news is that the number of caregivers is declining, and I'll explain more on that in this article.
While researching this article, I came across some eye-opening statistics courtesy of the Assisted Living Association and a 2016 report titled Long-Term Care Workforce Crisis:  A 2016 Report.  Below are just a few points taken from the report:
Residents living in long-term and residential care facilities rely on an estimated 73,700 caregivers
The number of Wisconsin residents living in long-term and residential care facilities has grown 18% since 2003
In the next 30 years, the ratio of Wisconsin residents age 65 and older to the entire state population will grow from 1 in 7 to 1 in 4
While the population requiring long-term care, including assisted living, is over 87,000 as of mid-2016 and steadily increasing, the number of caregivers is decreasing.  In fact, over the next 5 years, the need for personal care workers is expected to rise by 26.4%, according to projections made by the Wisconsin Department of Administration, Demographic Services Center.
The report cites low wages and reduced benefits as compared to entry-level positions for unskilled (!) workers.  An unskilled worker makes an average of $12.00/hr, however, a personal caregiver only makes $10.75/hr.  As a result, many former caregivers are employed outside the health care sector.  The lack of staff forces facilities to resort to double shifts and overtime…you can imagine how difficult that would be for a professional caregiver.
As an aside, the current minimum wage in Wisconsin is $7.25/hr.  19 other states have enacted legislation to raise the minimum wage starting in 2017.
Who regulates Assisted Living facilities in Wisconsin?
Assisted Living facilities are overseen by the Department of Health Services.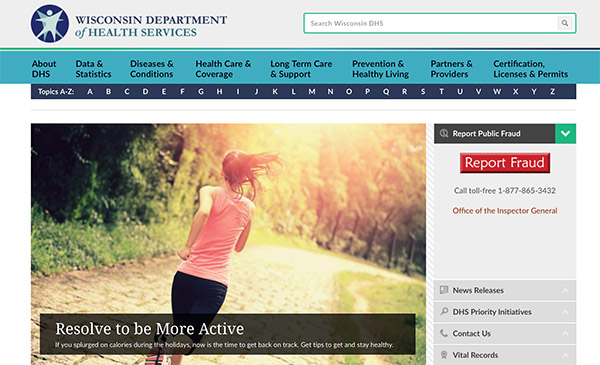 The Department of Health Services does not provide a referral service for evaluation and placement in an assisted living facility, however, their web site has a wealth of information and guidance.  However, Aging and Disability Resource Centers (ADRCs) are a great place to get assistance and information.  They can help find services that match the individual's needs – even if that is something other than assisted living.  They also provide long-term care counseling.  Services are available over the phone, or by a home visit.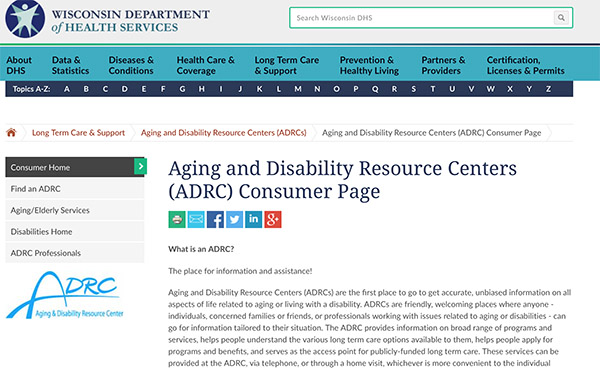 What types of assisted living facilities are there?
Assisted Living facilities are for individuals who need some level of care monitoring.  Assisted Living facilities do not have 24-hour access to nursing services.
Wisconsin oversees 4 kinds of assisted living facilities:
Need help decoding all the alphabet soup of acronyms?  Here is a document that may help: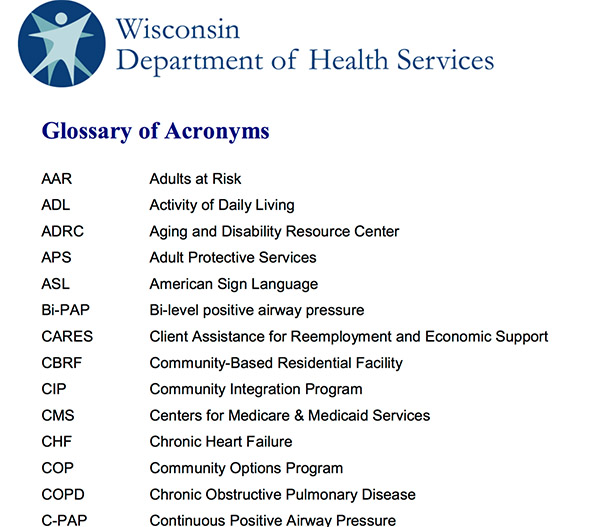 Most facilities are either an Adult Day Care or Community-Based Residential Facility.  An Adult Day Care (ADC) is for individuals who need help with "ADLs", or Activities of Daily Living.  These include bathing, dressing, toileting, eating, mobility in the home, and transferring (meaning being able to move from one surface, such as a bed, to another, such as a chair).  Besides personal care, ADCs provide meals, transportation, activities, and medical care/medication administration.
The facility may be located in a center, home, or public facility such as a church or school.  Like day care for children, most are open weekdays during regular business hours.
A Community-Based Residential Facility (CBRF) is for adults who need to reside in the facility and who may need up to 3 hours of intermediate nursing care each week.  These facilities have anywhere from 5-250 beds.
How can I find a facility?
The Department of Health Services offers a comprehensive resource called the Consumer Guide to Health Care – Finding and Choosing an Assisted Living Facility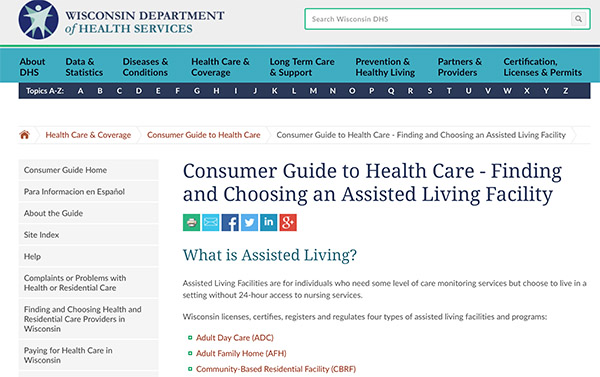 One this web page, they also offer County-By-County Directories of Wisconsin Residential Care Providers to help you find a health or residential care provider by county.  To view compliance history of a facility, use the DHS Provider Search.
Finally, the Department also offers several Assisted Living directories for each of the 4 types of facilities in both .pdf and Excel formats.  These directories are also located on the Consumer Guide web page.
How can I find a list of facility inspection reports?
As mentioned above, you may use the DHS Provider Search tool to find a facility, and view compliance history.  Other tools include a somewhat "busy" web page entitled Choosing Wisconsin Residential Care Options.  This page links to every county in Wisconsin, so you can find more information that is county-specific.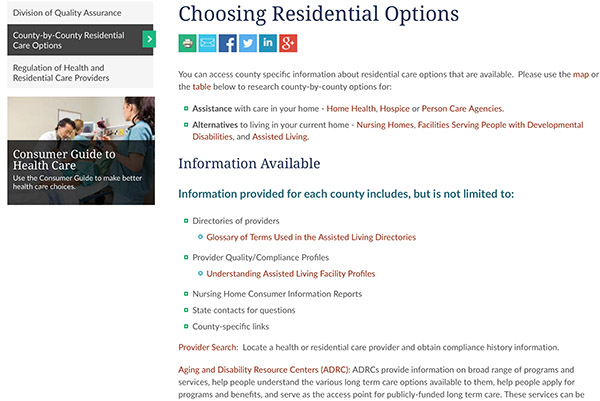 How can I view, and get a copy of Wisconsin's Assisted Living Regulations?
Regulatory information is available and is specific to the type of facility:
Wis. Admin. Code § DHS 88
Community-Based Residential Facility (CBRF):
Wis. Admin. Code § DHS 83
Residential Care Apartment Complex (RCAC):
Wis. Admin. Code § DHS 89
How are complaints handled?
The Department of Health Services, Division of Quality Assurance oversees the health, welfare, and safety for the State. Complaints may be filed with the DHS Bureau of Assisted Living by calling 800-642-6552, or by contacting the relevant Regional Office.
Where can I go for further information?  
Wisconsin offers several resources for additional information:
The Wisconsin Coalition for Collaborative Excellence in Assisted Living (WCCEAL) seeks to improve outcomes of individuals living in Assisted Living facilities.
Thinking of Moving to an Assisted Living Residence?
is a .pdf guide for potential residents and their families.  Although published by a New York-based coalition, the information is relevant to anyone who is considering assisted living for themselves or a family member.