One of the most popular pages on our site has always been our page for Veterans and assisted living.   Seems like there is more demand for long-term care for our men and women of the armed forces than there are beds and facilities.
Additionally, it is not always easy finding or identifying which facilities are geared towards Veterans.
Fortunately, for Wisconsin residents, the State offers an excellent search tool that allows users to find providers, and to specify care for Veterans.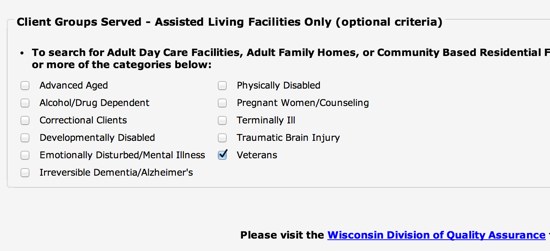 Wisconsin is one of the few states that has a tool that specifies Veterans as a 'client group served.'
To use this tool, simply visit The Wisconsin Department of Health Services:
https://www.forwardhealth.wi.gov/WIPortal/DQA%20Provider%20Search/tabid/318/Default.aspx
Start at the top, beginning with the county.  From there you will be able to select your city/area, and what type of care you need, such as assisted living, adult family home, adult day care, hospice, or whatever other type of care you might need.
Then, at the bottom, select your specific criteria, for example Veterans.  Then do the search.  From there, you should see a pretty solid list of facility options.  If you don't see any, try broadening your search by county-only.
This tool should be considered unbiased, and not commercial in nature, so the information displayed should be trusted!  For further info on Wisconsin's assisted living facilities please visit:
https://www.assisted-living-directory.comcontent/wisconsin.cfm