I absolutely love, love love it when our tax dollars go to great use to help our seniors, families and caregivers (and, as we know, this is not always the case).
As I have researched assisted living across the country, there are places in the US that have a "is anybody home" feel to them in terms of what's available through state, local and federal resources to help our Elders, and their families.
Fortunately, though, if you live in Phoenix, or anywhere else in Maricopa County, Arizona, you have access to a great deal of excellent information, right at your fingertips through their  Local Area Agency on Aging.
We mention in several places on our site how you can research facilities, and even find inspections and citations data.  But, we want to add to that with highlighting an outstanding Elder Resource Guide that is offered through the that covers the Phoenix metro area (http://www.aaaphx.org/).
This guide is comprehensive, and is worth a look.
Here is a screen-shot of it's table of contents: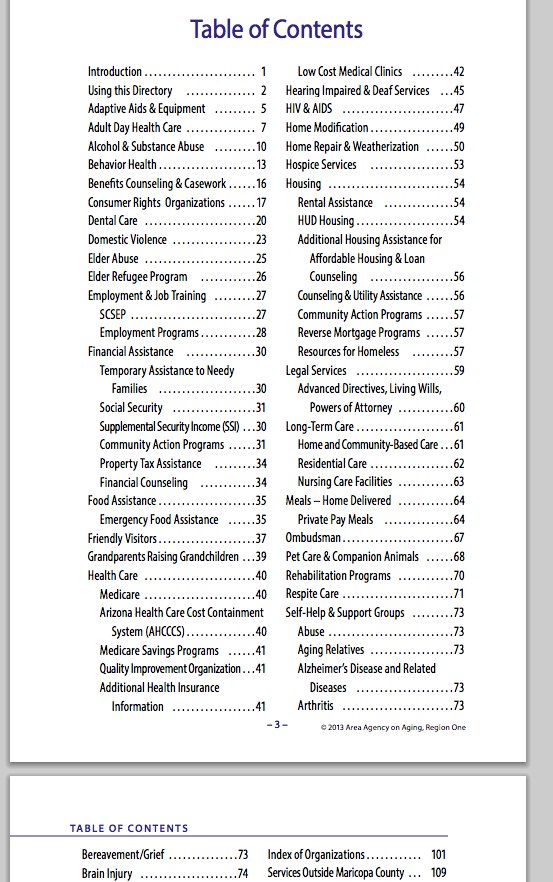 You can print/download this free guide here:  http://www.aaaphx.org/home/elder-resource-guide/
At the very minimum, this offers an outstanding place to ask a question through trustworthy sources.  There are plenty of contacts and phone numbers throughout this guide for various agencies, services and programs within the metro area.