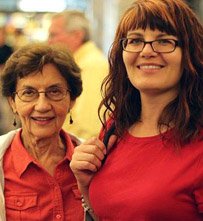 Assisted Living Directory has updated this page to offer information on the handful of assisted living and residential care options that can be found in Middletown.
All facilities on this page may be contacted directly, and safely (unlike quite a few other senior care websites). We also point out any useful city, state and federal resources and agencies that can help you to further your senior care research in Middletown, or Connecticut.
One great starting point for seniors, families and caregivers in Middletown is the 'Senior Resources Area Agency on Aging' which serves a number of communities, including Middletown. Here, you will find a plethora of services and programs including: Caregiver support; Alzheimer's Respite; Support Groups; Housing information; Nutrition Services; Volunteer Opportunities and much more! You can contact the agency directly at: 860-887-3561.
Additionally, the City of Middletown has a senior services department (150 William Street) that offers it's own programs and assistance to the city's senior residents. Intro by D. Besnette

Middletown Assisted Living: Featured Facilities, Video Tours & Services
One MacDonough is a non-profit assisted living community owned by Middlesex Hospital. It represents the hospitalcontinued commitment to serving older adults, their families, and the community by extending its continuum of care. Here, residents are able to live independently in their own apartments while receiving just the right amount of care they need to remain independent.
877-644-2963Pricing & Availability

& Contact One MacDonough Place Directly!
Middletown – Assisted Living Facilities & Senior Care
Address: Middletown, CT 06457-7939
Phone: 860.347.7144
866-981-5725Pricing & Availability

A state-subsidized assisted living facility, opened in 2005.

Luther Ridge Middletown assisted living facility
45 studio apartments with carpeted bedroom alcoves and living area with handicap accessible bathrooms.
Modern kitchenette with refrigerator.
Utilities (excluding cable and phone).
Three delicious meals per day.
Housekeeping and laundering of towels and linens.
Active and varied social calendar.
Spiritual program reaching across denominations.
A professional social worker to coordinate vital services for residents.
Skilled Nursing Care
Personal Care Community
Address: 876 Newfield St Middletown, CT 06457-1857
Phone: (860) 632-2118
1-866-333-6550Pricing & Availability
Map
"One MacDonough Place offers seniors assisted living, personal care and household services in the privacy of their own apartments."
Address: One MacDonough Place Middletown CT 06457
Phone: 860-358-5800
877-345-1716Pricing & Availability
Learn More
Individually tailored support in a familiar environment is the vision behind Assisted Living at Edgehill
Address: 645 Saybrook Road Middletown CT 06457
Phone: 860-344-8788
1-866-333-6550Pricing & Availability

Community Features:

Exercise/fitness rooms
Wellness center that will help you stay healthy and trim
Cozy library
Beauty & barber shop
24-hour snack bar
Private dining room for special gatherings
General store
Recreation room
Patio, courtyard & gardens
Pub
Ice cream parlor
Living room
24-hour access to computers and internet
Payments Accepted:

Long term care insurance
Private funds
VA benefits
Assisted Living
Alzheimer's and Memory Care
Our certified consultants will help to identify your assisted living needs, and help you through every step of the process. Our Advisors have received their Certified Senior Advisor certification to earn their expertise in Middletown, CT. Our service is 100% free to you.
We can help with simple questions, or complex, dedicated situations or circumstances.
Learn more about our free service by calling: 1-866-333-6550
877-644-2963Pricing & Availability

Additional Support
Middletown Senior Computer Learning Center