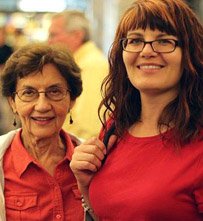 Greenwich is quickly becoming a popular destination for seniors and retirees, as is evident from the percentage of over 17% of Greenwich's 61,000+ residents being of senior (65 and over) status (Source: U.S. Census Bureau QuickFacts for Greenwich).We can comfortably guess that the number of seniors in Greenwich will increase steadily, as will the demand for senior housing and assisted living options.
Happily, seniors, families and caregivers in Greenwich already have a solid selection of facilities and options (included on this page) as well as a number of places to turn for assistance, and to get questions answered, or to simply ask for advice. Primarily the Town of Greenwich's Commission on Aging is a great first point of contact to launch your senior care research, or to find knowledgeable representatives to direct questions to.
The Commission on Aging offers a senior services directory (.pdf), transportation guide for Greenwich, and identifies and documents needs for elderly citizens in the area, and much more. The Commission on Aging can be contacted at (203) 862-6710.
** The facilities listed on this page may all be contacted directly and safely. We will include video tours of senior care facilities in Greenwich on this page as they become available! Intro by D. Besnette
Greenwich Assisted Living: Featured Facilities, Video Tours & Services:
This fun and lively video/photo tour of The Mews in Greenwich assisted living facility will show you the lifestyle, fun, and environment of this facility. Reasonably priced senior living located in Downtown Greenwich. Offering assisted living and independent living in a smaller, caring community environment. Engaging events, caring people, fun activities, and much more! Call: 203-312-7847.
888-985-4427Pricing & Availability
Web
Finding appropriate and quality assisted living or memory care can be confusing, and extremely time consuming. I am here to help make the process easier for you, and to help guide you towards the care that matches what you need, in the area you are interested in.
I can help with simple questions about senior care
I can work with you personally, and even set up tours, and accompany you as you visit different facilities
I am familiar with regulations, paying for care and insurance issues.
You will never receive a bill. My services are completely free.
I would love to introduce myself, and explain how I can help you before you decide. Please use my contact form to get in touch with me. I'll get back to you promptly!

1-877-616-7329Pricing & Availability

Greenwich – Assisted Living Facilities & Senior Care

Parsonage Cottage Senior
"Parsonage Cottage is a highly rated, state-of-the-art, Senior Residence located on parkland acreage in beautiful Greenwich, Connecticut, that provides a full spectrum of services and activities to enrich and enhance daily living"
88 Parsonage Road
Greenwich, CT 06830
(203) 869-6226
877-345-1716Pricing & Availability
Map
"In keeping with its pace setting history, it expanded its services in 1997 to become the first licensed Assisted Living Agency in Greenwich"
1/2 Bolling Place Greenwich CT 06830
203-869-9448
888-723-8284Pricing & Availability
Map
Services and amenities include:
Three delicious, nutritious meals each day, enjoyed in our dining room or on outside terrace.
Weekly housekeeping service
Fresh bed linen and towels once a week
Washers and dryers conveniently located on each floor.
On-site hair salon/barber shop.
A wellness program with monthly health discussions, blood pressure and weight checks.
Exercise classes including Tai Chi.
24-hour emergency health care, including first aid services.
Educational programs, lectures and discussions on current events.
Daily entertainment and activities, such as bridge, bingo, movies.
Extensive on-site library, plus visits from the Library Bookmobile.
Opportunities to serve on the Residents Council and other ways to become involved in life at The Mews.
"a luxurious assisted living residence in a bed and breakfast atmosphere"
1155 King Street Greenwich, CT 06831
(203) 531-5500
"Our Memory support program was developed by professionals with a proven reputation for therapeutic and recreational skills."
866-315-1354Pricing & Availability
Map
Additional Support
Questions about Facility Costs or Availability? 866-333-6550
***Learn how to find affordable/low-income assisted living statewide (CT) including Greenwich using an excellent, state-sponsored search tool and database!
37 Lafayette Pl
Greenwich, CT 06830-5426
(203) 661-6633
888-502-2057Pricing & Availability

299 Greenwich Ave
Greenwich, CT 06830-6504
(203) 622-3990
888-723-8284Pricing & Availability