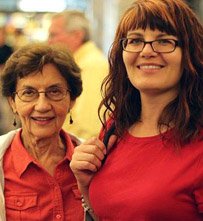 We're always amazed at how many senior sites so obviously don't have any real human element behind them. Unfortunately, many of them simply acquire a database of facilities, try to make it look pretty on a website, and then attempt, at every turn to collect your personal information.
That's where we try to be different. Assisted Living Directory has so many people behind it – caregivers, true experts in this field, as well as families who have gone through this process. Take a look at our homepage to see some of the 'faces' behind our site!
We also do something different with our facility listings – they all may be contacted directly. This is something, again that a lot of sites don't allow – instead, they replace the facility's number with their own.
We also highlight other excellent sites, often times state and local agencies and resources to help you with your research.
With that in mind, I'd like to make you aware of a great place to find local senior programs and services, as well as support and assistance if you have a question or senior care issue. This 'place" is the Area Agency on Aging of Northeastern Illinois – which serves over 520,900 seniors 60+ live in the Agency on Aging's eight-county service area. Services may include transportation services, home delivered meals, housing advice, and much more. Intro by D. Besnette
Assisted Living & Senior Care Options for Aurora, Illinois
Elmwood Terrace — Let's Get You Home
We provide you or your loved one with the care that promotes independence and dignity with a lot of T.L.C. With a multi-million dollar renovation, state of the art treatment & technology and the highest tenured staff in the industry we help folks get back to where they want to be and yes, back home!
888-723-8284Pricing & Availability
Map
Alden Gardens of Waterford Assisted Living Community
1955 Randi Drive
Aurora, IL 60504
(630) 851-1880
877-345-1716Pricing & Availability
Map
Alden Horizon Independent Senior Living Community
2000 Randi Drive Aurora, IL 60504
(630) 499-1890
866-315-1354Pricing & Availability
Map
Countryside Care Centre
2330 West Galena Boulevard Aurora, IL 60506
(630) 896-4686
877-644-2963Pricing & Availability
Map
Jennings Terrace
275 South Lasalle Street Aurora, IL 60505
(630) 897-6947
1-866-333-6550Pricing & Availability
Map
24 hour Nursing Care
In-Room Telephone Service
Fitness Program
Laundry
Weekly Housekeeping
Activity Program
Spacious Dining Areas
Central Nurse Call System
Private & Semi-Private Rooms
Spacious Lounges and Lobbies
Chapel and Multi-Use Rooms
Barber/Beauty Shops
Private Off Street Parking
Direct TV (Free)
Presence Fox Knoll
421 North Lake Street Aurora, IL 60506
(630) 844-0380
877-644-2963Pricing & Availability
Map
Independent Living
Assisted Living
Memory Care
Short-term Respite Care
Additional Support
***We highly recommend checking out the State of Illinois Data Portal which offers an excellent, non-commercial search tool for assisted living in Aurora, and Statewide!
Courteous, Caring and Experienced Help
Assisted Living Directory has helped 1000's of families (including our own!) to connect with great care facilities! You can read our personal experience here!