When Working and Caregiving Collide

By Trish Hughes Kreis for Assisted Living Directory
Working caregivers often like to keep their working life separate from their caregiving life. We do not want our employers to think we are too distracted to excel at our jobs and many times we just want to keep our caregiving life private.
Eventually, though, our working life and caregiving life intersect and sometimes even collide.
There are times when we might need a flexible schedule at work or have to explain more absences than usual. Sometimes we have to take a leave of absence to care for our loved one so it becomes necessary to inform our employer about the caregiving situation.
All those are very good reasons to communicate with your employer and tell them about your caregiving situation. Even then, usually only a handful of people are informed. So what happens when your employer has an event that includes the employees and their families? How do you decide if you should bring your loved one? How do you prepare to merge your working and caregiving lives?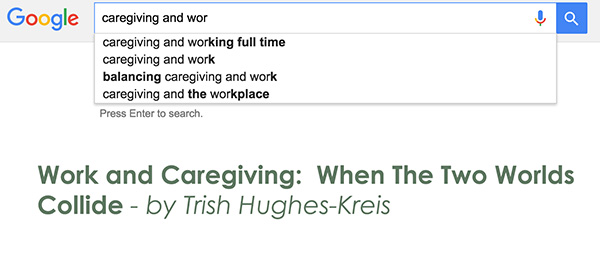 Everyone may have different ways of handling this situation but there are a few tips to help you with a successful "merger."
Talk About Caregiving

. With an estimated 44 million caregivers and 60% of them working outside the home as well (Family Caregiver Alliance), chances are you have co-workers and bosses who are caregivers. You are not alone! Many caregivers do feel alone but chances are people are just not talking about their caregiving situation. Talk about it with co-workers and supervisors. Sharing your family situation before you need something, such as a flexible schedule, is a great way to get people used to the idea of what caregiving is really like. You just might find others who become more open about talking about their own caregiving situation once you start talking about it.

Be Yourself

. It is natural to have a "work self" and a "home self" but consider just being you in both places. It is exhausting being two different people! You will be amazed at how much easier it is being the genuine version of yourself in any situation. Even if you are the boss, let people see how vulnerable you are in your caregiving life. You might be surprised to see how many more connections can be made when you are just being yourself.

Embrace New Experiences

. My firm has an annual summer event in which all employees and their families are invited. My disabled brother, Robert, lives with my husband and me but I have hesitated to bring Robert to these events as I am not sure how Robert will do. Taking Robert pushes me out of my comfort zone every year and I have to remind myself to embrace these new experiences, not just for me, but for him.

Push Through the Fear

. I am fortunate to have terrific co-workers and bosses but I still have the nagging fear of being judged. What if Robert has an accident? He is incontinent and wears briefs but there is always the possibility that there will be a leak before we can get to a bathroom. What if Robert isn't enjoying the event and starts to act up? Robert is pretty easy going but when he is unhappy we know it! Push through the fear of being embarrassed by an outburst or accident.

Prepare for the Adventure

. Whether your loved one lives in a care facility, such as assisted living,  or at home with you, prepare them for the outing. Pack a "go bag" in order to have all supplies (including medications) on hand if needed. Let the staff at the care facility know what you are doing so they can prepare for any extra tiredness or behavior changes when you return. Explain to your loved one where you will be going, if it will be loud, how long you will be gone – anything to help them prepare for the experience. Bring along something to keep your loved one entertained and comfortable. If the event will be noisy and your loved one gets anxious with loud noises, bring along headphones so they can listen to music. Do they like puzzle books? Bring their puzzle book so they keep a regular routine while also enjoying something new.

Know the Limits of Your Loved One

. It is important to know the limits of your loved one when considering bringing him or her to an outing whether it is work-related or not. If there is a doubt about being able to stay for the entire event, check to see if an early departure is possible. Perhaps just going for a portion of the event is enough to introduce your family to your co-workers and give your loved one a new experience.
I have now attended two work events with Robert. My husband and I have taken him to events at the local zoo and, most recently, on a River Cruise! The zoo was a great first event and introduction of Robert to my co-workers and it gave us enough flexibility to leave when needed.
I was more hesitant about the River Cruise since we would be on a boat with no escape for hours! We had a terrific time and I am grateful to have pushed through fear and get out of my comfort zone. Robert talked with my co-workers, enjoyed his lunch and worked on his Word Search book. He even waved to other boaters as we cruised by. Having Robert with us allowed others to ask questions about Epilepsy and share their own experiences with it as well.
Using these tips helped us have a successful event and I am now happy that my working life and caregiving life have collided!  I hope these tips are helpful to you, too, and allow you to successfully merge your two lives.