Learn About North Carolina's Assisted Living Regulations
We live in the information age, where research is supposed to be easy, and just about anything you want to know is 'at your fingertips' thanks to the internet.
But, is this really true?
We all know that most anything you'd want to learn can be found on the web, if you have a lot of time on your hands to sort through the fluff and noise.  Unfortunately, some of the best information is the hardest to find, or can be buried in the search results.
This is too often the case in the assisted living industry.    Most people don't know where to look when they need to find the basics about senior care options.    
Almost never in my research have I quickly found those important State pages that offer the most critical information about assisted living – notably, Rules and Regulations.
That's where we (Assisted Living Directory) try to bring those sites to the forefront, and front and center on our most important pages of our directory.
If you are researching assisted living and adult care homes in North Carolina, and if you are interested in learning about Rules and Regulations, I recommend starting at the NC Division of Health Service Regulation, and their Adult Care Licensure Section.
This site/department is responsible for a number of things including:
 Licensing of Adult Care Homes
 Licensing of Family Care Homes
Registration of Assisted Living Facilities called "multi-unit-housing with services"
Issuing and renewing adult care home administrator certificates.
Some of the functions performed are: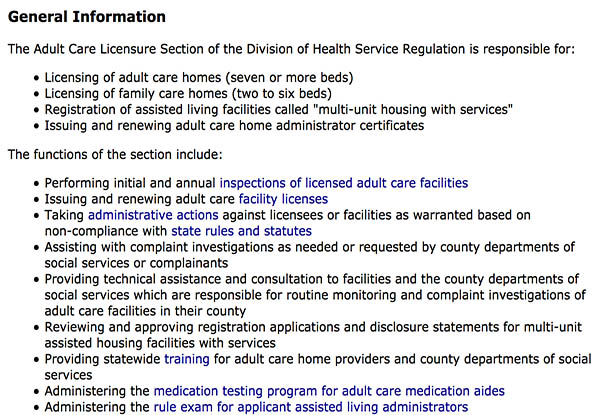 This page offers a handful of links to additional pages and databases that are important, including:
Inspections of licensed facilities
Issuing and renewing licenses
links to the four regional offices
Additionally, there is contact information for the department, and a physical and mailing address, and phone number that you can call with questions or concerns.
Where can I find, and view North Carolina's Assisted Living and Adult Care Home Regulations?
For Adult Care Homes, you can go to their Rules and Statutes section
https://www2.ncdhhs.gov/dhsr/acls/rules.html
This section offers links to numerous pages for rules and regulations of Adult Care Homes, including Title 10A, Chapter 13:
and
Screen grab of the first page of Chapter f: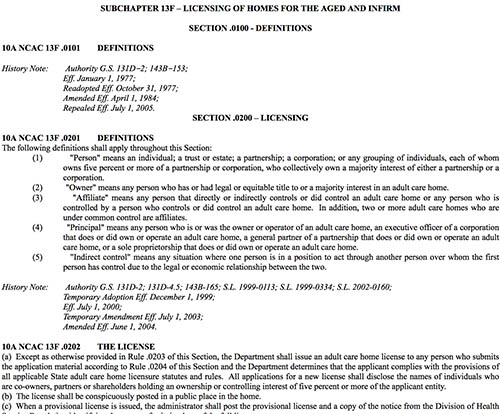 There is also a section for:
Chapter 131D, Inspection and Licensing of Facilities, Article 1 for Adult Care Homes.
You'll see numerous sub-pages, including ones for:
Chapter 131D: Inspection and Licensing of Facilities. Article 1 – Adult Care Homes
Article 3 – Adult Care Home Residents' Bill of Rights
Chapter 90: Medicine and Allied Occupations, Article 20A – Assisted Living Administrator Act
and many more.
There is another page/section on the NCDHHS site for Rules and Regulations, which also lists State Rules for
Adult Care Homes

Continuing Care Retirement Community

Hospice

Nursing Homes
and many more.
This site, and the many subsequent pages and sections for rules and regulations for Assisted Living and Adult Care Homes in North Carolina is certainly comprehensive, and can be quite overwhelming. 
However, due to the in-depth and detailed nature of the regulations, it is clear that assisted living facility administrators have a huge responsibility to uphold on a daily basis in terms of ensuring the health, safety, dignity, and to some extent happiness of their residents.
Residents, on the other hand, have an enormous array of rights, implied or directly stated through these regulations.  It is in the best interests of each resident that they be familiar with their rights, as presented by the State's Regulations and Resident Rights.   If they are not able to comprehend or advocate for their own rights, it is important for family members to take up this responsibility.
Lastly, for those legions of caregivers out there who are considering opening your own assisted living home, these regulations should serve as a 'reality check' for you to make it very tangible the amount of work, and daily commitment required to operate and maintain and assisted living home in North Carolina within the laws and regulations set forth by the State of North Carolina.