We have seen many assisted living facilities post their information on our website over the years, and a fair number of them describe themselves as being 'elegant' or 'luxury' or 'premier' assisted living. At times, we've felt that with certain facilities, this might be a stretch of the imagination, so we asked ourselves, what really defines 'elegant'  or 'high-end' assisted living?
Of course, location can be a big consideration. A lower-end facility in a city like 'Beverly Hills" might be extremely elegant if it were anywhere else. On the other hand, a high-end facility in rural america somewhere might be considered only average if it were magically transported to a neighborhood in upscale Paradise Valley Arizona.
However, on a fairly level playing field, when doing comparisons between facilities, there are things that we think help to nudge facilities into the category of being elegant, over facilities that offer the normal fare, services and amenities.
Of course, the physical appearance of the facility is one of the first things that may be considered. A facility that is 'elegant' will most certainly be immaculately cared for, often times with detailed landscaping, beautiful flowers and perhaps gardens, and pleasing architecture. Facilities that are basic on the outside, and have weedy-lawns, and perhaps visible garbage on the grounds, and perhaps tired paint and siding would have a hard time setting a first impression.
Services and amenities are also an area that a facility can focus on to set itself apart. Most facilities offer the basics: Hygiene care, meals, housekeeping, and a few of the other life-maintenance type items. However, truly elegant assisted living facilities go much further by offering amenities, services, activities and care that go far beyond what might be considered average. Facilities that offer a concierge service, tuck-in services, massage therapy, yoga classes, on-site salons, stores, theaters and entertainment – would more easily be able to pass themselves off as being high-end, or elegant.
Meals are another way that facilities can show off their premier quality. Of course, as we mentioned, most facilities will offer meals, and perhaps snacks, but those facilities that make the meals more of an 'experience' or even 'entertainment' will probably be the more high-end assisted living facility. Elegant facilities are more likely to have a dedicated chef and kitchen staff, with a dynamic, fun, and interesting menu that changes frequently, and plenty of choices that use the freshest, and often organic ingredients. Silverware, linens, and decor in the dining rooms resemble those restaurants that take reservations weeks in advance, and some facilities have waitstaff that wear 'black-and-whites' and are highly trained foodservice professionals.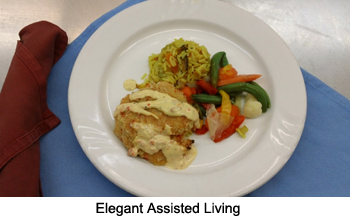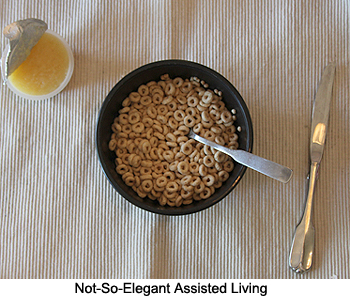 Really, what all of this comes down to, in many ways, is attention to details. Most people might also call it the 'wow' factor – after you visit the facility, every single detail seemed to stand out and impress. Elegance is in the details.
Even if a facility is more of a 'no frills' type of environment (leaving out some of the extreme extras, like massage therapy and on-site salon), if what they do is to strive for excellence in every single aspect and detail of the operation of the facility, and well-being of it's residents, and if they score better than other facilities in terms of health and safety records and evaluations – then perhaps such a facility, although not 'elegant' by the standards we have described above – may indeed be a premier facility and living experience.
Perhaps, in this sense, elegance and luxury resides in the eye of the beholder?
What impresses you?