South Dakota's Assisted Living Regulations
By Joelle Besnette for Assisted Living Directory

Return to or visit our South Dakota Assisted Living page.
When people travel from state to state, they usually know about a few differences they may encounter.  The maximum speed limit on the highways, for example, are often different.  Sales tax is usually different.  What is legal in one state may not be legal in a neighboring state.  However, many people don't know that every state has its own set of rules, regulations when it comes to assisted living.  Some states do not even use the term "assisted living".  This is so important when you find yourself suddenly looking for care for a family member or loved one.  You will need to do some research regarding regulations and inspection reports with the state (or states) you're considering.
Who regulates Assisted Living facilities in the state of South Dakota?
South Dakota uses the term "assisted living," and The South Dakota Department of Health regulates Assisted Living facilities for the state.  Here is the current view of the home page: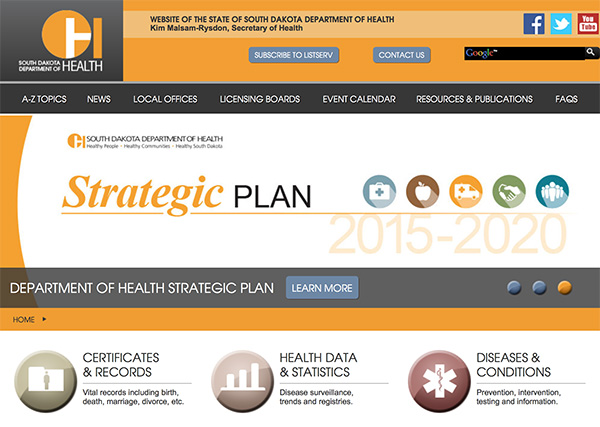 Does the state offer consumer information regarding assisted living?
Yes.  South Dakota's Department of Social Services has published a consumer guide, Assisted Living in South Dakota.
How can I find a facility?
To find a current list of facilities, go to the State's A-Z topics page and then click on the Assisted Living link.
Once you click this link, it shows you a long list of results.  The default order is by facility license number, however, you may sort the list by city, county, number of beds, just to name a few.  Facility phone numbers and physical addresses are provided, however, web site and email addresses are not.  This list may be printed as a .pdf, but unfortunately it is not downloadable from the site as an Excel file.  Finally, the department does not indicate how often these lists are updated.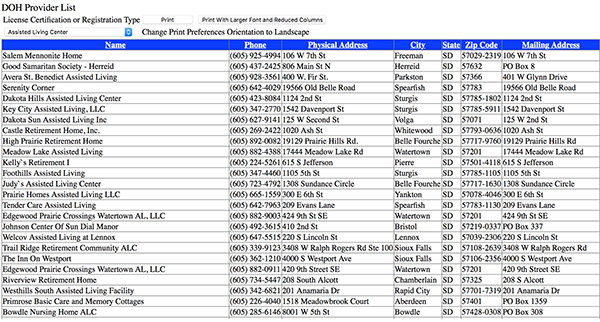 What other levels of care are available?
It is always a good idea to understand the choices available to you, and to determine the specific needs for your loved one or family member.  This page outlines the differences between levels of care, such as nursing facilities, assisted living, adult foster care, and others.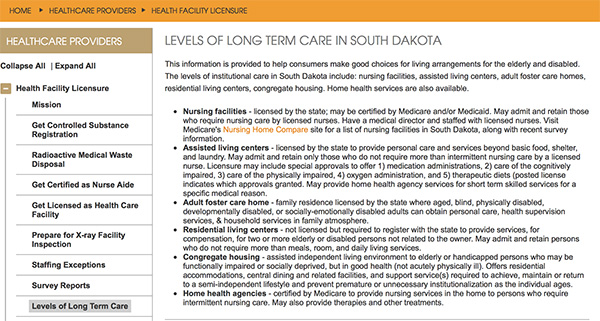 How can I find a list of facility inspection reports?
These are referred to as "Survey reports".  More information may be found here.  As of this writing, I could only find surveys of nursing facilities, and not assisted living.  I would recommend contacting the Department of Health, Division of Adult Services and Aging at (605) 773-3656 or 1-866-854-5465.
How can I view, and get a copy of South Dakota's Assisted Living Regulations?
Check out the State's Assisted Living consumer guide.
How are complaints handled?
If issues with healthcare facilities cannot be resolved after discussion with the facility administrator, a complaint may be made with the State Ombudsman, Department of Social Services, Division of Adult Services and Aging.  They may be reached at (605) 773-3656 or 1-866-854-5465.
What if I need more help?
The Division of Adult Services and Aging is also available if you have additional questions or need further information.