An overview of the handful of different Medicaid Waivers and programs available to seniors, and other populations in South Dakota.

Return to or visit our South Dakota assisted living page.
A few facts about South Dakota
South Dakota became our 40th state in November, 1889.  Once famous for Black Hills gold, most people think of Mount Rushmore when they think of this state.  Agriculture remains an important part of the state's economy, but tourism is on the rise.  Events such as the Run Crazy Horse Marathon have attracted increasing numbers of runners and spectators in recent years.  In fact, 10 of the marathon finishers were over 65 in 2016 (the oldest were 74)!
There are currently over 800,000 people living in South Dakota.  In 2015, US Census Bureau reported that 15.7% of South Dakotans are age 65 or older.  And, in one-third of the 66 counties this percentage is 20 or greater.
Medicaid Waivers in South Dakota
A Medicaid waiver can reduce the cost of assisted living for those who qualify for Medicaid.  In South Dakota as in many states, the Department of Social Services manages these waivers.  Specifically, there are 4 types of Medicaid waivers targeting different populations:
The Choices waiver assists those with developmental disabilities in obtaining services and support necessary to live and work in South Dakota communities.
The Family Support 360 waiver assists those with developmental disabilities and their families to obtain services necessary to live as independently as possible in the community.
The Assistive Daily Living Services program assists quadriplegics to obtain personal attendant services, case management, consumer preparation and ancillary services such as skilled nursing and emergency response services. 
The Home & Community-Based Services (HCBS) Waiver Program assists those over the age of 65 and adults with disabilities who are at risk for institutionalization (for example, in a hospital or nursing home) to obtain home and community-based services.   This program is managed by the Department of Social Services (DSS), Division of Adult Services and Aging. Each waiver is administered by the DSS, Division of Medical Services, which is the Single State Medicaid Agency.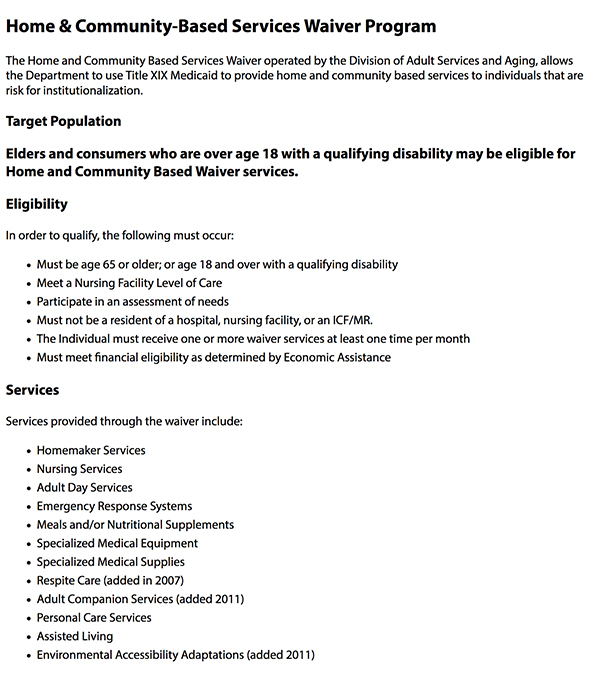 Services
Services provided through the HCBS waiver include:
Homemaker Services
Nursing Services
Adult Day Services
Emergency Response Systems
Meals and/or Nutritional Supplements
Specialized Medical Equipment
Specialized Medical Supplies
Respite Care (added in 2007)
Adult Companion Services (added 2011)
Personal Care Services
Assisted Living
Environmental Accessibility Adaptations (added 2011)
Not all facilities participate in the waiver program; confirm with the facility administrator, or contact the South Dakota Department of Social Services at 605.773.3165 for information and assistance.
Resources:
South Dakota State and County Demographic Profiles, South Dakota State University, College of Agriculture and Biological Sciences, May 2008