Help for Residents in Little Rhody
By Regina Woodard for Assisted Living Directory
This page details Rhode Island's Medicaid Waivers, as well as other comprehensive senior programs and services.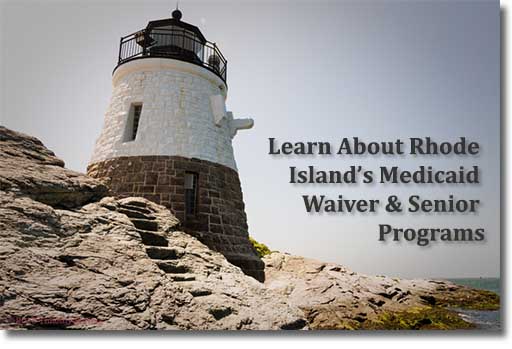 One of the smallest states and one of the original 13 colonies, Rhode Island is the second most densely populated state behind New Jersey. Despite its relative sizing, Rhode Island actually has over a million resident, with many of them actually born in the state. Among these home grown residents is a growing elderly population, which is a little over 30% for those fifty and over; for residents between 50 and 85, they ranked between 4th and 9th in the nation as whole in terms of statistics.
With this large population of elderly residents, Rhode Island has responded by creating a taskforce in which to address this demographic. Unlike other states, RI only has one actual Medicaid waiver, but it covers a lot of comprehensive programs and services.
Global Waiver Taskforce
As part of the Executive Office of Health and Human Services, also known as OHHS, established this taskforce in order to provide input on planning and implementation of any reforms to the Rhode Island Medicaid program. The taskforce began in 2009.
Global Consumer Choice Compact Waiver
The Global Consumer Choice Compact Waiver or the Global Waiver, helps to establish a more cost effective way that better helps to meet the needs of Rhode Island residents. This waiver is an agreement with the federal government to allow the state to spend money on a broader range of services for those on Medicaid.
While this waiver covers a variety of services for those individuals who are on Medicaid, for elderly residents and their families
Long Term Care & HCBS: individuals who are eligible under this waiver receive benefits for those who are current in an institution and those in their home or community based residence and need services to maintain staying in their home or community. Based on the eligibility of the individual or couple, this program is able to provide home health services, adult day services, meals on wheels, and others. To be eligible, individuals need to be a resident of Rhode Island, be 65 years of age or older, be eligible for Medicaid, and need assistance with daily living.
PACE: The Program for All-inclusive Care for the Elderly or PACE helps to provide individuals with alternatives to being in a nursing facility, ultimately helping individuals or couples stay within their homes or community. To be eligible, individuals must be 55 years or older and meet the requirements for qualifying for nursing facility care.
Personal Choice Program: under this program, family members who are proving caregiving services for their loved one are able to receive payment for their work. Like the above, this program is to help individuals stay within their homes and community without the need to enter into a nursing facility, giving them the choice of who their personal care provider will be; in this case, either a spouse or another family member. To be eligible, individuals need to meet both functional ability – such as meeting the requirement of nursing facility levels of care – as well as financial status.
Ocean State Center for Independent Living: This is actually an organization that helps to provide a wide range of living services for individuals who live with a disability. Their programs cover the age range from 0 to 18, as well as 18 to 65 and older. Some of the services they provide are information and referrals, peer support, independent living skills training, community living option/nursing home transitions, home accessibility and adaptive equipment, assistive technology, and others.
These programs each share some core services that they provide, though each program has its specific services and resources that they provide for individuals. Some of these include –
Homemaker services – consisting of the performance of general household tasks by a qualified homemaker.
Accessibility Adaptations – environmental modifications made to the private residence and/or vehicle for the individual or their family that are necessary to ensure their health, welfare, and safety to give them a greater function of independence.
Meals on wheels – home delivered meals and staples.
PERS – personal emergency response system devices that enable those high risk individuals to receive help in an emergency. These can include phone system, portable 'help' buttons, and others.
Transition services – set up expenses that help to transition individuals who are coming from an institutional or other living arrangement back into their homes or to the community. These services help to establish a basic household, including security deposits to hold an apartment or house lease, moving expenses, furnishings, and more.
This list is just a fraction of the overarching reach for the Global Waiver. Residents can discover more about this program, as well as the individual programs by contacting either the Rhode Island Division of Elderly Affairs on their website or by calling 401.462.0570 or by contacting The Point, RI's resource page for seniors and those adults with disabilities, also on their website or by calling 401.462.4445.
Keep in mind that the Global Waiver is an ongoing and ever changing program, so it's important to call the appropriate department to discover what programs are a part of the waiver, which are new or have experienced changes, or any that may have been removed.
Photo by T. Burling
Resources
Home & Community Care Programs
Rhode Island Medicaid Personal Choice Program
Ocean State Center for Independent Living Programs