I love a great research tool, and it's even better when it helps out the folks in my former hometown (I was born and raised in Flagstaff)!
**Return to or visit our Flagstaff assisted living section.
Unfortunately, the map and database I am about to show you isn't well known, which is a shame, since it provides such an easy, and straightforward way to get a solid understanding of your care options in Flagstaff.
What you need to do:
The first step, is to go to the ADHS Licensed Facilities map page which looks like this: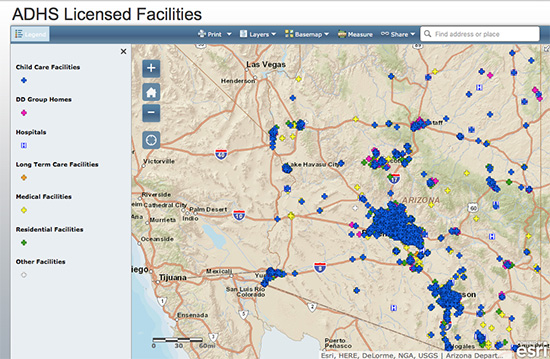 You will notice that this is pretty zoomed out, and includes the entire state.
You can simply zoom in, and reposition the map on Flagstaff, and then, if you wish, you can click on any of the "plus" symbols, which will bring up a window of information for the facility.
The left-hand sidebar shows the type of facility based on the color of the 'plus.'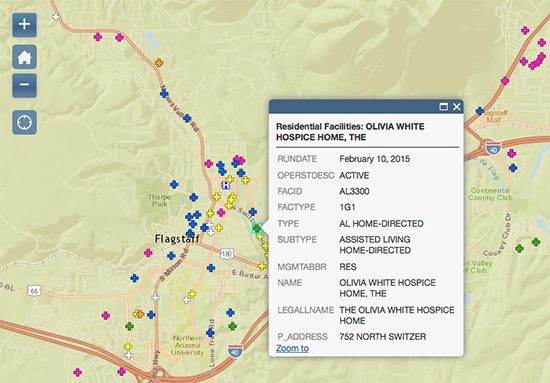 Incredibly helpful information, which includes:
The Facility Type
The Facility ID
The SubType
Name
Legal Name
Address
From there, what I recommend, for the facility(s) that you are interested in, or considering, is to then to to AZ Care Check, and look the facility up there.
You'll be able to see a lot more information about the facility, including citations and violations, enforcement actions, surveys and much more.
Another helpful part of this interactive map is that you can filter by layers.   The basemap button will toggle colors of the map, and also show you satellite imagery of the map area, and the facility locations.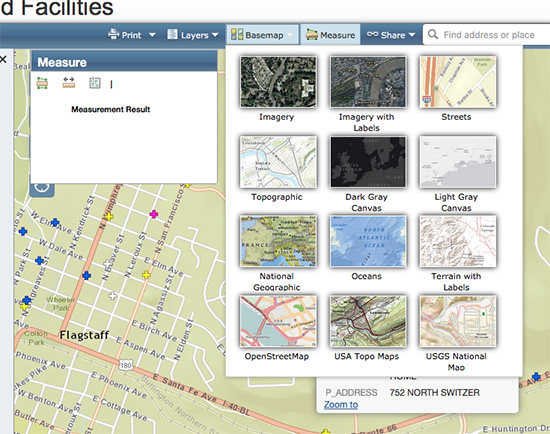 You can also toggle by facility type, including all of the facilities, or you can just display ones you are interested in, for example, Residential Facilities or Long Term Care Facilities.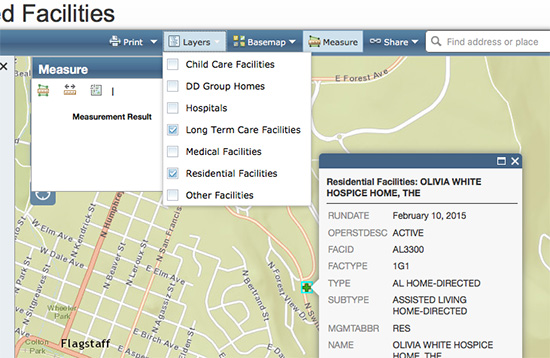 At this time there are 14 licensed assisted living facilities and residential care homes in Flagstaff, according to the State's Department of Health Services.
Learn more by visiting our Arizona assisted living section!