Columbia, or rather Howard County in Maryland, really makes it quite easy and pleasant to research senior housing options, including assisted living facilities, independent living facilities, and other long-term care options.
(Return to, or visit our Columbia, MD assisted living section).
If you know where to look (I'll show you in just a moment), you can essentially bypass most of the other commercial crud that you typically find researching online, and can quickly cut to the chase and get great, and accurate information on what's available.
The first stop I recommend that you take is the Citizen Services section of the Howard County official county website.
There is so much great information here for you including a number of direct phone numbers to offices and state agencies that can assist you and answer questions.
Additionally, there are a number of free, downloadable facility lists that are available to the general public in this section – like this: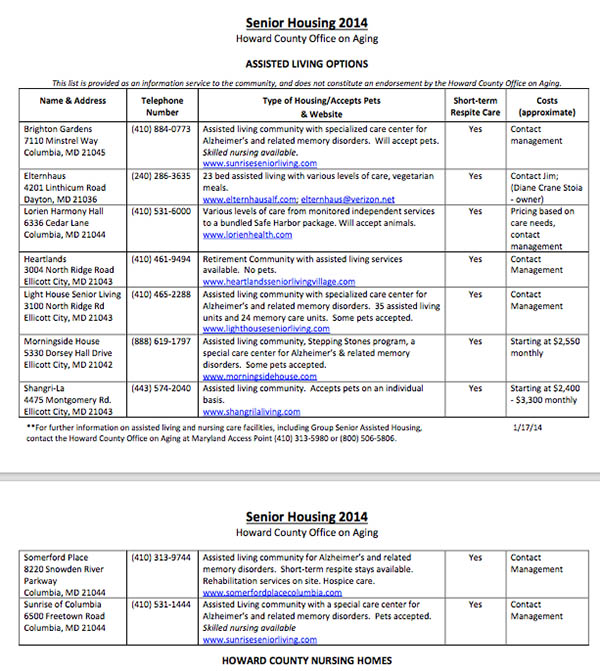 You can choose a list of larger assisted living facilities – 17 or more residents, or smaller facilities and residential care homes of 1-16 residents.
http://www.howardcountymd.gov/seniorhousing.htm
The lists can be saved, and/or printed.
Facility information included:
– Name and Address
– Direct Phone
– Website address (if available)
– Type of housing, or services offered (including Alzheimer's, memory care, or other specialized care)
– Whether short-term respite care is offered
– Approximate Costs
– Whether Pets are accepted
Next, there is a very good PDF detailing assisted living, including a:
– Definition
– Tips and Questions you should consider when choosing a facility
– Tips on getting a disclosure statement
http://www.howardcountymd.gov/uploadedFiles/Home/Department_Hidden_Content_%28PDF_and_HTML%29/Aging/Assisted%20Living%20Important%20Information.pdf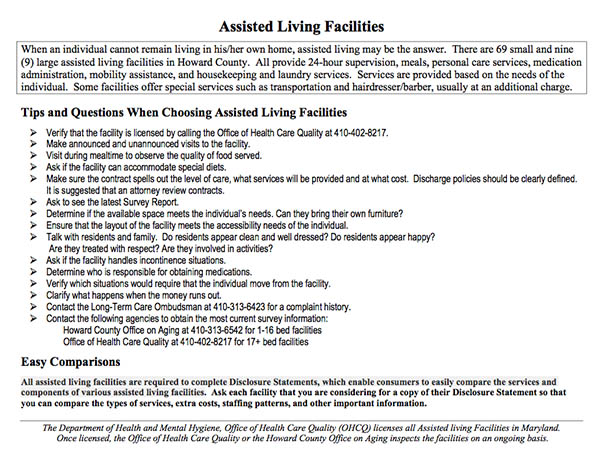 This last item is important. "All assisted living facilities are
required to complete Disclosure Statements, which enable consumers to easily compare the services and components of various assisted living facilities."
If you ask a facility for a copy of their Disclosure Statement, they should be able to provide one for you. This statement will help you to compare the types of services, costs, or extra fees, and other pertinent information.
Lastly, one of the best, most comprehensive statewide databases for assisted living in Maryland belongs to the Maryland Health Care Commission, where you can search for assisted living by county (searching for Howard brings up the facility options in Columbia).
http://mhcc.maryland.gov/consumerinfo/longtermcare/SearchPage.aspx
Very helpful information is included when you do a search. You'll see:
– Whether the facility accepts Alzheimer's or Dementia Care
– Personal Care
– Transport/Transportation Services
– Private/Double/ Triple Room Minimum Daily Rate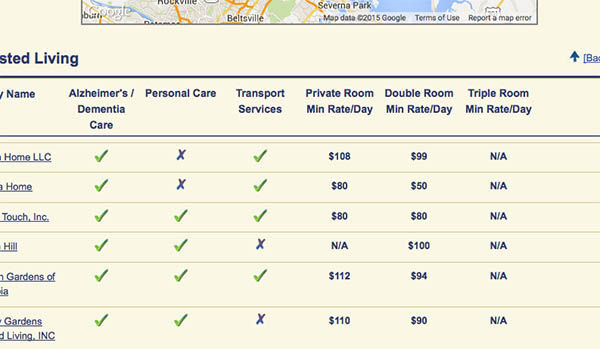 When you click through on a facility, you'll also be able to see the number of licensed beds, ownership details, specialized services provided, such as barber services, language therapy, incontinence care, and much more.
As you can see, there is a plethora of information available to you if you know where to look. Assisted Living Directory is proud to highlight the best sources of information on assisted living, and the sites mentioned above certainly qualify, and should be shared!