An Overview of Ohio's Assisted Living Rules & Regulations
Ohio, like all states, has it's own, unique set of rules and regulations for the state's assisted living facilities, nursing homes, and residential care facilities.
These rules and regulations can vary quite dramatically in comparison to other states.  Additionally, how Ohio defines Assisted Living and Residential care is unique as well.
To learn about Ohio's Rules and Regulations for Assisted Living, you'll need to visit the Ohio Department of Health, and the Ohio Administrative Code section.   
Here, you'll see a list of Rules and Rule Numbers, and a corresponding .PDF document that outline different areas and section of administrative code relevant to assisted living, nursing homes and residential care for the State of Ohio.
https://www.odh.ohio.gov/en/rules/final/3701-10-19/f3701-17
The section looks like this: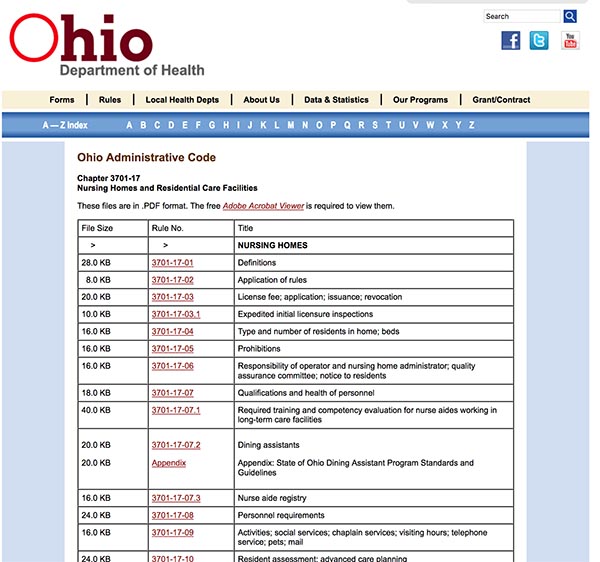 This section is divided into two parts.   Nursing Home rules at the top, and down about 1/2 way, you'll see Residential Care Rules (in boldface).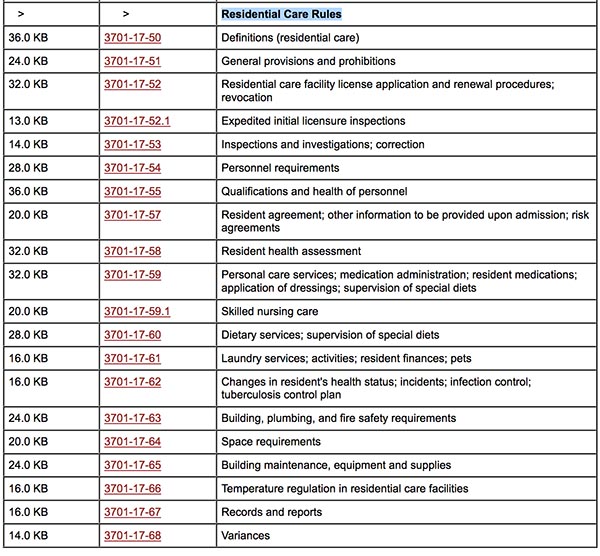 For example, Rule Number 3701-17-50 pertains to 'Definitions' and upon opening the document, you'll be able to see how Ohio defines different aspects of long-term care and assisted living.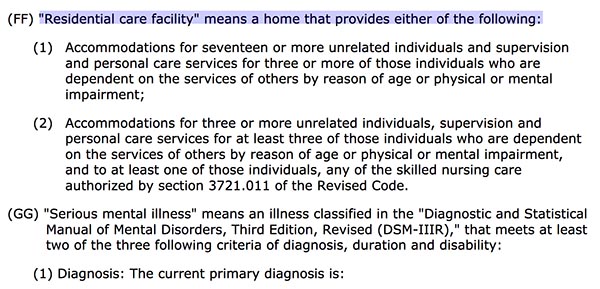 You can also review the license application and renewal procedures for an assisted living, or residential care facility.  This can be especially useful to those who wish to open an assisted living home in Ohio.
There is a Sub-section devoted to Skilled Nursing Care, which offers definitions, code and rules for Skilled Nursing Care Facilities in Ohio.
https://www.odh.ohio.gov/-/media/ODH/ASSETS/Files/rules/final/3701-10-TO-19/3701-17/3701-17-59-1.pdf?la=en
Who is responsible for the Regulation and Oversight of Assisted Living in Ohio?
This title falls on the Department of Health, Division of Quality Assurance, and the Bureau of Long Term Care (Assisted Living and Nursing Homes).   This Department, and their associated website within the Department of Health offers additional useful information, contacts and resources for assisted living owners and administrators, personnel, residents and families.
There are two important links on this page, one taking you to Nursing Homes/Facilities, which is an overview of:
http://www.odh.ohio.gov/odhprograms/ltc/nurhome/nurhome1
Definition of Nursing Homes
Licensure and Certification
Inspections and Surveys
Enforcement
Complaints (including how to file a complaint)
and a list of important contacts for various parts of the State (Columbus, Eastern Region, and Western Region).

The link to the Assisted Living /Residential Care Facilities section is similar and covers:
Definitions
Licensure
Inspections
Enforcements
Complaints
Contact Information for Residential Care and Assisted Living.
Applications and Forms
Lastly, there is a section that provides access to forms and documents relevant to applying for a license to operate an assisted living facility in Ohio, and other license applications and forms.
http://www.odh.ohio.gov/odhprograms/ltc/Residential%20Care%20Facilities/Applications%20and%20Forms.aspx