How To View Oklahoma's Assisted Living Regulations
Unfortunately, many families are not aware that each state has it's own, very unique set of rules, regulations and oversight concerning assisted living.
How each state defines assisted living can be very different, and, in fact, some states do not even officially recognize the term 'assisted living' and instead may use something like 'adult foster care' or RCFE.
This is important to know, since, many families research care across state lines, usually for a parent or loved-one.   You'll need to research with the state's regulations in which you are intending to reside (or your loved one).
How To View Oklahoma's Assisted Living Rules and Regulations
The State of Oklahoma, on their official website, under Protective Health >> Long Term Care Service >> Rules, Regulations and Statutes, offers links to rules and regulations relevant to:
Nursing Homes
Continuum of Care and Assisted Living
Nurse Aides
Residential Care
Adult Day Care
Food Service Rules
Title 310, Chapter 663 of the Oklahoma State Department of Health, Continuum of Care Assisted Living regulations can be found here:
https://www.ok.gov/health2/documents/LTC%20Continuum%20of%20Care%20&%20AL%20Rules.pdf
This document is 46 pages long (at this time, and covers numerous chapters and sections relevant to Assisted Living in Oklahoma.
I always like to point out the 'definitions' section, which provides exactly how the state defines assisted living, and in Oklahoma, the term 'Assisted Living Center' is the recognized term: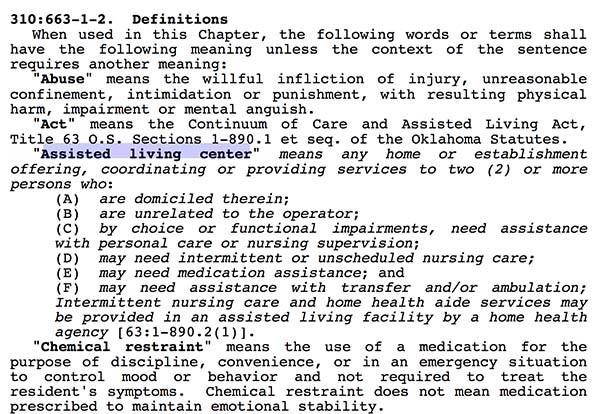 Subchapters (or 'Table of Contents' for Oklahoma's Rules and Regulations):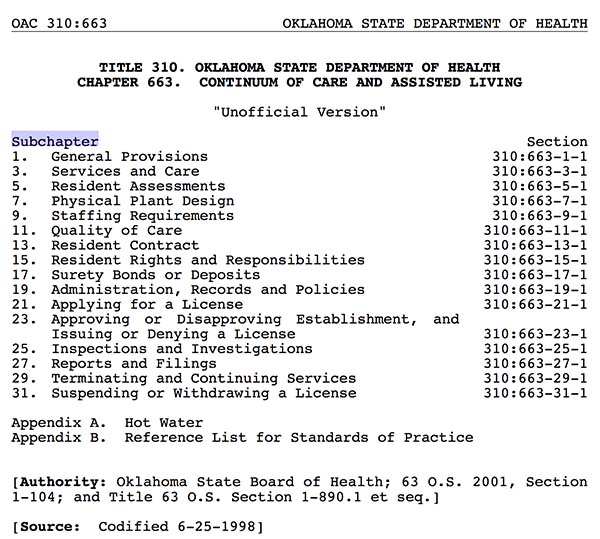 You'll notice that this document covers the important topics of "Applying for a License" and "Inspections and Investigations."
I'd like to point out that there is an Amended 2016 version of these Statutes available here:
https://www.ok.gov/health2/documents/HRDS%20663%20CC-AL%20Act%201113.pdf
This updated version has an amended definitions section for both Assisted Living and Continuum of Care in Oklahoma: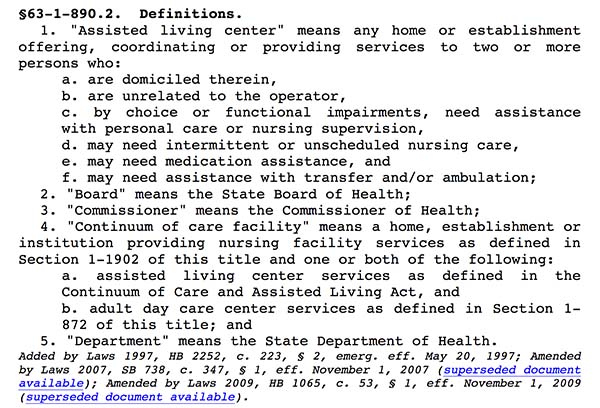 Who Oversees  and Regulates Assisted Living in Oklahoma?
This is a great area to covers, since, if residents, staff, administrators and family members all know where to go if they uncover a problem, potential abuse, or need guidance relevant to operating an assisted living home in Oklahoma – issues will most likely be resolved in a much more timely manner (if at all).   Unfortunately, so many operational issues and resident mistreatment go unreported since many people simply don't know where to, or how to file a report or complaint.
For Oklahoma, the Department of Health, Health Facility Systems oversees the licensure, application process and offers general oversight of Assisted Living in Oklahoma.
Their site/page on the OSDH website offers some helpful information and resources for residents, families, caregivers, as well as owners and administrators, and their employees of assisted living centers statewide.
You'll have access to a Statewide Directory of Licensed Long-Term Care Facilities, including Assisted Living Centers and Residential Care Homes.
The directory is divided into two:  Listing by County, and Alphabetical Listings.
The listings include the facility's location, Administrator's name and direct phone,  # of Beds, and Licensed Alzheimer's Beds, and the facility ID.
The directory (alphabetical) looks like this: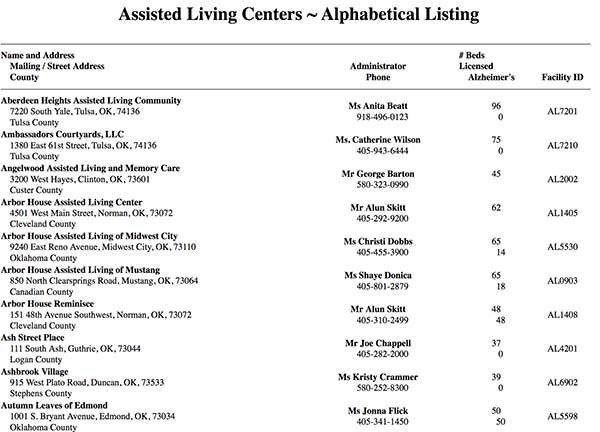 Lastly, this site offers a Directory of Ownership, which is a listing of Oklahoma's assisted living facilities and communities that are 'Owned by an Owner.'   It lists Stockholder, and percentage of ownership by those who are officers.
All of these pages and documents on the Oklahoma Department of Health relevant to assisted living should be useful to those wishing to open an assisted living facility in Oklahoma, as you'll find details on the application and licensure process.  You'll also get a fair idea of the complexity involved with opening, owning and operating an assisted living home, especially if you wish to remain in good standing with the State's routine inspections and evaluations.