An Overview of Nevada's Assisted Living Regulations
Unfortunately, I have to 'call out' the State of Nevada to say that this state is among one of the worst in terms of how effectively they provide critical information about assisted living to the general public.
What I've found is that their state websites are often riddled with broken links, incomplete information, or no information at all.   I make a comparison between Nevada and the majority of other states that have their 'act together' in terms of publicly accessible assisted living information, documents and data.
It's so important to provide a means to easily look up assisted living regulations, facility licensure, surveys and complaints information, and guidelines for owners and administrators.
It's also of equally critical importance to make this information easy to find and digest for the residents of assisted living facilities, their families, and those who care for them (caregivers).   
How is a facility supposed to operate effectively if there is questionable, or confusing guidance from the state that oversees them?
How is a resident supposed to speak up about his or her rights if those rights are difficult to access or understand.
I hope that Nevada overhauls their websites, and databases soon.    
So, to start, it's important to know who oversees and regulates assisted living and residential care in Nevada.  This title goes to the Nevada Department of Health and Human Services, and their Bureau of Licensure and Certification.   
http://dhhs.nv.gov/Health/HCQC_HealthFacilities.htm
Their site looks like this: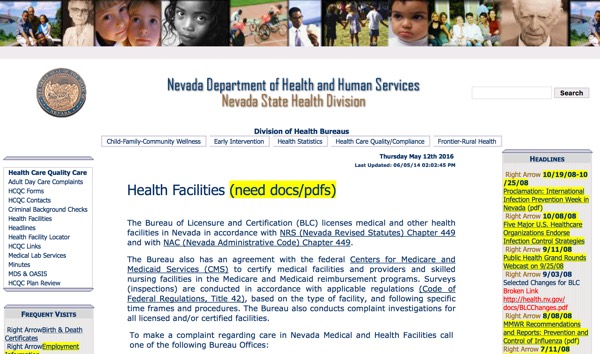 "The Bureau of Licensure and Certification (BLC) licenses medical and other health facilities in Nevada in accordance with NRS (Nevada Revised Statutes) Chapter 449 and with NAC (Nevada Administrative Code) Chapter 449."
Some items of importance found on their website include:
Application forms for Medical and Health Facilities
License Renewal Information
Plan Review Application
Additionally, there is a section on making a complaint regarding care in a health care facility in Nevada.  There are two numbers for different bureaus that you can call, one in Carson City and the other in Las Vegas.
Carson City (775) 687-4475           
Las Vegas (702) 486-6515
According to the DHHS, all complaint information is kept confidential.
How can I view, and get a copy of Nevada's Assisted Living Regulations?
This document, Chapter 449, Medical and Other Related Facilities,
is a long, and somewhat difficult to read document containing the general provisions for rules and regulations of assisted living and other related facilities in Nevada.
What I did, and recommend for you, is to do a simple search of the document, usually a ctrl+f command, for the term 'assisted living' or 'residential care.'
From there you can jump directly to those parts of the document of importance that specifically discuss assisted living.
The State of Nevada often refers to 'assisted living' as "a residential facility that provides assisted living services.'
You can access the full document (449) here:
http://www.leg.state.nv.us/NAC/NAC-449.html
The document (pg. 1) looks like this: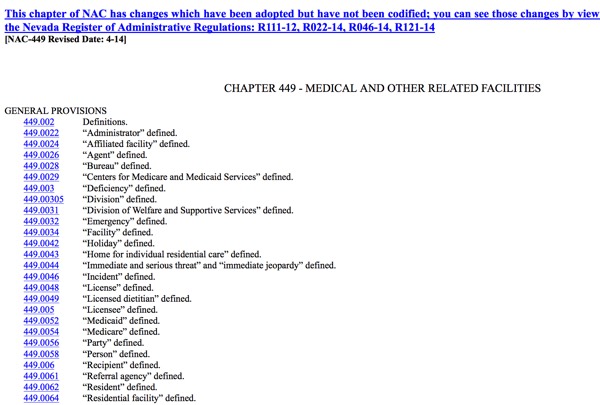 Noting terminology, and definitions is important, since each state varies (sometimes by a lot) on how they define assisted living, and the terminology used.  Some states do not even officially recognize the term 'assisted living' and instead use terms such as 'Adult Foster Care.'
Having access to this document, and being familiar with the DHHS site and all that it offers is encouraged for anyone residing in an assisted living home in Nevada.   Families and caregivers can refer to this document and site to stay on top of rules and regulations, and to understand what their caree or loved one's rights are.
Facility owners, and administrators, as well as the legions of employees and staff members of assisted living homes across the State of Nevada need to know what rules to abide by, to ensure the health, safety and dignity of their residents, and to avoid violations or citations when inspections occur.
Lastly, I recommend that anyone considering opening their own assisted living home in Nevada become familiar with these regulations, so you can get an idea of what's involved with operating an assisted living facility in Nevada.