Learn About Assisted Living Regulations in Kansas
Anyone involved with assisted living in Kansas on any level – whether you are a resident of an assisted living home, a family member, a caregiver, or perhaps an employee or administrator at a facility – you need to be familiar with the state's assisted living regulations.
The first thing we need to learn is who is responsible for regulating and overseeing assisted living in Kansas.  This title goes to the Department on Aging for Kansas.
Here's a snapshot of what their site looks like: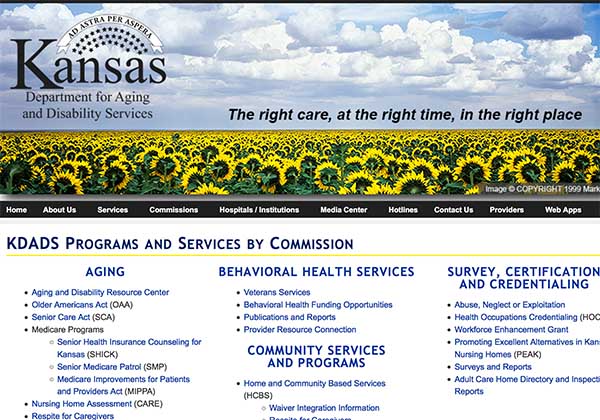 On it's own, this agency and it's associated website offer a wide array of useful information for researching and understanding assisted living in Kansas.
First off, there is a very good database/directory of adult care homes and other long-term care options statewide.  Individual directories (that you can filter your search by) include:
Adult Day Care
Home Plus
Nursing Facilities
Assisted Living & Residential Health Care Facilities
Hospital Long-term Care Units
Nursing Facility for Mental Health
Boarding Care Homes
and
Intermediate Care Facilities for Individuals with Intellectual Disabilities
You can also filter and sort by
Facility Name
Facility Type
City
County
Administrator Name
and Inspections Results
The directory looks like this:
You can access it here:  https://webapps.kdads.ks.gov/LSOBP18/f?p=113:901:
There is also a good section on the Department on Aging site for Surveys and Reports for facilities statewide in Kansas.
You can view facilities that have had Zero Deficiencies, as well as those that have been awarded 'Exemplary Status' – those facilities that have designated care programs that have resulted in exemplary resident care and quality-of-life outcomes.
Where Can I View The Assisted Living Regulations for Kansas?
The Kansas Department of Aging and Disability Services has a 140-plus page document outlining the Statutes and Regulations for the Licensure and Operation of Assisted Living and Residential Care Facilities.
This document is large, and comprehensive, and is broken down into a number of sections.   Sections include, but are not limited to:
Definitions
License required to operate home; compliance with regulations
License Fee; disposition
Unlawful acts
Penalties
Rules and Regulations
Abuse, neglect and exploitation of residents
Consent of resident to protective services; court authorization
and so much more.   
You can get the document here:
http://www.kdads.ks.gov/docs/default-source/General-Provider-Pages/Adult-Care-Home-Provider-Information/alf-regs-complete.pdf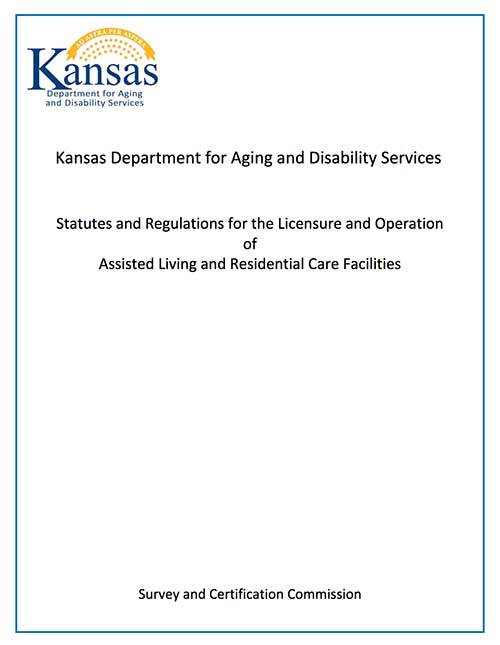 The great thing here is that you can easily save this document, or print it to take notes on it, if you wish.
One item to highlight here is the definition of assisted living, as defined by the State of Kanas.  We always like to point out that definitions for assisted living can vary slightly, or a lot from state-to-state.  Some states don't even officially recognize the term 'assisted living.'
"The Term 'Assisted living facility' means any place or facility caring for six or more individuals not related within the third degree of relationship to the administrator, operator or owner by blood or marriage and who, by choice or due to functional impairments, may need personal care and may need supervised nursing care to compensate for activities of daily living limitations and in which the place or facility includes apartments for residents and provides or coordinates a range of services including personal care or supervised nursing care available 24 hours a day, seven days a week for the support of resident independence."
The provision of skilled nursing procedures to a resident in an assisted living facility is not prohibited by this act.
Generally, the skilled services provided in an assisted living facility shall be provided on an intermittent or limited term basis, or if limited in scope, a regular basis.
These regulations, documents and aforementioned are great to bookmark for easy reference if you are researching assisted living in Kansas.
Knowing where to find the state's rules and regulations for assisted living is important not only for those who are living in an assisted living facility, or have a loved one residing in, or researching a facility(s) – but also for anyone considering opening their own assisted living home.
Having an idea of the rules and regulations will help you to prepare your facility, or it will help you to decide if you have what it takes to maintain strict, but essential regulations during every day of the operation of your home or facility.