An Overview of Maine's Assisted Living Regulations
Return to, or visit our Maine assisted living section.
Researching assisted living, at times, can be a hair-pulling-out experience.   With all of the commercial sites out there offering questionable information, through even more questionable tactics, it's a wonder that people are able to make sound decisions based on solid research at all.
That's always been my MO for Assisted Living Directory – using our site to showcase the most reliable information, and places online to research.
With this in mind, I've always felt that if seniors, families and caregivers know where to find State regulations, and where to turn if they have questions or concerns about the care they are receiving, they are that much more empowered!
Fortunately, learning about Maine's assisted living regulations, and the agency that oversees assisted living in Maine, is easy to do.
First, let's point out the Maine Department of Health and Human Services, Division of Licensing and Regulatory Services.
This is the State Agency responsible for the regulation and oversight of assisted living and residential care homes in Maine.
The Department's site looks like this: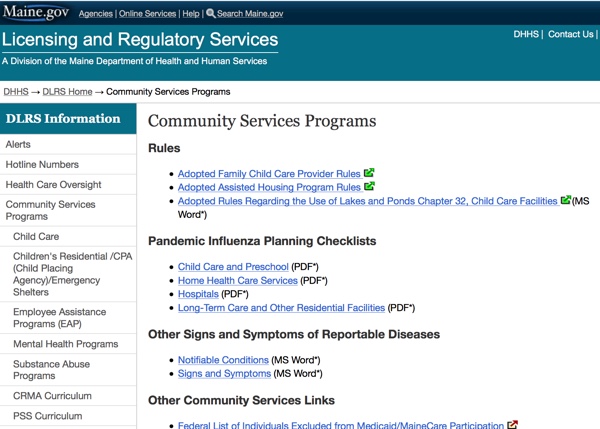 A visit to the Licensing and Regulatory Services site provides some very useful information and contacts including
Definitions, including Intermediate Care Facility, Level 4 Facility Beds, Multilevel Facility, and more.  It's important to note that each state defines assisted living differently.
The direct address, and contact for the Department of Licensing and Regulatory Services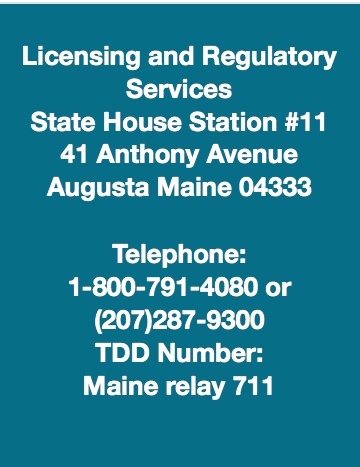 Licensing Rules, including Assisted Housing (Chapter 113), and Adult Day Service Programs
DLRS Hotline Numbers, including a hotline for Residential Care Facilities
and much more!
How To View and Get A Copy of Maine's Assisted Living Regulations
The assisted living regulations for Maine are found on the Department of Health and Human Services site.   This is 'Chapter 113 Regulations for the Licensing and Functioning of Assisted Housing Programs' including Assisted Living.
The document is broken into several sections
Each section is in a .doc format and can be opened with Word, or a comparable program, and then saved and printed if you wish.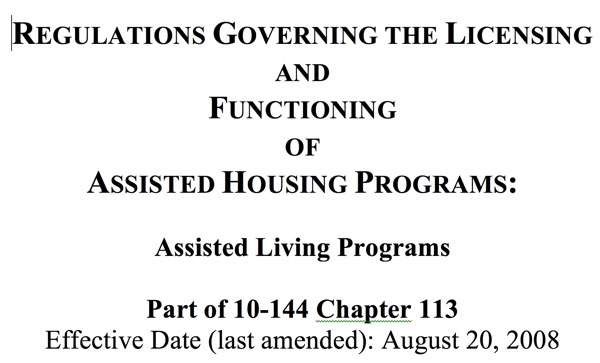 Each document, or section is comprehensive, broken into several sub-sections that may include:
Purpose
Definitions
Licensing (including Application, Requirements, Conditions, and Terms)
Enforcement Procedures
Consumer Rights
Alzheimer's & Dementia Units Standards
Medications and Treatments
Verification of Credentials
Scope of Licenses
Consumer Records
Qualifications, Training and Responsibilities
Services and Service Coordination
Dietary Services
Physical Plant and Sanitation
Assisted Living Programs with Nursing Services
Statutory Authority
and more.
These rules, regulations, and their associated websites and pages highlighted here should provide straightforward direction on learning and being able to refer to Maine's assisted living regulations.   Each assisted living home should have, or be able to provide a copy of these regulations if requested. 
Additionally, these regulations are critical for anyone wishing to open an assisted living home in Maine, so they are aware of what it will take to manage and operate an assisted living home safely and effectively in accordance with State Laws and Standards.