An Overview of Kentucky's Assisted Living Regulations
Empowering our users has been one of the top goals of Assisted Living Directory over the years.  This means showing our users and site visitors how to do their own research, and where to find the best information.
One of the ways we like to do this is to show you where to find your state's assisted living regulations and statutes, so you can know what to expect from assisted living care, and where to go if you wish to file a complaint, of if you have a problem or concern.
For Kentucky, this information is readily accessible to anyone who wishes to view it.
First, we'd like to highlight the agency/department responsible for overseeing assisted living in Kentucky.  This title goes to the Cabinet for Health & Family Services, Department for Aging & Independent Living.
Their website looks like this: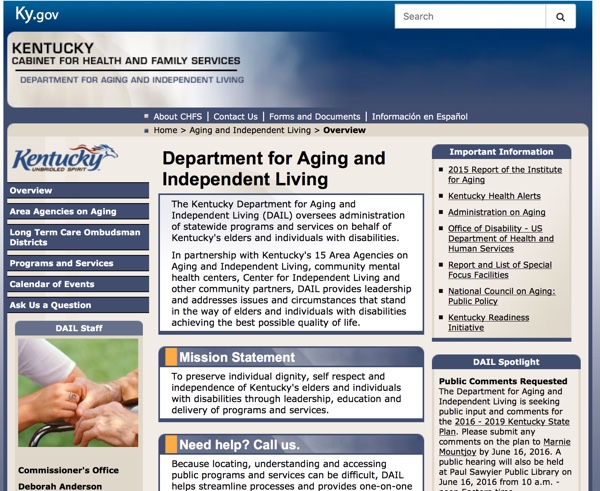 A visit to the Department for Aging and Independent Living site provides useful information and contacts relevant to the state's assisted living and aging programs.
You'll learn about Kentucky's 15 Area Agencies on Aging, Long Term Care Ombudsman Districts, a helpline that you can call if you have questions, concerns or comments, as well as a list of programs provided by the DAIL.
Programs and Services include:
Aging & Disability Resource Center

Aging Network

Adult Day Care and Alzheimer's Disease Respite

Assisted Living Community Information and Certification

Caregiver Support Services

Elder Abuse Prevention

State Health Insurance Assistance Program (SHIP)
and more.
Under the Assisted Living Communities section, there is data and support relevant to assisted living communities in Kentucky.   You'll see a description/overview of what you can expect from assisted living in Kentucky.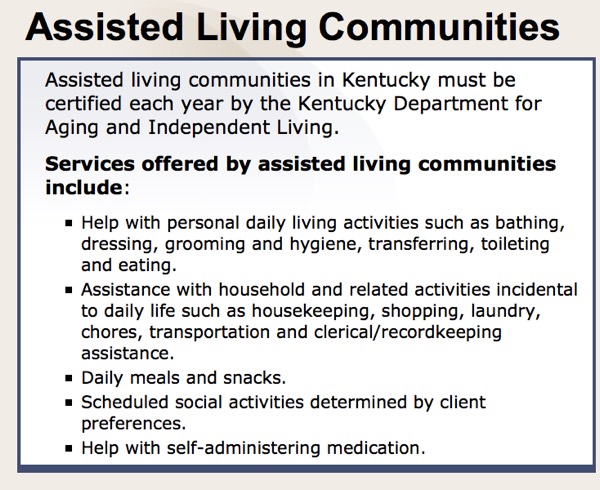 Additionally, you'll see a list of Certified Assisted Living communities, by county in Kentucky.   Facility information includes the number of units for each facility, as well as a direct phone number.
There are also consumer checklists for selecting assisted living, as well as a section for Legislation and Regulation of assisted living in Kentucky.
Regulations for Assisted Living in Kentucky
There are two pages/documents I would like to highlight that include the State's assisted living regulations and status.
First, the Kentucky Legislature website provides the KRS Chapter 194A (Kentucky Revised Statutes), which, includes Assisted Living Communities.  I did a simple ctrl+f on my computer for the term 'assisted' and it took me straight to the section.
http://www.lrc.ky.gov/Statutes/chapter.aspx?id=38056
There is a sub-section for definitions, which is important to review, since every state defines assisted living, and related terminology in their own unique way.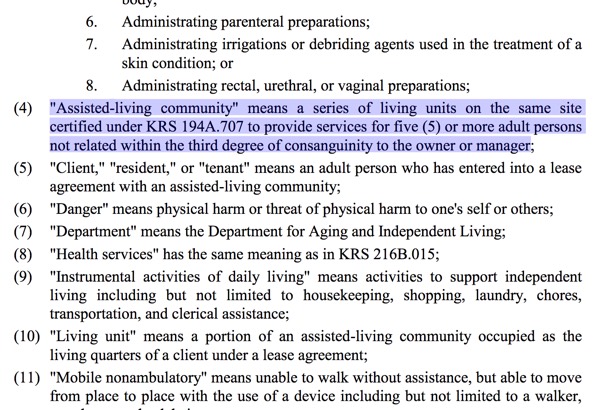 http://www.lrc.ky.gov/Statutes/statute.aspx?id=6696
Additional sections include:
Another important document to be aware of (or bookmark, print, or save) is the 910 KAR 1:240. Certification of Assisted Living Communities
http://www.lrc.state.ky.us/kar/910/001/240.htm
All of these pages, documents, and sections should be very useful to any senior considering or already living in an assisted living community in Kentucky, as it provides a way for you to understand your rights, and to be able to identify sub-standard care or practices.
Families of residents living in assisted living communities should be familiar with these regulations and documents, or at a minimum, know where to find them for reference (now you do)!
For those who are considering opening an assisted living residence, these pages should provide a starting point for beginning the process of licensing and certification, and provides insights for you to understand what is involved with the day-to-day operations of an assisted living home, to ensure the health, safety and dignity of each resident.