How To View Tennessee's Assisted Living Regulations
By Joelle Besnette for Assisted Living Directory

Return to, or visit our Tennessee Assisted Living Page.
Did you know? In Tennessee, Assisted Living is referred to by the State as Assisted Care Living.
Who regulates Assisted Living facilities in the state of Tennessee?
The Board for Licensing Health Care Facilities, Office of Health Care Facilities regulates Assisted Living facilities for the state.  The Board is comprised of 18 individuals who are appointed by the Governor.  It oversees a total of 21 types of health care facilities.  Here is the current view of the home page: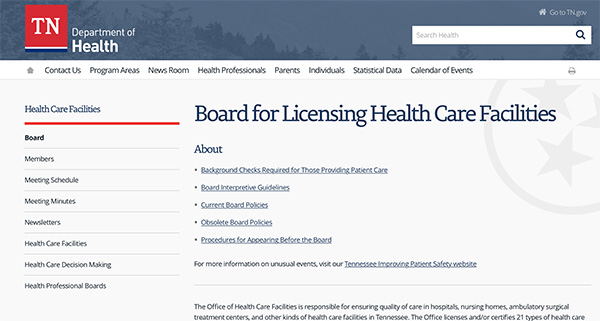 Notice that Tennessee prominently displays a link regarding background check requirements for all staff who provide patient care.  Obviously, this is important information for employers as well as patients and families.
Does the state offer consumer information regarding assisted living?
Frankly, I found it difficult to find information for individuals and families who are considering assisted living.  Many states offer a consumer guide, or at least easily accessible contact information, as a great place to start researching.  This was not the case in my experience when trying to locate information for the state of Tennessee.  I was surprised that it was so challenging to locate contact information for the Division of Health Licensure and Regulation.
Below is a page designed for individuals.  We'll discuss the second link, Facilities Directory Search, next.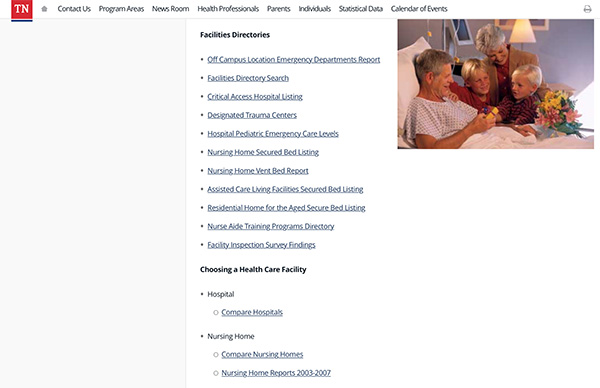 How can I find a facility?
To find a current list of facilities, go to the Health Care Facilities search page to enter search criteria.  You may filter the search by county.
The current search results (screenshot below) provide a list of 289 facilities statewide, sorted alphabetically by facility name.  It include facility contact information, license number, number of beds, and date of most recent survey.  Facility phone numbers and physical addresses are provided, however, web site and email addresses are not.  This list may be printed from the web page itself, but unfortunately it is not downloadable from the site as an Excel file.  As of this writing, the list was updated 2 days ago.
Note that you may also run a "History search", which provides information on owner, address, or facility name changes.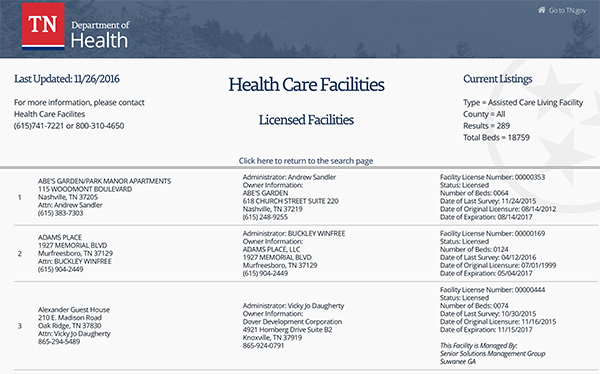 There is an additional list, the Assisted Care Living Facilities Report, which is in .pdf format.  This report is dated 2012 and lists facilities by license number.
How can I find a list of facility inspection reports?
These are located on the Facility Survey Inspection Findings page.  According to the state's Department of Health:
The Division of of Health Care Facilities is charged with inspecting health care facilities for compliance with federal and state requirements. To comply with federal requirements, the division is making health care facility survey inspection results available online, beginning with nursing homes. As this website grows, hospital and other types of facility surveys the division inspects will be added.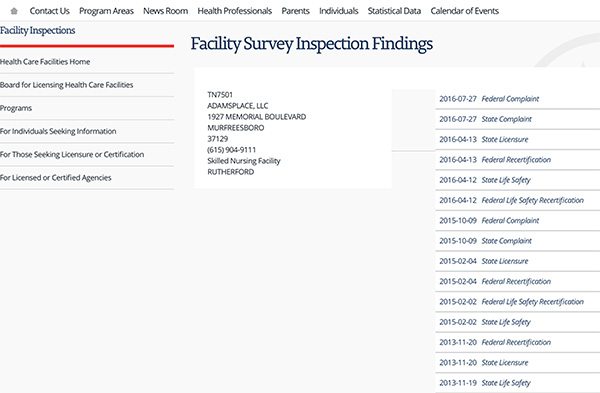 How can I view, and get a copy of Tennessee's Assisted Living Regulations?
These are located in a .pdf document, the Rules of the Tennessee Department of Health and Tennessee Department of Environment and Conservation.
Assisted Living regulations may be found under Chapter 1200-08-25.
How are complaints handled?
The Board for Licensing Health Care Facilities implements fire and life safety code regulations and minimum standards for patient care in health care facilities, set minimum compliance standards or regulations and specifications for construction plans of health care facilities and conduct annual compliance inspections.
Tennessee operates a Health Care Facilities Complaint hotline:  (877)287-0010
Where can I go for further information?  
The Division of Health Licensure and Regulation may be reached at (615)741-7221.