By Regina Woodard for Assisted Living Directory
In this post, we provide an overview of Oregon's Medicaid Waiver Programs.
What do beavers and ducks have in common? Other than being animals who live in the water, they are the mascots to two of the biggest universities in Oregon. Nicknamed the beaver state, Oregon is the ninth largest state in the US and the 26th most populated, but the state has been a booming haven for not only millennials, but the baby boomers as well.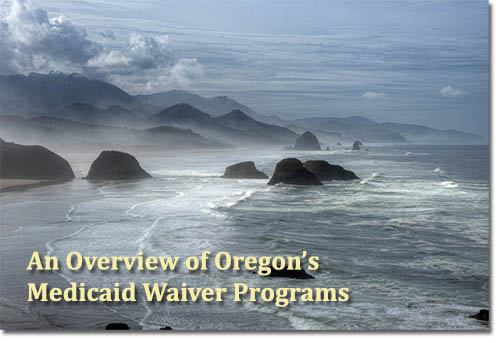 The US Census Bureau discovered that the state's elderly population grew by 18% between 2010 and 2014, outpacing the nation as a whole; counties within the state grew by 10% during the same time, with none of them showing any decrease. With this growing demographic, Oregon has put more of an effort to provide different services, especially those that are able to be applied by Medicaid.
Home and Community Based Services Waiver
The HCBS waiver is a fairly common waiver that many states have, that help to assist Medicaid individuals to live in the community and avoid institutionalization. This waiver helps individuals to obtain opportunities in seeking employment, engage in the community, help control their personal resources, transitional plans, etc. Some of the services offered in this waiver include community services, day habilitation, occupational and physical therapies, group care homes, homemaker services, and more.
There are two main waivers under this HCBS – ICF/MR comprehensive residential waiver and the ICF/MR support services waiver. Some of the services offered for both of these include respite, homemaker, environmental accessibility adaptations, family training, non-medical transportation, personal emergency response systems, and more.
To be eligible, individuals need to be 18 or older and meeting the ICF/MR level of care.
Long-Term Care
The LTC waiver helps to cover a range of services for individuals who are unable to meet their own daily needs. Like the HCBS, this waiver helps to keep individuals within their own homes versus living within a nursing facility. Services offered within this waiver include bathing, personal hygiene, behavior, grooming, eating, housekeeping, laundry, shopping, transportation, and more.
To be eligible for this waiver, individuals need to be receiving Medicaid benefits, be 65 years or older, and currently reside within a long term care institution.
Aged and Physically Disabled Medicaid Waiver
The Aged and Disabled waiver is intended to help elderly and physically disabled individuals receive care at their homes instead of being put inside a nursing facility. Some of the services provided by this waiver include adult day care, adult residential care, environmental accessibility adaptations, in home care services, and transportation assistance.
To be eligible for this waiver, individuals need to be 65 years or older, while those are physically disabled need to be between the ages of 18-64; targeted to those 65 years and older, those individuals can qualify without a disability provided they are eligible for nursing facility level of care. Medicaid limits are based on both individuals and married applicants, both with income and asset limits.
Program of All Inclusive Care for the Elderly (PACE)
Designed for individuals 55 and older, PACE strives to help those who are in need of nursing facility level of care, but wish to remain within the home or within the community. Under this waiver, integrated care and support with high levels of preventive care is included; some of the services offered are case management and social work services, personal care, recreational therapy, meals and nutritional supplements, and others.
To be eligible for PACE, individuals must live within a PACE area, be 55 years of age or older, be able to live within a community without jeopardizing their health or safety of others, be eligible for Medicaid, be determined to need nursing facility level of care, and more.
Spousal Pay Program
This waiver pays the spouse of an individual for the significant assistance with activities of daily living they provide their spouse. When couples qualify for this program, the spouse becomes the official homecare worker and is enrolled in the homecare worker's union, receiving a salary, pay taxes, union fees, and unemployment insurance eligibility. Benefits and services under this program include the caregiving spouse receives a paycheck for providing services on an hourly basis, usually around $20 per hour.
Spouses are able to receive union benefits, including paid vacations, disability benefits, and unemployment insurance. To be eligible, couples need to be legally married and both need to be residing at home, with the individuals in need of care requiring up to four activities of daily living, must have a diagnosed, progressive, and debilitating condition.
There several other programs and waivers that Oregon offers its elderly residents, including the Independent Choices program and the client employed provider program. To find out more information, you can contact the Department of Human Services, Aging and People with Disabilities section either through their website; you can also contact your local office by county to speak to a representative.
Photo by D. Robinson
Resources
Oregon's Retirement Age Population Growing Fast
Home and Community Based Services
Medicaid Reference Desk – Oregon
Fact Sheet Oregon Seniors and People with Disabilities
Aged and Physically Disabled Medicaid Waiver