I can imagine all too well the anxiety and stress that comes up when a family feels that their loved one is not being cared for as well as they should be at an assisted living facility.
I know this feeling, as we dealt with my mother-in-law's rocky journey through a long-term care facility when she became ill.   We were trying to manage her care remotely (from another state) and we had our suspicions that her care was sub-par at times.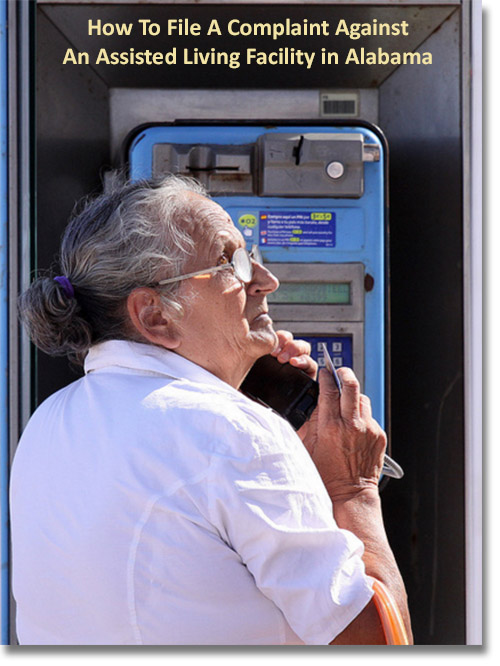 We never thought there was abuse happening, but we did suspect some degrees of neglect, and inadequate staffing ratios at the facility she was a resident of.
We weren't sure what to do, and we felt anxious about complaining to the facility, and not totally confident that they would address our concerns.
I've also witnessed plenty of times in my previous career in the hospitality industry that 'complainers' can be retaliated against.   We've all heard of the waiter who 'compromises' someone's food before delivering it to them.
So what can a family do if they wish to 'file a complaint' against an assisted living facility, or if they wish to have something investigated by a neutral third-party, and remain anonymous?
In Alabama, there are a few good routes that you can take.
The first route that can be taken is one that I really recommend, especially if you wish to remain anonymous, and if you are not totally comfortable speaking with the facility owners or administrators.
This is to contact your Long Term Care Ombudsman for your city/county or area.
Every single square foot of the United States is covered by the services and support of an Area Agency on Aging (a state/federal entity that has no commercial bias).
Under these agencies, you can often find your LTC Ombudsman, which is a trained and qualified third party representative that "Investigates and works to resolve problems or complaints affecting long-term care residents."
To find your Local Area Agency on Aging in Alabama, please visit this link which has a coverage map of Alabama's 13 agencies:
http://www.alabamaageline.gov/area-agency.html
To learn more about Long Term Care Ombudsman Support in Alabama, please visit
http://www.alabamaageline.gov/long-term-care.html
Next, to simply 'cut to the chase' and file a complaint against a facility, you can call one of three numbers: 
Nursing Home Complaint Hotline: 1-800-356-9596
Assisted Living Complaint Hotline: 1-866-873-0366 
Department of Human Resources of Elder Abuse Hotline: 1-800-458-7214
I'd recommend this route for more serious cases of abuse and neglect, or if you've already take the route of speaking to an Ombudsman.
Obviously, if you feel that neglect or abuse at an assisted living facility in Alabama are life-threatening in any way, you'd want to contact law enforcement or call 911 immediately.