Learn About Iowa's Assisted Living Regulations
I've always been motivated to empower seniors, families and caregivers by arming them with the information and resources they need to research assisted living properly, and to know their rights, as well as the standards, rules, and regulations put forth by the State.
For Iowa, you can easily refer to, and get a copy of the State's assisted living regulations, and quite a bit more incredibly useful pages, documents, and resources relevant to assisted living licensure, operations and rules in Iowa.
First, it's good to know who is responsible for overseeing assisted living, and enforcing regulations in Iowa.
This title, and responsibility goes to the Iowa Department of Inspections and Appeals, Adult Services Bureau.
https://dia.iowa.gov/health-facilities
Their site looks like: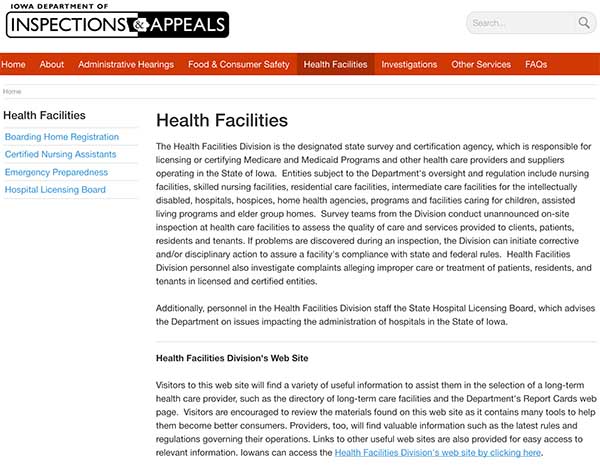 Here, you'll see a general overview of the Health Facilities Division, which is the 'designated state survey and certification agency, which is responsible for licensing or certifying Medicare and Medicaid Programs and other health care providers and suppliers operating in the State of Iowa.'
"Entities subject to the Department's oversight and regulation include nursing facilities, skilled nursing facilities, residential care facilities, intermediate care facilities for the intellectually disabled, hospitals, hospices, home health agencies, programs and facilities caring for children, assisted living programs and elder group homes."
This site offers a number of helpful tools and information designed to assist them in the research and selection of a long term health care provider, such as assisted living.
One such tool is the 'entity search' which provides access to the state's assisted living programs, designated as ALP (Assisted Living Programs) or ALP/D (Assisted Living Programs for People with Dementia).
https://dia-hfd.iowa.gov/DIA_HFD/Process.do;jsessionid=0B0048A058B12DD6F897348C71A4BD41.worker1
You can filter your search by County, City, Category, and more.
There's also a contact page, which offers the mailing address and telephone number for the Iowa Department of Inspections and Appeals
https://dia.iowa.gov/document/hfd-staff-list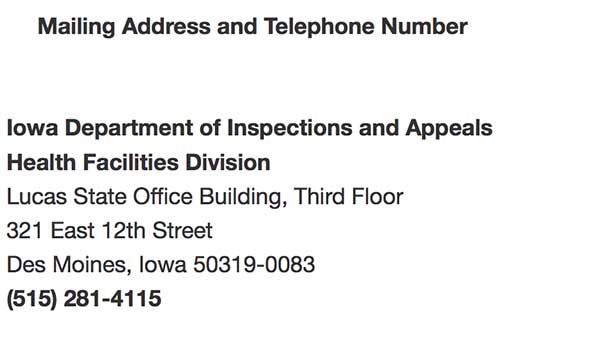 Next, you can view, and get a copy (in .pdf) format of the State's regulations for Assisted Living Programs, ad well as the General Provisions for Assisted Living Programs.
Chapter 231 C outlines Assisted Living Programs in Iowa.  You'll Learn:
Findings, Purpose and Intent

Definitions

Certifications

Monitoring

Fire and Safety Standards

Written Occupancy Agreement

Assessment of Tenants, and Program Eligibility

Involuntary Transfer

Complaints

Disclosure of Findings

Informal conference, formal contest & judicial review

Denial, suspension or revocation – conditional operation

Notice, appeal and emergency provisions

Voluntary cessation of program operations – decertification

Department notified of casualties

Retaliation by assisted living program prohibited

Civil Penalties

Criminal Penalties and injunctive relief

Nursing assistant and medication aide- certification

Medication setup, and the administration and storage of medications

Coordination of the long-term care system, transitional provisions

Iowa assisted living fees

Application of landlord and tenant act

and Limitation on Penalties
It's especially helpful for most anyone to review the definition of assisted living in Iowa, since each state defines, and regulates assisted living differently.
The full document can be viewed and saved here:
https://www.legis.iowa.gov/docs/code/231C.pdf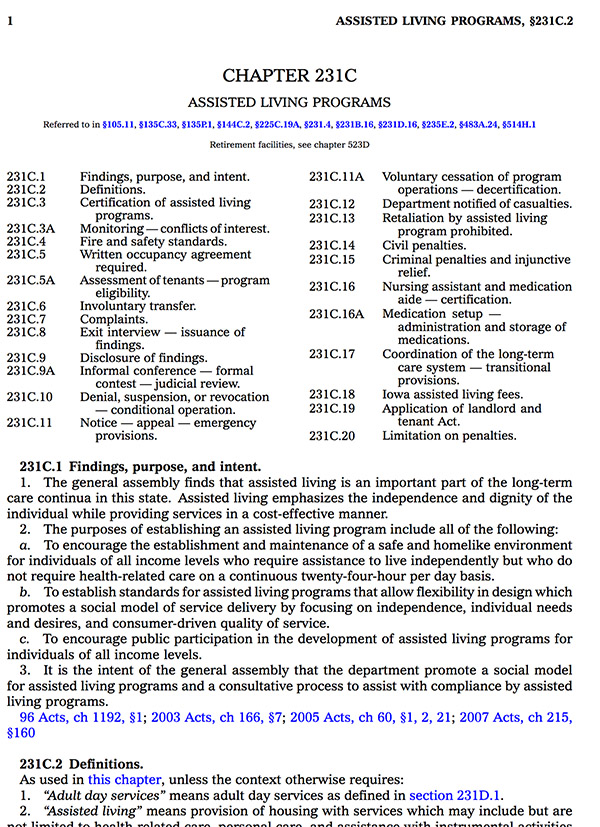 We wouldn't expect for most families or residents of assisted living facilities in Iowa to memorize these rules and regulations, but it is recommended that you keep a copy of them for reference, or at the minimum, bookmark these pages, and review them periodically.
It's also especially helpful for those folks who are considering opening their own care home to become familiar with these rules and regulations, so you 'know what you are getting into.'   
Operating an assisted living home in Iowa is no simple task.   There are strict rules and guidelines that must be followed 24×7, 365 days a year to ensure the health, safety and wellbeing of not only your residents, but also your staff, and extended caregivers and families.