Learning About Indiana's Assisted Living Regulations
Quality of life for any resident of an assisted living home or facility comes down to, in large part, the assisted living rules and regulations put forth by the State, and how well those regulations are adhered to.
Each state is different, in that how each state defines assisted living can be quite different, and how each state writes it's rules (and regulates them).
For Indiana, it's first good to know which agency oversees, or regulates assisted living.   This title goes to the Indiana State Department of Health, Division of Long Term Care (ISDH) Indiana Division of Aging (DA)
http://www.in.gov/isdh/23260.htm
Their site looks like: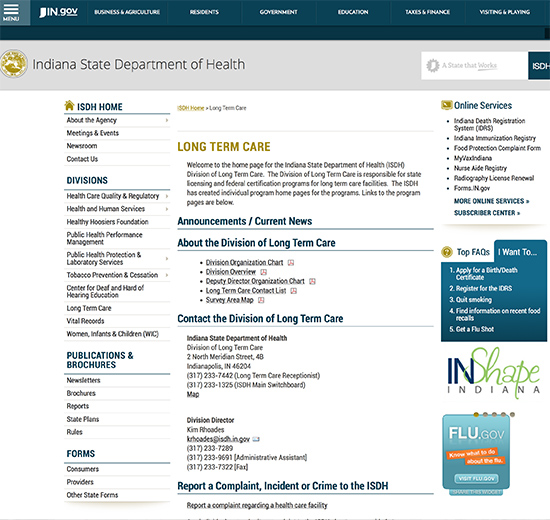 Visiting the Department's website, you have access to quite a bit of insightful and informative data and documents relevant to assisted living rules and regulations in Indiana.
You'll see PDF documents for:
The Division's Organizational Chart
Division Overview
Deputy Director Organizational Chart
Long Term Care Contact List
Survey Area Map
Additionally, you'll see the address and contacts for the Division of Long Term Care.
There is also a section on reporting a complaint, incident or crime to the Indiana State Department of Health.  Anyone can do so, and complaints may be filed agains any licensed or certified Indiana health care facility or entity.
All complaints are investigated, according to the ISDH.
You can also report a 'reasonable suspicion of a crime' against a long term care resident.
At this time, complaints may be submitted anonymously.
http://www.in.gov/isdh/21533.htm
There is also a helpful section with links to a number of Licensing, and Certification Programs for the State's Long Term Care programs.    
Among the documents in the list is the Residential Care Facility Licensing Program:
http://www.in.gov/isdh/20227.htm
To view the State's assisted living and residential care regulations, you can do it in a number of ways. 
First, you can go to the Residential Care Licensing Program section (mentioned above) and about 1/2 way down, there is a section for Laws and Regulations, and a number of pages and documents relevant to long-term care regulations in Indiana.   
http://www.in.gov/isdh/20227.htm
You'll see the Residential Regulations, (410 IAC 16.2-5), and you can access it here as well:
http://www.in.gov/isdh/files/080410B_OCTOBER_2008_RES__REGS_REVISED4e.pdf
Also, the Assisted Living Federation of America, now known as Argentum, has the ARTICLE 16.2. HEALTH FACILITIES; LICENSING AND OPERATIONAL STANDARDS
document in a downloadable Word (.doc) format here (will open in a new window)
www.alfa.org/Document.asp?DocID=713 (will open as a .doc) that looks like: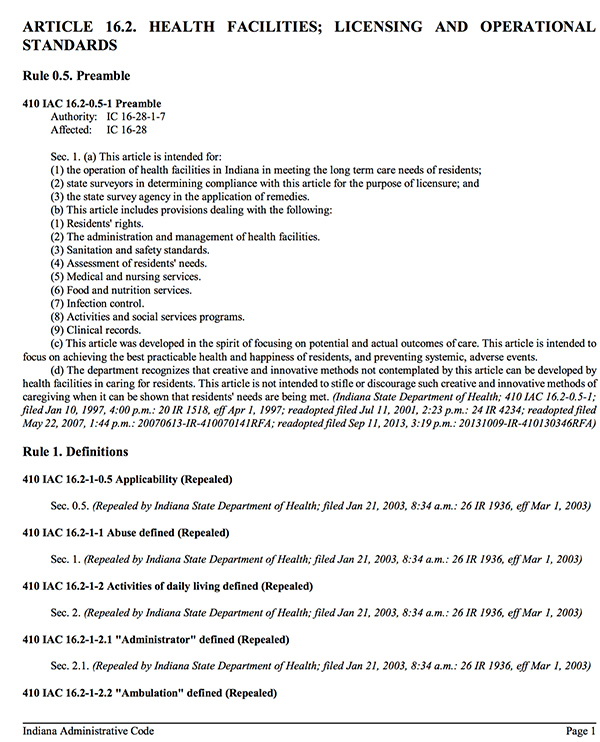 The document is long (over 100 pages) but provides a comprehensive overview of the operation of Residential Care Facilities (Assisted Living) in Indiana, including the:
Operational Standards
Licensing
Definitions
Resident Rights
Personnel and Staffing
Sanitation and Safety Standards
Physical Plant Standards
Food and Nutritional Service
and so much more.
These documents are useful, if not critical knowledge for assisted living owners and administrators, their staff, as well as residents, their families, and those who care for them (caregivers).   At a minimum, it's important to know where to access these documents of rules and regulations for assisted living and residential care in Indiana, and I hope we have achieved that in this section.
Lastly, this information is useful for those who are considering opening an assisted living residence.  These sites, and rules documents will give you a better-than-fair idea of what is involved with operating an assisted living home in Indiana, and the types, and scope of rules and regulations that you will need to be accustomed to on a daily basis.