In this post, I'll show you how to learn which assisted living facilities in Iowa are State-Certified as "affordable" and which ones have indicated that they will serve Medicaid Eligible seniors & tenants.
Every day that I've worked on our site Assisted Living Directory (it's been about 9 years now), there hasn't been a day gone by that I don't gasp at how expensive assisted living is, and can be.
Unfortunately, as is often the case, families are unprepared for this – illnesses creep up suddenly, or "mom" is all of a sudden a danger to herself, forgetting things, not remembering how to get home etc.   So, assisted living is needed, and quickly.
Families are often-times under-informed as to what options they may have in terms of paying for assisted living,  what the real monthly costs of care may be, or how to potentially save money.
That's why I find great pleasure and satisfaction when I find an incredibly useful information source offering tangible options for low-income seniors to find care.  For Iowa, to find affordable assisted living, and to find out which facilities have indicated that they will serve Medicaid Eligible Tenants – please check out the Iowa Finance Authority's Affordable Assisted Living Portal (which was "… established in 1975 to undertake programs to assist in the attainment of housing for low- and moderate-income Iowans):
http://www.iowafinanceauthority.gov/Public/Pages/PC118LN11
A Screen-grab of what you'll find on this incredibly helpful site: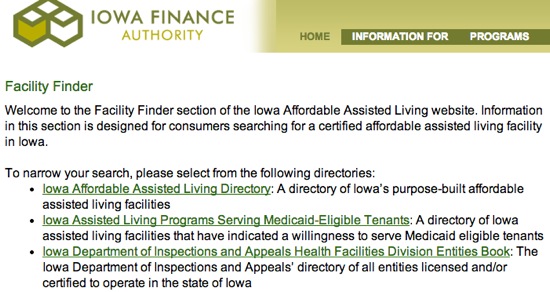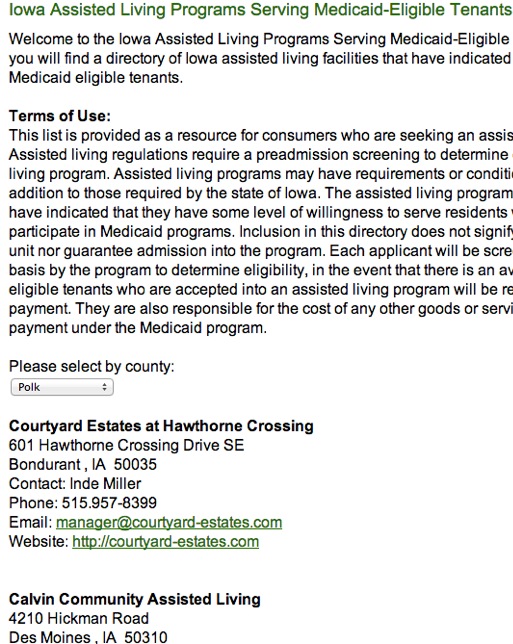 There are a few sections to highlight. First is their "Affordable Assisted Living Directory" which is "…a directory of Iowa's purpose-built affordable assisted living facilities."
Next is a directory that identifies which facilities may accept Medicaid Eligible seniors.  This section is very user-friendly, as it is searchable by county.  There are numerous facilities statewide in Iowa that are on the list.
This is a Government-sponsored site, so it should be considered accurate and trustworthy.
To see Assisted Living Directory's Iowa facilities section please visit: