Few things are quite as empowering as having facts and data at your fingertips.   This is so true when it comes to researching assisted living facilities, or being a resident of one.   If you know what your state's rules and regulations are, you'll know when something's amiss, and can constructively question it.
Fortunately, for Hawaii, there is publicly-available information and records for assisted living regulations.
First, it's important to know who the state agency is that is responsible for regulating assisted living in Hawaii.  This title goes to the Department of Health, Office of Health Care Assurance.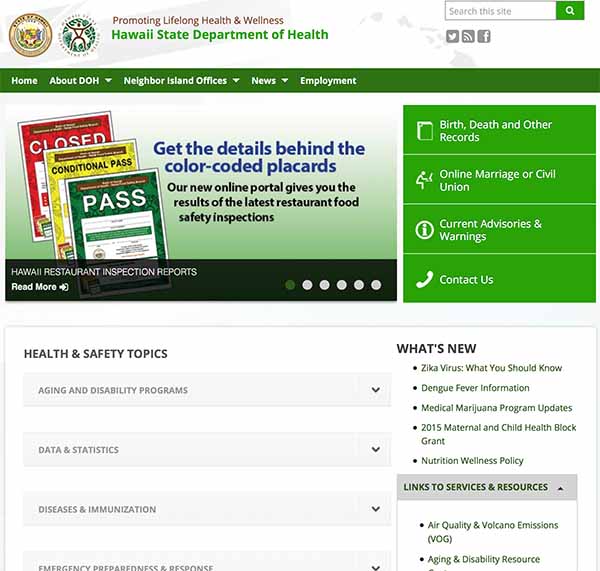 This site is a portal of data, tools and records for aging, health and safety topics for the State of Hawaii.   
You'll find:
Aging and Disability Programs
Data and Statistics
Environmental Health
Family Health
and a section for Health Care Facility Regulation, which has sections for:
Licensing Regulations
Assisted Living Facilities
Licensing Care Homes
Medicare Facilities
How to Obtain a Background Check
Healthcare Facility Inspections Reports
and SHPDA, or the State Health Planning and Development Agency, which '…promotes accessibility for all the people of the State of Hawaii to quality health care service at a reasonable cost.'
Where can I view Hawaii's Regulations for Assisted Living Facilities?
The State offers a very extensive .pdf document that outlines all of the State's Administrative Rules (Regulations) for Assisted Living Facilities.
http://health.hawaii.gov/opppd/files/2015/06/11-90.pdf
There are about a dozen important sections within this 20+ page document.
You'll find
The Purpose of this 'chapter' which establishes a 'new category' of community based residential care which is named 'Assisted Living Facility' in Hawaii.

 

It's important to note that several other states use different names, or terminology for assisted living care.
Definitions, which is very useful and informative.

 

Again, other states define things differently than others.

 

Some of the definitions include:

 

Activities of Daily Living (ADL); Aging in Place; Assisted Living Facility; Primary Care Provider; Service Plan; Waiver – and many more.
Licensing
Minimum Build and Structural Requirements, which offers information on minimum square footage, standards for accommodations, and accessibility requirements.
Emergency Care and Disaster Planning
Inservice Education, which are programs for the entire staff to continually educate them on the organization's philosophy, goals of assisted living and more.

 

At this time there is a minimum of 6 hours of annual inservice education required by all staff.
Admission and Discharge
Severability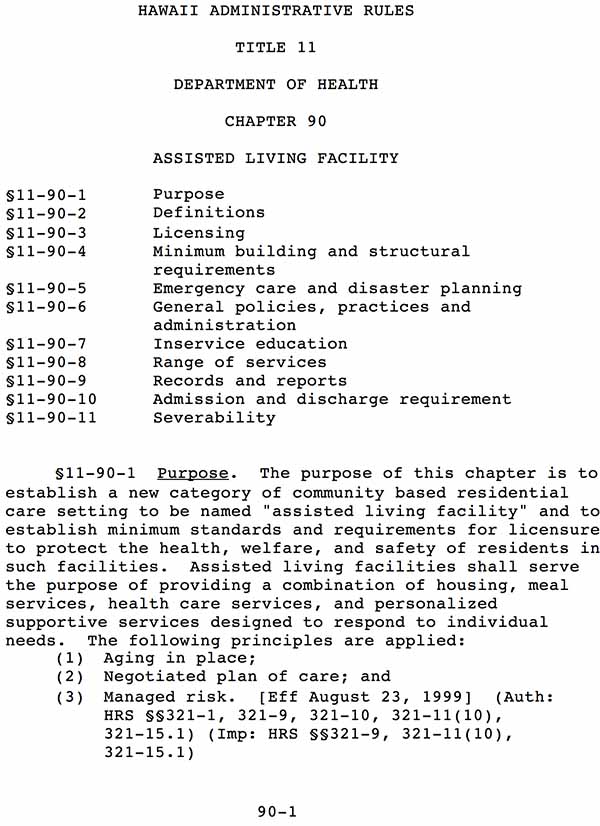 As noted, it's wise for any family member or resident of an assisted living facility in Hawaii to be familiar with the rules outlined in this document, or at the very minimum, know where to find (or have a copy of) the document for easy reference.
Obviously, the staff, owners and administration of each assisted living facility and residential care home in Hawaii needs to be more intimately familiar with these rules and regulations to ensure safe operation of the facility.
Lastly, these regulations are helpful to understand for those who wish to open an assisted living community in Hawaii.   You'll get a fair understanding of what is expected from you, as the owner/administrator.