I'd like to share with you a new tool that I discovered, that is offered through Florida's AHCA website.  This information, to me, is so very important, but most families aren't aware that it is easily accessible to anyone, if they know where to look.
This tool and database is through the Agency for Health Care Administration, and their Public Records search, allowing users to look up legal orders, or statements of deficiencies for:
* Assisted Living Facilities
* Adult Family Care Homes
* Hospice Centers
* Residential Care Homes for the Elderly
* Nursing Homes
– and quite a few more categories.
Here's what the tool looks like, which is very straightforward and user-friendly.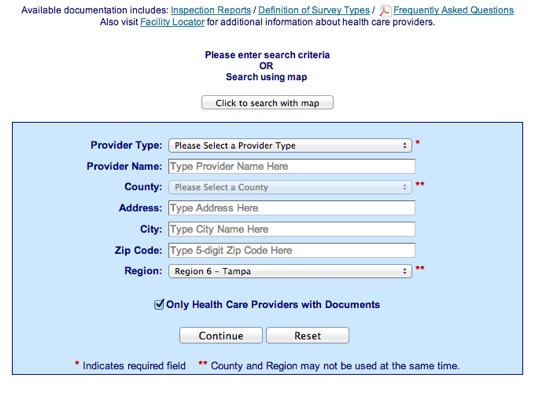 To use this tool, visit the Public Records Search / Statement of Deficiencies page on the AHCA website.
Available documents include: Inspection Reports; Definition of Survey Types; and their fantastic facility locator that covers Florida statewide.
This tool can also be searched using a map, which brings up a Florida state map, where you can select the region you are interested in.
I've always been very interested in finding good state websites and tools that offer this type of information freely, and openly to the public.  I believe it is essential for any serious senior care research, and offers unmatched information on data that can be used to generate constructive questions to ask assisted living facilities you are interested in.
For more, please visit our Florida assisted living section:
https://www.assisted-living-directory.comcontent/florida.cfm