Learn About Assisted Living Regulations in Arkansas
In this post, we will highlight the two levels of Assisted Living in Arkansas, and how you can learn about the State Regulations for each, including how to get a printable copy of each.
Additionally, we'll provide an overview of the State Agency that is responsible for regulation and oversight of assisted living in Arkansas.
How To View Assisted Living Regulations in Arkansas:
There are two, rather extensive PDF documents offering an in-depth guide to the Rules and Regulations for assisted living facilities and homes in Arkansas.
These rules and regulations are provided through the State's Department of Human Services, and their Division of Medical Services.
For Level 1, you will need to view, save, download, and/or print the following document:
http://humanservices.arkansas.gov/dms/oltcDocuments/alfi.PDF
As you can see, it's comprehensive.
If you wish to learn about a specific aspect of assisted living regulations, you might want to try doing a search of the document (usually a ctrl+f type function on your computer) or go to the document's Table of Contents.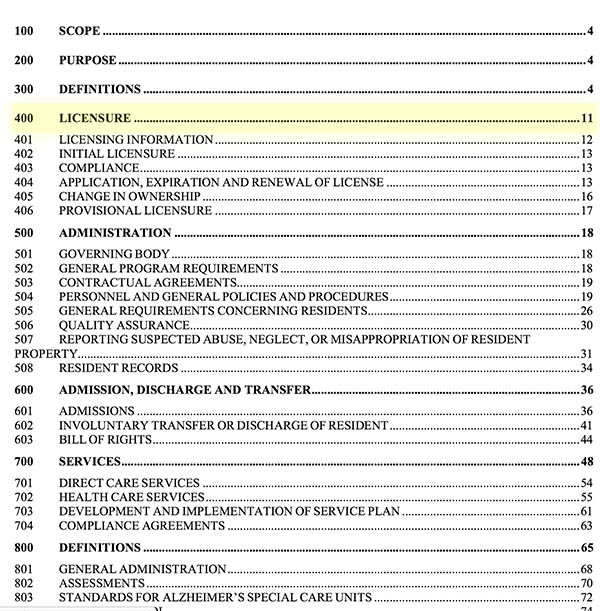 There are numerous sections and sub-sections, including:
Licensure
Administration
Admission, Discharge and Transfer
Services
Definitions
Physical Environment
Imposition of Remedies
Informal Dispute Resolution
and an Appendix.
There are some very helpful 'Definitions' for assisted living and related aspects thereof and it's a good idea to look through these.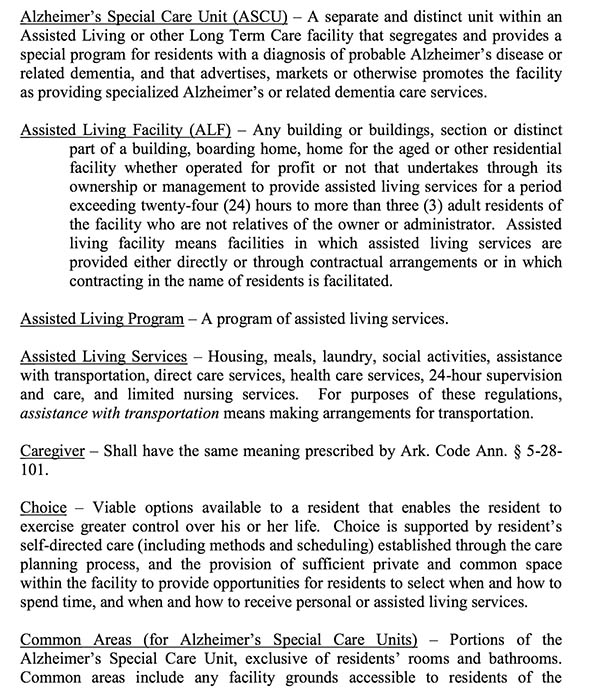 There is a specific definition for 'Assisted Living Facility' in Arkansas, as well as definitions for 'Assisted Living Program' and 'Assisted Living Services.'
Assisted Living Facilities Level 2
To access the PDF document (at this time 142 pages) for Assisted Living Facilities Level 2 in Arkansas, you'll need to go here:
http://humanservices.arkansas.gov/dms/oltcDocuments/alfii.pdf
This document is very similar to the Level 1 document, with very similar sections, and a table of contents.
Again, there is a very good section for Definitions here as well.
State Agency Responsible For Overseeing and Regulating Assisted Living in Arkansas:
As implied above, the State Agency for overseeing assisted living in Arkansas is the Department of Health and Human Services, Office of Long Term Care.
We encourage you to visit their page on the DHS site, as there are a number of helpful tools and resources that can help you to further your assisted living research and understanding in Arkansas.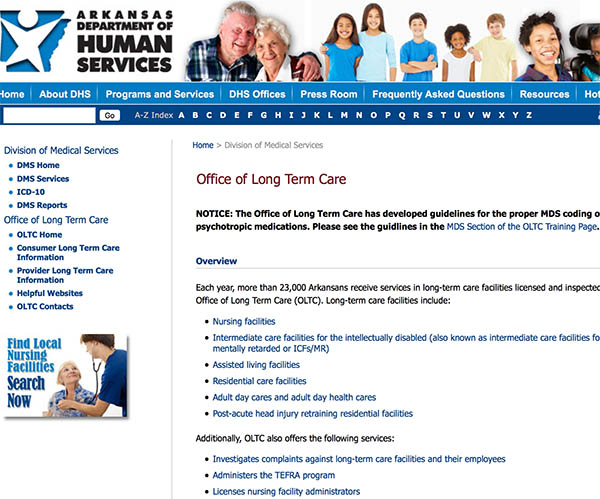 There are links to the PDF documents for regulations (we've already listed those in this post) as well as Long Term Care Information for Consumers (and Providers).
The 'consumers' section is helpful, as there are sections for
Alternatives to Facilities
Choosing a Facility
Types of Facilities
Find a Facility
Facility Report Cards
Enforcement
Filing a Complaint
and more.
Rules and Regulations for Residential Care Homes
There's also a third PDF document that might be helpful to you if you, or a loved one is residing in, or considering a smaller residential care home. That document is here:
http://humanservices.arkansas.gov/dms/oltcDocuments/rcf.pdf
This, like the previous documents, offers an in-depth guide to the regulations and rules pertaining to the State's many residential care homes.
All of these documents may benefit a number of people or groups, including:  Caregivers; those wishing to open an assisted living home; seniors; families; care home staff; administrators; and owners, to name a few.