How To View North Dakota's Assisted Living Regulations
North Dakota, like all states, has it's own, unique set of assisted living rules, regulations and definitions.    This is in contrast to the common misconception that assisted living regulations are the same across state lines, when, in-fact, they are often quite different.
This leads to a fair amount of confusion, since, many times, families are researching across state-lines, and although they may be familiar with their own state's rules and regulations, they probably do not apply across their home state lines where care is needed.
Additionally, often times residents of assisted living facilities are not aware of the assisted living regulations that apply to them, or where to find them if they want to learn about them.
That's why, for each state, Assisted Living Directory is providing a guide to assisted living regulations and rules, and links to the governing authorities who oversee said rules.
Who Regulates Assisted Living in North Dakota?
This title goes to the North Dakota Department of Health, and their Health Facilities section of their department and website.
Their site looks like this: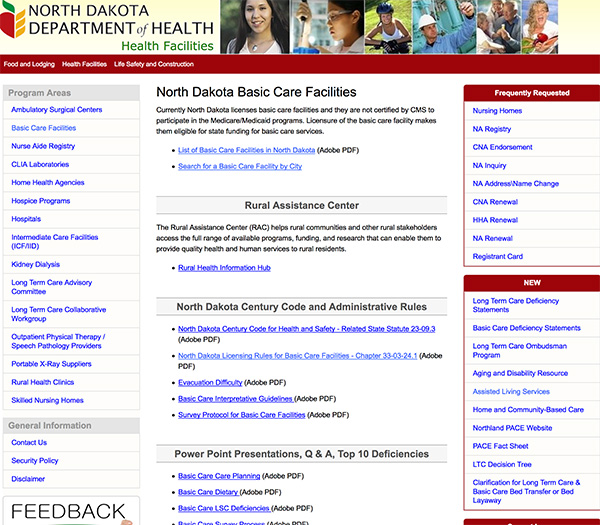 Here, you'll see links to a number of important sections and documents pertaining to assisted living and other care facility types in the State of North Dakota.
Firstly, you'll see a PDF list of basic care facilities statewide.     Additionally, there is a basic search tool and database that you can search for care facilities statewide.
Next, you'll see a number of links to PDF documents for Administrative Rules and Century Code, which cover:
There are other PDF's and Power Point presentations on Basic Care Planning, Licensure Rules, Quality Guidelines, and more.
Licensing of Assisted Living Facilities
There is a basic, but informative PDF document that provides an overview of Licensing of Assisted Living Facilities in North Dakota.    This document, Chapter 75-03-34 covers a number of sub-sections including:
Definitions

Licensing

Revocation of License

Complaints

and

Enforcement.
I always like to highlight the Definitions section, since, Assisted Living, or Assisted Living Facility can be defined quite differently from state-to-state.   Some states don't even officially recognize the term 'Assisted Living.'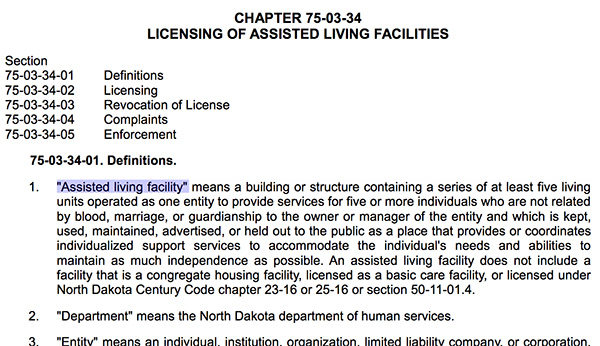 There is also a good document, Chapter 33-03-24.1 for Basic Care Facilities:
http://www.legis.nd.gov/information/acdata/pdf/33-03-24.1.pdf
This document covers many of the same types of information found in the Assisted Living Licensing document referenced above, but it also includes quite a bit more.    This document, and the others can be easily printed and saved.
There is a 'new' section that has been added to the North Dakota Department of Human Services site that is specific to the state's Assisted Living industry.    
This page includes links to the Administrative Rules and Regulations specific to assisted living, and also includes a list of licensed North Dakota Assisted Living Facilities, that, at the time of this writing, has been updated recently. 
The Administrative Rules documents included are:
Lastly, this section includes the contact information for the department, if you have questions, or need assistance.

There rules and regulations are comprehensive, and should highlight how much is involved with operating an assisted living facility in North Dakota on a daily basis – one that operates within the standards of health, safety and dignity set forth by the State through their administrative codes.    
These regulations should also serve as a 'reality check' for anyone wishing to open an assisted living home or facility within North Dakota.   It is obviously a substantial undertaking, one that will expose you and your staff to constant scrutiny and evaluation of your staff by State inspectors, not to mention the residents and their family members.    
We hope that this has provided you a general, and useful overview of North Dakota's assisted living rules, regulations and codes – most importantly where to find them, and get a copy so you can take the time to read, digest, and ask questions if needed.