Assisted Living Directory's newest interview in our "5 Questions" series was with Dan Benson, COO of American Senior Communities, who operate 62 communities in the State of Indiana ranging from Assisted Living, Independent Living to New Energy Wellness and much more!   American Senior Communities has been in business for over 10 years!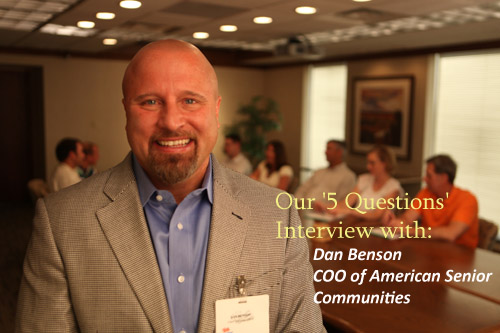 February 2012 – Our "5 Questions" interview with Dan Benson:
Q:  Please tell us about assisted living options provided by American Senior Communities.   How many communities does American Senior Communities operate?
Dan Benson: American Senior Communities is the largest provider of Senior Care in Indiana, with 62 communities statewide.  Service line options include Garden Homes, Independent Living and Assisted Living, New Energy Wellness, Moving Forward Rehabilitation, Auguste's Cottage Memory Care, Skilled Nursing, Long-Term Nursing, Hospice and Respite. The company is owned by Indiana residents and has been in business more than 10 years.
Our Assisted Living communities are tailored to meet the needs of each individual, allowing them to live life to the fullest. Our apartments are available in studio as well as one- or two-bedroom floor plans, furnished and decorated as residents desire, making a familiar and comfortable atmosphere where family members and friends can visit. Our residents enjoy the company of their neighbors while enjoying three meals a day offered in our unique, restaurant-style dining rooms. There are many opportunities to participate in a wide range of planned social activities, scheduled transportation to shopping, restaurants and appointments. We continue to add services and activities designed to keep our residents as active as they desire while having the comfort and security of living in a senior community. We have two Assisted Living communities in Indianapolis, American Village and Rosewalk; one in Beech Grove, Beech Grove Meadows; one in Brownsburg, Brownsburg Meadows; two in Fort Wayne, Coventry Meadows and Heritage Park; one in Mooresville, Meadow Lakes, and one in Zionsville, Zionsville Meadows.
Q: This may seem like an overly-general question, but I think it can say quite a lot:  What do you believe is the most important component to the operation and management and ultimately resident satisfaction of any assisted living community?
Dan Benson: Our staff is the most important component in the satisfaction of our residents.  They're not just doing a job, they're following a calling. They take the time to get to know each resident, doing all they can to make residents feel special every day. We believe that caring people make the difference.  They make it possible for us to provide superior resident care. When people care, you will see it through the quality care that is given, the cleanliness of the facility, the food that is served, the activities that are provided, and the love that is shared. Residents get involved in activities and outings that they chose each day. When they need nursing care, residents chose what nursing services they receive. Our Assisted Living residents have the opportunity to make independent choices, but yet they have the security and comfort knowing that staff members are there when they need assistance.
Q: Your website has a page for Volunteer Opportunities.   How important or essential have volunteers been to the success of your senior care communities?  How easy or difficult is it to find good volunteers, and how do you get the message out into the communities where you operate that there are volunteer opportunities within your organization?
Dan Benson: We have great relationships in our communities, so we often have individuals, churches and organizations volunteering. Volunteers are wonderful for resident socialization. They increase our residents' ties to the outside community.  Many of our volunteers are themselves seniors. It is not uncommon for seniors who have received our services to return and volunteer. For example, one of our volunteers had a knee replacement and was admitted and underwent therapy in our Moving Forward Rehabilitation program. She completed the program and is doing well. So now she returns to the community three days a week to do volunteer work with those who are also there for a short-term rehabilitation stay.  She helps push residents to and from therapy, helps staff answer call lights, and talks to residents about the benefits of an inpatient rehabilitation stay. She says volunteering helps her keep smiling.
There are various tasks that some elderly residents are no longer able to perform for themselves. Some volunteers may help patients straighten out their closet or drawers. Others may help them write a letter. Sometimes, bringing someone a box of chocolates or some flowers goes a long way.
Volunteers can also bring magazines or a book or the newspaper to read and discuss.
Along with the word "volunteering" are many ideas and images about what it means to be a volunteer. In reality, it simply means being a friend. Many volunteers have reported a feeling of great pride and satisfaction knowing that they made someone's day a little easier or a little brighter.
ALD: I can imagine that one of the biggest obstacles that can be faced for someone moving into assisted living is combatting loneliness, and making new friends and contacts.  I can easily understand how volunteers can ease this transition, and provide an immediate outlet for socialization and friendship to your residents (new and established)!
Q:  I see that you offer something called "New Energy Wellness."  Can you tell me more about what this is, and perhaps of some of the other unique or interesting services or therapies that your communities may offer?
Dan Benson: New Energy Wellness is a fitness program that we offer residents and non-residents over the age of 50.  The program exposes seniors to a series of exercise programs designed to build balance, vigor and ability in everyday life. Our Health Promotion Coordinator is trained in Health and Fitness and works with residents' physicians to design a low-impact, customized exercise regimen. The Health Promotion Coordinator is available to supervise and assist members at all times while motivating them to achieve their goals. Blood pressure, heart rate and oxygen saturation levels are monitored before and after each exercise session.
The program helps improve posture and balance, increase gait and walking speed, reduce falls, edema and fatigue. The program helps make everyday tasks easier. Residents gain increased stair-climbing power, increased circulation, coordination, muscle mass and bone density and the ability to engage in spontaneous physical activity. Other benefits include enhanced breathing and ability to sit and stand straight and improved use of hands, which enhances the ability to lift, handle and manipulate objects.
We use Nautilus 2ST equipment, which is special equipment designed specifically with mature adults in mind. Our members appreciate the one-pound increments and hydraulically controlled equipment with quick seat adjustments. The Nautilus 2ST series targets specific muscles and provides a full range of motion for every exercise.
New Energy Wellness offers month-to-month membership with no long contracts. Each location offers convenient hours all for a small monthly fee. It's never too late to start exercising and achieve a healthier lifestyle and that's the message we send to encourage participants to join.
Our New Energy Wellness programs are offered at several communities in Indiana — three communities in Indianapolis,  Allisonville Meadows,  American Village and Rosegate; one in Brownsburg,  Brownsburg Meadows; one in Avon, Countryside Meadows; one in Ft. Wayne, Coventry Meadows; one in Greenwood, Greenwood Meadows; a community in Mooresville,  Meadow Lakes; and one in Monticello,  Monticello Assisted Living & Healthcare;  Lafayette, Rosewalk Village of Lafayette and  Zionsville Meadows.  To learn more about these facilities, visit American Senior Communities.
Q) I watched a video that I found that was an interview with Sara Federle – an activities director for American Senior Communities.  I immediately got the impression that she is extremely proud to work for your company, and is very passionate about what she does.   How do you find good people like Sara, and how do you keep them happy, long-term employees of American Senior Communities, and how do you avoid employee turnover, which is not uncommon in this industry?
Dan Benson: Staff is the most important component to the operation and management of our communities. It's our people who make the difference. We look for people who care about seniors.  These are the kind of people who don't jump from job to job.  Our staff becomes residents' extended family. They are invested in their love of our residents and their relationships with them. We look for people with a calling to serve seniors.
ALD: I have included the video below.  I think it is a wonderful testament to your dedicated staff and to your company.
Assisted Living Directory would like to sincerely thank Dan Benson for taking the time to talk to us!  Your answers have certainly helped us to understand American Senior Communities a little better, and I hope that our readers benefit from the knowledge and insights that you have shared.  Again, thank you!