Our January 2012 interview in our "5 Questions" series was with Carrie Springer of Woodland Ridge Assisted Living in Smyrna, Georgia. We asked Carrie the following questions about their facility, and about the assisted living industry: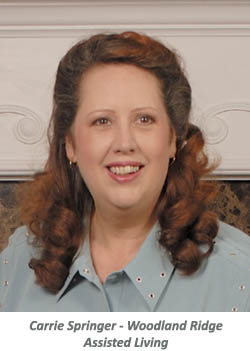 Q: Please tell us about Woodland Ridge assisted living, where your business is located, and how long you have been in the senior care industry (perhaps in terms of the "History" of Woodland Ridge.)
Woodland Ridge was formed in 1998 as a 501(C)(3) not-for-profit residential care community serving the residents of Smyrna, Georgia and the surrounding area. As such, the ownership is private and its Administration is overseen by a long-standing volunteer Board of Directors. The long-term management contract is with CaraVita Senior Care with its home office in Roswell, Georgia. The C.E.O. of CaraVita has been in the industry for over 30 years as an Administrator and owner of many assisted living communities in 5 states as well as a Home Care company serving the metro Atlanta area. Striving for excellence in and from our industry, she served as president of ALFA Georgia (Assisted Living Federation of America) and continues her work with them as chair of the Legislative Committee that works closely with the State of Georgia to ensure that regulations serve to enhance the care of Georgia's elder population as demand for services increases with an aging population.
Q:  You have two pretty unique programs and services that you offer at Woodland Ridge – a progressive method of senior care called CaraSysted®, and Our Friends for Life™ program.  Can you elaborate and tell us more about these programs and how they benefit your residents?
CaraSyst is a proprietary computer-aided system that allows us to assess and develop a detailed Plan of Care for each of our residents. Our Caregivers then track the care that is provided on a real-time basis and document all pertinent information for record, review, and follow-up. One of the key components is that the records can be accessed by the Resident's family to track changes in status over time. As a care provider, this in an invaluable tool for communicating with our residents families, as well as their medical professionals, to show patterns of change for planning ongoing care.  In addition to this information, CaraSyst also allows us to adjust quickly to status changes and communicate those changes so that we are perpetually working from the latest information available about our residents.
Friends for Life™ is a quality-of-life initiative that involves each member of the Woodland Ridge team. From their first day in the community, our Care Staff are charged with the responsibility of knowing and demonstrating their concern for the wellbeing of our residents mind, body, and spirit. Friends for Life™ is knowing our residents well enough to know what they want to drink with their dinner and having it ready before they even get to the dining room. Team members know the names of the children and grandchildren, which are their favorite pajamas, who wants to stay up and watch television and who's ready to go to sleep at 9 pm. Quality of life is about comforting surroundings, laughter, compassion, understanding, and kindness more than fancy chandeliers and plush carpet. In short, Friends for Life™ is about stepping into the world of our residents, knowing them as individuals, and becoming their Friend for Life.
ALD: These both sound like wonderful programs.  I can imagine that CareaSyst is especially helpful and comforting to extended families, especially if they live out-of-town or out-of-state.!
Q: In an assisted living environment, it is important for residents to keep in touch with, and connected with their extended families (if they have extended family).  How does Woodland Ridge encourage and facilitate the maintenance of 'family connection?' especially if family members live out of town or state?  Are families able to visit residents freely, or is it limited to certain hours or times of day?
Our doors are open 24/7 to family and friends and we welcome their participation the community on many levels. Lots of families volunteer with our Activities Department to give a hand with Arts & Crafts, going on a bus trips, or calling Bingo, We have family functions and lots of parties throughout the year where families and friends are encouraged to participate. We host an Alzheimer's and Dementia Support Group for Family Caregivers that meets once per month. There is a private Family Dining Room available for birthdays, anniversaries, or just Sunday dinner together. We have an-open door policy between residents and their families to every manager. There is always a manager on duty that is easily accessed at any time.
Weekends are "Pet Days" and we encourage families to bring their (pre-screened) pets to visit with residents that can be a huge morale booster and reinforce family bonds.
Although it is unusual to have night visitors, we never prohibit family members from entering the building and seeing their loved ones. Normal visiting times are from wake-up till bedtime which is as individual as our residents. For families who don't live in the area, we have an email service through our website where they can send messages and pictures to keep residents up to date with the latest news from family members, no matter where they live. We also have Skype available for video chats because a "picture is worth 1000 words".
ALD: I've visited facilities before where a resident is going through an especially rough patch, and has trouble sleeping at night. I can imagine that this is where allowing family "night visitors" can be especially beneficial!

Q: You mention as part of your services and amenities "risk profiling."  Can you explain what this is, and how it helps or benefits your residents?
A Risk Profile helps us identify measures we can put in place to ensure the health and safety of each of our residents. There are usually identifiable events that precede a resident coming to live at Woodland Ridge: An illness, a fall at home, a pot forgotten on the stove to burn, becoming vulnerable to predators who could get control of money or property, getting lost in familiar surroundings, the inability to keep up with medications, no longer able to get in and out of a tub safely, or failing to keep up with hydration and nutritional needs. Each of these things presents a risk to life and safety so identifying the Risk Factors is the first step in providing the supports needed to live a safe, quality life with as much independence as possible.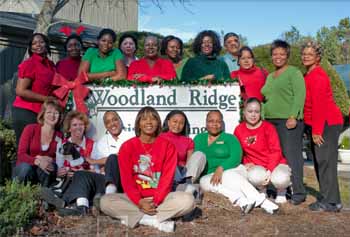 Q: A good, stable staff is paramount to a successful assisted living home or facility.  How do you select your staff (what are some important criteria), how do you keep them happy and avoid employee turnover, which can be common in this industry?
We are very proud of the fact that so many of our staff members have been with us many years; some over 10 years. There are many reasons for this level of satisfaction but chief among them are our staffing levels. Our Caregivers are scheduled to work with a team that shares their passion for their careers. We exceed minimal State required staffing levels that are typical at most assisted living facilities. That equates to our Care Teams never being tasked to do more than can reasonably be accomplished in a typical 8-hour shift. Care Staff have the time to spend with residents and provide great care instead of being rushed from one task to the other. Woodland Ridge employees are also encouraged to be advocates for better ways to provide care. When they identify a creative way to improve quality of life, they are encouraged to share that information and then put it into action. This level of engagement empowers our staff to challenge conventional wisdom and find new and innovative ways of expanding the definition of "Quality of Life" for each individual at Woodland Ridge whether it is residents or staff.
ALD: I found an extremely interesting video about Woodland Ridge – a news piece that talks about how several of your employees **walked** to work through a particularly bad snowstorm to make sure that the residents would be cared for and attended to.  I thought that this was an incredible testament to your staff, and their dedication to Woodland Ridge, and it's residents.   I have embedded the video clip below:
Another unique feature at Woodland Ridge is our Veteran's Program. As a 501(c)(3), we were able to start a Foundation to assist U.S. Military Veterans and their surviving spouses get the care they need, when they need it.
The V.A. offers a pension referred to as "The Aid and Attendance" program. This is an excellent program that provides up to $2,019 per month toward elder care by a licensed agency or facility. The problem is that one must "need" the aid and attendance before filing for the pension. With retirement income in short supply, many who have the need can't get help until the pension process is complete. It can take up to a year before they see the first check.
Our Foundation covers the gap between the need and the funds to pay for care. There are qualifications that must be met but for most, they can move right in to Woodland Ridge and get the care they need without waiting through the lengthy V.A. process. There are no fees and no interest charged for this "gap loan". A number of veterans and their surviving spouses have already been served by this program and we are very proud of this one-of-a-kind initiative to serve those who have served us.
ALD: Carrie, thank you so much for taking the time to provide your thoughts and expertise!   I wish all the best to you and everyone at Woodland Ridge!
Learn More About Woodland Ridge Assisted Living in Smyrna, GA: