I received a very interesting question recently from a daughter who was interested in having her mother visit an assisted living home a few times a week to simply benefit from the interaction and company of other seniors.
Her question to the facility was:
"My mother does not need to live in a care home based on her health, but she doesn't have many friends, and is lonely.  She does need and crave interaction and company with people her own age. Can she come maybe twice a week to play games or just to talk with your female residents for a couple of hours? What would be the cost?"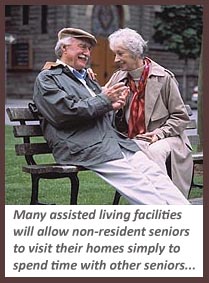 I thought this was an excellent question, and one that many caregivers might love to know the answer to.
My first thought after reading this is that this proposal of having mom visit a facility periodically could fall under the categories of volunteering, or perhaps even adult day care.   Since mom is "healthy" and is doing this on her own time, and also since her visits will most likely benefit the residents as well in terms of social interaction and stimulus, it would be very similar to what many volunteers do when they work with assisted living facilities.   Volunteers often times work with residents at facilities, hospice centers and other senior or long-term care environments to play games with the residents, or to read stories to them, or even to simply visit with them, or offer companionship to ward off loneliness.
I also imagined that there must be some sort of screening, and even training process that would need to take place to accept a 'visitor' to interact with residents.  In this day and age where elder abuse, wandering, and even theft within assisted living homes is all-too-common, I would hope that "mom" would be subjected to a civilized and somewhat thorough questioning – and perhaps background check – before being allowed to visit with the residents.
For some facilities, I would also think that some degree of 'training' and 'orientation' would be in order for any regular visitor.  In the numerous facilities that I have visited over the years, most of them have secure entrances with entry codes, as well as protocols for how to conduct oneself around the residents, especially if there are issues such as dementia or Alzheimer's.  Dietary training and awareness may also need to be covered with any regular visitor, as many residents are certainly on strict or limited diets.  Having mom bring her home-made Peanut Butter Cookies to the residents may be a well-intended idea, but may backfire if any of the residents have nut allergies, which is common, and can at times be fatal.
My other thought was that this proposal might also fall into the description of adult day care.   Although mom is in good health, and does not need the services and amenities most commonly provided by assisted living – she is still being placed in a structured environment, and if mom is living with, or near her children, this could be a way to provide a mental break for her relatives or children who are expending their energy to keep her from feeling lonely and isolated.
I went to the source to find answers!
My site offered a perfect opportunity for me to ask some facility owners and administrators the question posed by the daughter about having her mom visit facilities a few times a week.  Their answers were incredibly helpful, and surprisingly, this seems like something facilities may be more prepared to handle than I initially believed. Here are some of the great responses I received:
Answer #1: I think your mom would be happy to spend a couple of hours each day (twice a week) at our facility, with our residents; We currently have 2 ladies (alert/some mild dementia) and 4 men (alert/some mild dementia); They all love to chat, they love to read, interact with each other, play games, etc; We have a nice group of residents at this time;
The cost will be very low at $20 each day she comes by; You can drop off either check or cash in the mailbox before you enter the facility (outside on left side of the house)
If she lives close by, and if there are times that you cannot bring her, I can do that for $5 extra.
Please give me a call so you can tour my facility; Your mom will enjoy spending some time with elders that are her own age!
Answer #2: A half day at our community, which would be any time under 5 hours, would cost $45 dollars per day. A full day at our community would be $80 per day. We have great outings and great activities within the building as well. We would be happy to pair your mother up with a group of ladies who are similar to her so that she can keep active and social.
It was great to learn that some facilities may also go as far as providing transportation (for a small extra fee) to and from the facility if mom (or dad) is not able to drive him or herself, or if she doesn't have a ride!
By encouraging a parent or relative who is still independent and fully functional, but perhaps alone or socially isolated to make regular visits to a local assisted living home, they will not only likely develop new friendships – they will also benefit from the stimulation of the new surroundings, as well as a social outlet consisting of an age-appropriate peer group. The residents of the facility will also likely benefit greatly from the fresh faces visiting them, as well as the excitement and anticipation that comes with knowing that someone who cares enough, and has the desire to – will be visiting regularly.