There's two things I'd like to highlight in this post – how to identify long-term care facilities in Kansas that accept both medicare, and medicaid, and I'd like to highlight Kansas's version of a Medicaid Waiver, and what it might cover.
(Return to or visit our Kansas assisted living section)
This is always such a commonly asked question on our site.  Most assisted living facilities aren't up-front about whether they accept Medicaid or Medicare, probably because it's not as lucrative as a private-pay resident.  Who knows, but nonetheless, if you live in Kansas, there's ways to research this.
So, hopping right into it, the Kansas Department of Aging has one of the best, most transparent access points to facility public records of any state in the US.  It really makes it easy to do research.
Go to this page:
https://webapps.kdads.ks.gov/LSOBP18/f?p=127:14:639300773922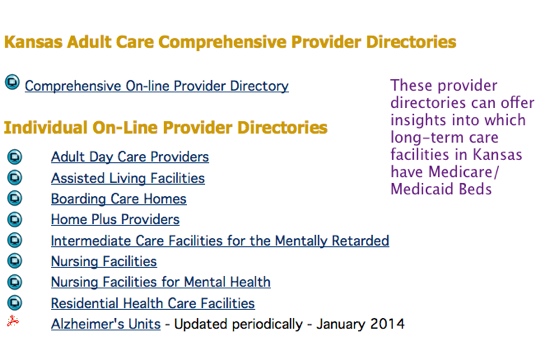 Which has a number of different categories for long-term care, assisted living and other senior care options.
Choosing assisted living, for example, will bring up a large list of facilities statewide in Kansas.  You can filter by a number of parameters, including City.
It's important to note that not every facility will offer Medicare or Medicaid beds, but as you work through the facility choices for your area, it should tell you how many beds are allocated as such.  Usually they are set aside for skilled nursing.
Which is an important point – many families are disappointed to learn that assisted living most often is not Medicaid/Medicare-friendly.
So, what other options might there be?
At this point, you may want to look into Kansas's Medicaid Waiver program(s).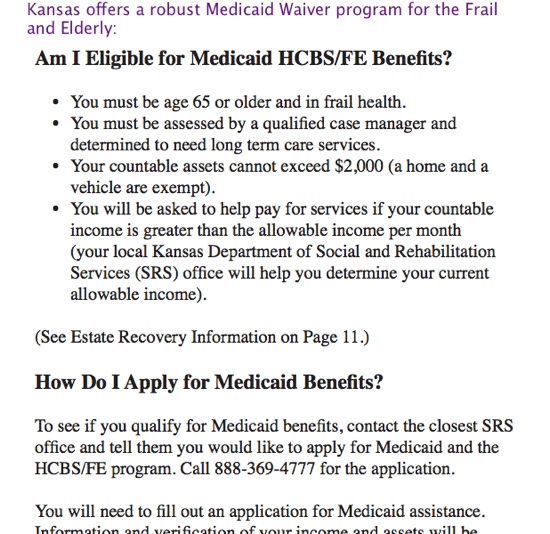 These are generally designed to help seniors living at home or within a community, and they can receive 'assisted living-type services' at home, which may be a viable option if a traditional assisted living facility is not affordable, or viable.
There's a great .pdf document that offers very detailed information about the waiver(s):   Home and Community Based Services for the Frail Elderly (HCBS/FE) that can be accessed from here:
This helpful and detailed document offers eligibility requirements, application information, a program description, what you might expect, and more!
At a minimum, these pages, and programs should provide some insight as to whether care in a traditional facility environment is possible for you or your loved one, and if not, whether services through the Waiver programs might offer the assistance you need.