In this blog post, I'll show you where to find two state-sponsored consumer guides and facility lists for assisted living in Oregon!
I 've been on sort of a mission for the past 9 years or so with our site, Assisted Living Directory.   Actually, it's become a precise mission – to, through our site, enable our seniors, families and caregivers researching assisted living, to discover the best, most useful resources available, so that they may take control of their own research process.
(Return to, or visit our Oregon assisted living page).
This is something most other sites, don't do, since, it takes away chances of a referral, or earnings.    I don't care about that, honestly.  I want people to see our site as the best resource available – and with that, comes highlighting other great sites and information.
For Oregon – there are TWO excellent consumer guides I'd like to point out for you – they are completely free, provided through the State of Oregon.
First, there is a really well-done 16 page .pdf guide, highlighting so many aspects, definitions, and details about Oregon's assisted living industry: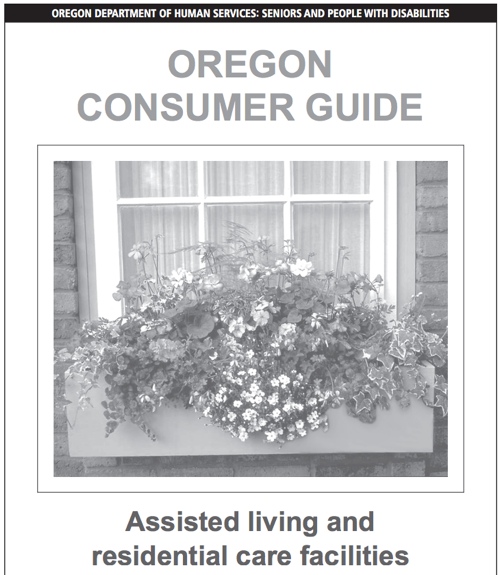 Get the guide here:  https://apps.state.or.us/Forms/Served/se9098.pdf
This guide can be printed, and saved to your computer!  It covers the state's assisted living and residential care facilities.
Next, if you want a straightforward list of licensed facilities throughout Oregon, for most every long-term care category, check out the DHS page here:
http://www.dhs.state.or.us/spd/tools/cm/facility_lists/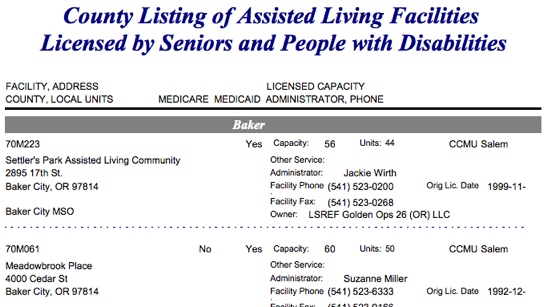 You'll get a list for Memory Care, Assisted Living, Residential Care, Adult Day Care, and Community Based Care.   You'll be able to see which facilities work with Medicare or Medicaid, facility size,  number of beds per facility, and by county, and more.
These two guides should prove to be extremely useful for your research into Oregon's many assisted living facilities, no matter if you are in one of the larger cities, or in a more rural area of the state.
Wishing everyone safe and successful research!
– David