Consumer Information and Assisted Living Regulations for the State of Texas
By Joelle Besnette for Assisted Living Directory

Return to, or visit our Texas Assisted Living page.
One of the first things I noticed when researching this article via the Texas.gov web site is the almost overwhelming amount of acronyms used (and not always spelled out).  I felt like I was back in the military again!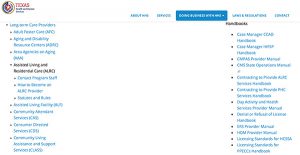 However, I have to give huge kudos to the State of Texas for their efforts to provide guidance and support to people who have questions about long-term care.  Every county has an Aging and Disability Resource Center (ADRC), designed to be a "one-stop shop" for the public to find information and guidance regarding long-term care for a loved one.  These centers are listed here: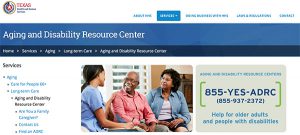 Who regulates Assisted Living facilities in the state of Texas?
Assisted Living facilities are overseen by Texas Health and Human Services (HHS).
It is important to note that, as of this writing, Health and Human Services in Texas are in the middle of a 2-year transformation that will result in an organization that is more streamlined and responsive to the people of Texas. The first phase of change occurred on September 1, 2016.
Regulatory services are provided by the Texas Department of Aging and Disability Services (DADS)  currently, but will transfer to HHS by Sept. 1, 2017.  At that time, DADS will be abolished.  Below is a screenshot outlining these services under the current structure: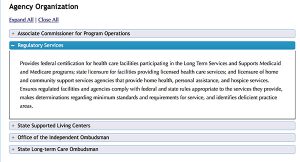 How can I view, and get a copy of Texas' Assisted Living Regulations?
Health and Human Services also provides licensing standards for facilities.  The Licensing Standards for Assisted Living Facilities handbook is located here: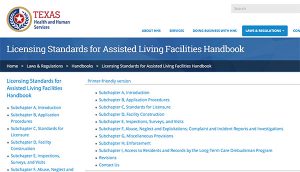 What types of assisted living facilities are there?
In Texas, Assisted Living may be referred to by the state as Assisted Living or Assisted Living and Residential Care (ALRC).  Facilities are broken down by 3 categories, A, B, or C:
A Type A facility may care for residents who are physically and mentally capable of evacuating the facility unassisted, do not require routine attendance during sleeping hours, and are capable of following directions in an emergency.
A Type B facility may care for residents who may require staff assistance to evacuate, are incapable of following directions under emergency conditions, require staff attendance during nighttime sleeping hours, and require assistance transferring to and from a wheelchair.
A Type C facility is a four-bed facility that meets minimum standards for enrollment with DADS as an adult foster care facility.
Does the state offer consumer information regarding assisted living?
Yes!  Information and assistance is easy to find on this web site.  One example is What is Assisted Living?  a 2-page brochure designed for the public.
Another great resource mentioned previously is the Aging and Disability Resource Centers.  You may call 1-855-937-2372 to speak with a trained professional who can provide guidance as to your options as a family caregiver.  ADRCs can provide specialized information, referral and assistance regarding Long-Term Services and Support (LTSS).  They can also help you understand and navigate multiple intake systems, funding, and eligibility processes.
How can I find a facility?
There are two options to finding a current, online list of facilities.  The first is to refer to the .pdf document, Assisted Living Facility (ALF) Directory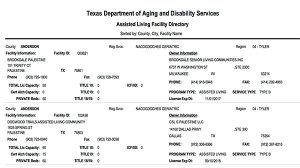 The second, more flexible option, is to perform an online search.  Here, you may narrow your search by county, zip code, (telephone) area code, or city.  Note that you may also narrow the search by Facility Type (A, B, or C):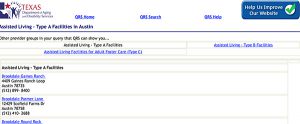 How can I find a list of facility inspection reports?
Texas Department of Human Services (DHS) conducts inspections and surveys, follow-up visits, complaint investigations, investigations of abuse or neglect, and other contact visits.  Typically these are unannounced.
To find specific inspection reports, you may use the online search tool mentioned above, then click the link to the facility you are interested in.  Here is an example: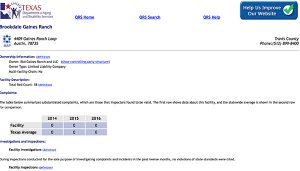 Notice that there are numerous links for each facility where you can find details of inspection reports and investigations.
You may also contact the Office of the Long-Term Care Ombudsman at 1-800-252-2412, or Consumer Rights and Services at 1-800-458-9858 to obtain the most recent information about a facility.
How are complaints handled?
According to §92.103 Complaint Investigation:
(a) A complaint is any allegation received by the Texas Department of Human Services (DHS) regarding abuse, neglect, or exploitation of a resident, or a violation of state standards.
(b) DHS must give the facility notification of the complaint received and a summary of the complaint, without identifying the source of the complaint.
On the same web page, §92.105(b) Investigations of Complaints:
DHS only investigates complaints of abuse, neglect, or exploitation when the act occurs in the facility, when the licensed facility is responsible for the supervision of the resident at the time the act occurs, or when the alleged perpetrator is affiliated with the facility. Other complaints of abuse, neglect, or exploitation not meeting this criteria must be referred to the Texas Department of Protective and Regulatory Services.
and:
(d) Central registry. DHS maintains a central registry of reported cases of abuse and neglect at the central office in Austin.
Where can I go for further information?  
Following is a list of additional resources:
Texas LTC Ombudsman Program
Advocate for residents
Information, assistance, complaints
1-800-252-2412
Texas Department of Family and Protective Services
Abuse, neglect, and financial exploitation in the community
1-800-252-5400
Texas Office of the Attorney General Medicaid fraud control
1-800-252-8011
Texas Department of Aging and Disability Services (DADS)
State Supported Living Centers
Fax: 512-438-5136
Email: openrecords@dads.state.tx.us
Requests related to public information about state supported living centers, except for survey and licensing material handled by Regulatory Services.

Regulatory Services 
512-438-2633
Fax: 512-438-2738
Email: rs.recordsmgmt@dads.state.tx.us
Requests related to public information about licensed nursing facilities or other settings that care for people who are older or who have disabilities.